Coronavirus: Face coverings could be mandatory in NI shops by 20 August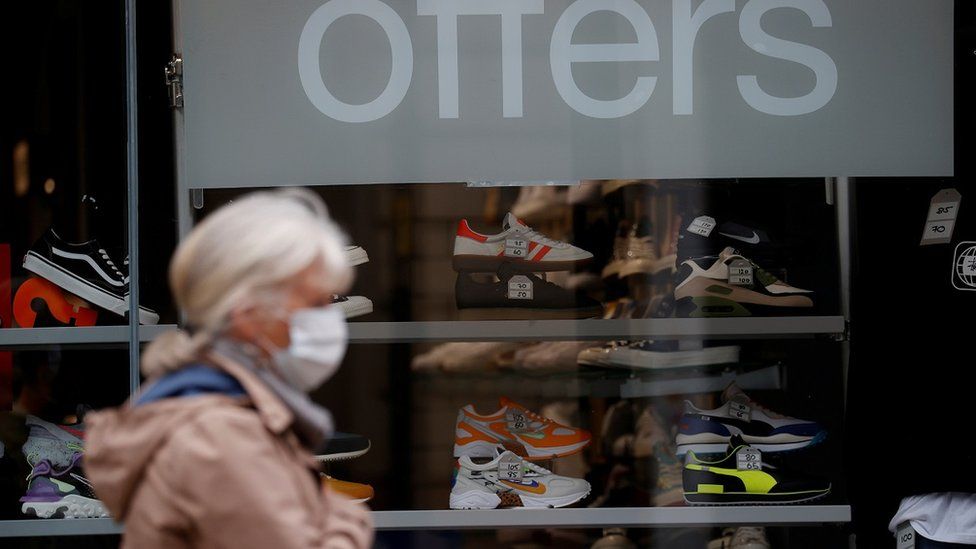 Face coverings in Northern Ireland shops could become mandatory from 20 August if most people do not use them voluntarily.
The NI Executive announced that it will be legislating to have the power to make masks mandatory.
However, first it will launch a public information campaign to encourage the use of coverings
The executive said it will consider the impact of the campaign by 20 August and then potentially enforce the measure.
Deputy First Minister Michelle O'Neill said face coverings "are effective if everybody uses them".
The announcement was part of a raft of changes to Covid-19 rules announced on Thursday.
In addition to the decision on face coverings, Stormont ministers agreed that swimming pools, spas; community centres; bowling alleys and funfairs can reopen from Friday 24 July.
The Stormont Executive also agreed to request urgent talks with the UK and Irish governments to discuss Covid-19 travel issues.
It follows controversy earlier this week after Sinn Féin called for a 14-day quarantine for travellers arriving into Northern Ireland from Great Britain, while the DUP said people travelling from the Republic of Ireland posed an infection risk.
'Consider holidays carefully'
The executive has now agreed to write to both governments calling for an urgent summit of the British-Irish Council to discuss the Common Travel Area arrangements in relation to the pandemic.
They also agreed that updated travel advice will be published on the NI Direct website.
First Minister Arlene Foster tweeted that the guidance will be updated "to remove reference to travel overseas having to be essential travel".
Mrs Foster "What we're essentially saying now, because we do accept there was confusion around this, is that you should if possible staycation - have your holiday at home.
"But if you do decide to go away to the continent for your holidays, make sure that you consider carefully all of the advice in relation to that country, make sure that you don't have to quarantine when you come back from that country."
Health Minister Robin Swann said he was pleased that the executive had supported his recommendation around face coverings, which was "in line with the expert advice provided to ministers by the chief medical officer and chief scientific adviser".
"We need to promote every available measure to stop the spread of Covid-19 in our community.
"The evidence in support of face coverings in shops and other enclosed spaces has become increasingly compelling."
Spectators back at outdoor sports
In a statement, the Department of Health said the lead-in period before 20 August will allow time for "public education and engagement to promote the benefits of face coverings".
Employees, children under 13 and those who cannot wear coverings on health grounds will not have to wear them.
Face coverings are already mandatory in shops in Scotland and will become compulsory in England from Friday 24 July.
Other decisions taken by the executive on Thursday include the easing of restrictions on outdoor sporting events and on social gatherings in private homes.
From Friday 24 July the following changes will take effect:
Spectators will be allowed to attend outdoor sporting venues "where the operator can control access and ensure adherence to social distancing"
The number of people from different households permitted to gather in a private home rises to 10 and can consist of people from up to four different households
The restriction on people staying overnight in a home other than their own will end
Swimming pools in leisure centres, hotels and private facilities can reopen
Saunas, steam rooms, hydro-therapy pools, cold and ice rooms, monsoon showers and sanariums are among spa facilities permitted to reopen
Community centres can reopen
Bowling alleys can resume operation
Funfairs can also resume operating from Friday, whether they are indoors or outdoors
Changing room and shower facilities in pools, leisure centres and gyms, which the executive had previously advised people to refrain from using, will be able to open again from Friday.
The executive has also agreed an indicative date of 10 August for the reopening of indoor pubs and bars that only sell alcohol.
This move will be confirmed at a later date, depending on the prevalence of Covid-19 in the community.
Pubs that only sell alcohol in the Republic of Ireland are also due to reopen on 10 August - a later date that expected after the new Irish government paused its Covid-19 roadmap to recovery.
Following Stormont's announcement that spectators can attend outdoor sporting events, the Irish Football Association confirmed it plans on having a limited number of fans at next week's Irish Cup Final at Windsor Park.