Coronavirus: Executive to discuss face coverings in shops
By Enda McClafferty
BBC News NI Political Correspondent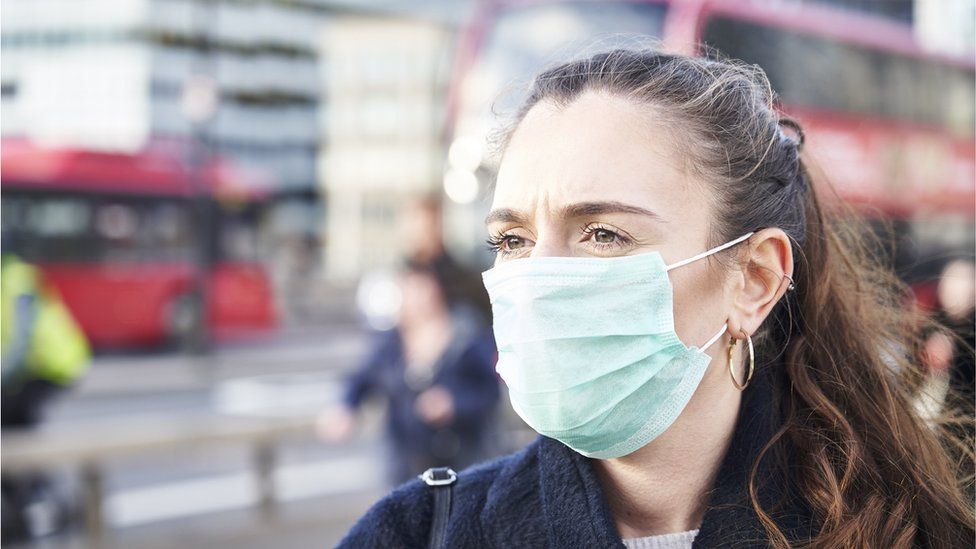 Stormont ministers will meet later to discuss the wearing of face coverings in shops, but may stop short of making them compulsory, the BBC understands.
The executive will consider a paper from the Department of Health setting out advice from NI's chief medical officer Dr Michael McBride.
He supports making the wearing of face coverings in shops in NI compulsory.
However, it is understood ministers will also consider a plea from the retail sector which fears the move could damage trade and be difficult to enforce.
The BBC understands one option being considered involves stopping short of making masks compulsory but instead to strongly encourage their use from the beginning of next month.
But if the advice is not followed and there is a low compliance rate then the executive would move to make the use of masks compulsory at the end of August.
Regulations to enforce the compulsory wearing of face coverings on public transport in the Republic of Ireland has already come into effect.
Currently, guidelines in Northern Ireland state the wearing of face coverings is only compulsory on public transport, going to hospitals or visiting care homes.
The retail industry has lobbied against making the use of face coverings compulsory in shops, insisting such a move could drive away many customers and make enforcement difficult.
At present, face coverings are not compulsory in shops in Wales, but the Welsh government said that will be kept under review.
Up until now that has also been the position of the Northern Ireland Executive.
Health Minister Robin Swann, who will present the paper, has said "everything possible must be done to promote the wearing of face coverings in shops and enclosed spaces".
He told BBC Radio Ulster programme Good Morning Ulster that he would like to see face coverings made mandatory "since the science has moved and proved they are another tool in the prevention of the spread of the coronavirus".
"When we reduced social distancing measures from two metres down to one metre, that was done on the proviso that there would be mitigation processes and measures put in place to allow the retail industry to make those managed reductions, and face coverings were one of those tools," he said.
"I want to see the adoption of face coverings brought in Northern Ireland asap. We've seen them on public transport - anecdotal evidence will tell us we're up to 70% of people wearing those on public transport," he added.
He said face coverings might also provide some "reassurance" to those in Northern Ireland who were asked to shield, a recommendation that will be paused at the end of this month.
Mr Swann said instead of making face masks mandatory he would rather people wore them because of "education and community responsibility".
He accepted there were differing views in the retail industry and among some of his colleagues in Stormont.
The SDLP deputy leader said that if the scientific advice supported mask use on public transport, then that should be extended to shops.
Last week, the local chairman of the British Medical Association (BMA) said most people in Northern Ireland would be wearing face coverings indoors where social distancing was difficult "in the coming weeks".
Dr Tom Black said he was "fairly confident" that most people would be using face masks soon.
He added that there was "less speed on this than we would've expected" from the executive, but believed "it's going in the right direction".
Meanwhile the executive will also discuss the latest travel advice for those wishing to go abroad.
It is understood the parties agree there is too much confusion for travellers and the lack of clarity is having a big impact when it comes to travel insurance.
But one executive source said finding a solution may be difficult with both London and Dublin issuing different travel advice.
The health minister told Good Morning Ulster he accepted the language was not "simple or clear" from the executive.
He said the guidance needs to be updated to reflect the Foreign Office advice on air bridges and holidays and the wording of that language would be "tidied up" later on Thursday.
But he also added that he would still advise people to "holiday at home," which he said included travelling throughout the UK and the Republic of Ireland.