Coronavirus: Quarantine changes come into effect in NI
By Jayne McCormack
BBC News NI Political Reporter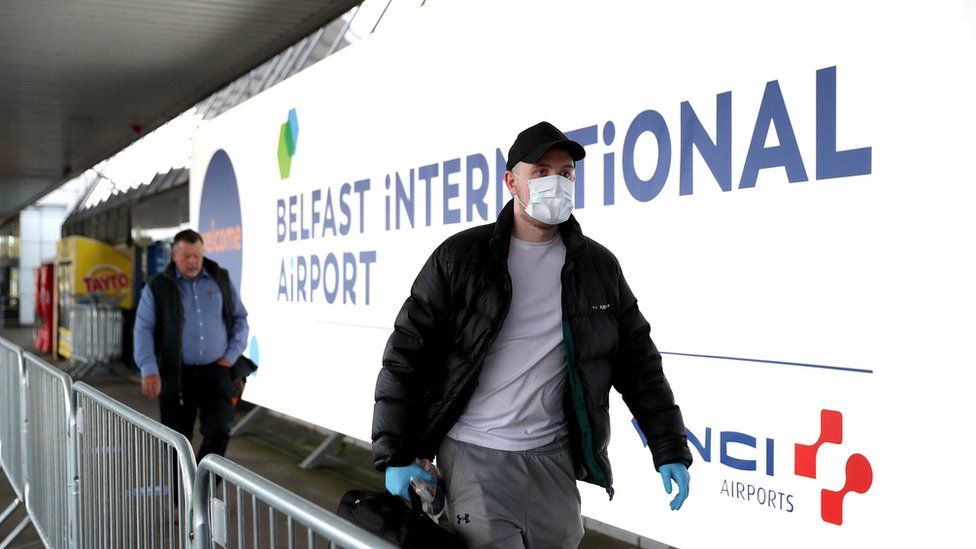 People arriving in Northern Ireland from more than 50 countries including France, Spain, Germany and Italy are now no longer required to quarantine.
The executive agreed to the changes on Thursday. Previously, anyone entering NI from outside the Common Travel Area had to self-isolate for 14 days.
From Friday, the wearing of face coverings on public transport becomes compulsory in NI.
As NI's lockdown is eased further, cinemas and gyms can also now reopen.
The latest restrictions to be lifted include a reopening on Friday 10 July of:
Indoor gyms and playgrounds
Cinemas
Bingo halls and amusement arcades
Indoor weddings and baptisms can also be held in places of worship, as well as marriage and civil partnership services in local government offices and other venues.
It is up to venues to carry out a risk assessment to determine how many people can safely attend services.
The Department of Health's daily figure, based on positive test results, was 554.
The latest easing of the restrictions saw people rushing back into gyms and children enjoying playgrounds.
Gordy Elliott, who owns a gym in Ballymoney, County Antrim, said there was a car already parked outside his gym when he arrived at 04:50 BST.
"I was surprised to see him so I stuck him up on my Instagram just to let everyone know that there was some maniac here even before me," he told the BBC's Good Morning Ulster programme.
Where must I wear a face covering?
From Friday, it is compulsory to wear a face covering on buses, trains and ferries in Northern Ireland.
There are exemptions for those with medical conditions.
It does not apply to children under the age of 13 or on school transport.
It is understood enforcement is likely to be similar to measures introduced in Scotland, with spot checks by police and fines for those breaking the rules.
The mandatory use of face coverings on public transport was introduced in the Republic of Ireland last Monday and has been in place in England and Scotland for a number of weeks.
What do the new quarantine rules mean?
The executive agreed that from Friday, there would be "no self-isolation requirement for those travelling to Northern Ireland from low to medium risk countries".
Until now, only those travelling within the Common Travel Area have been exempt from NI's quarantine rules.
The Common Travel Area covers the United Kingdom, Republic of Ireland, Isle of Man and the Channel Islands.
NI's chief medical officer has said that from Saturday Serbia will be removed from the list of countries exempt from quarantine rules.
Dr McBride told BBC News NI that the risk of the virus spreading from passengers coming to NI from Serbia had moved from medium to high.
He said it showed that the executive would move to reimpose restrictions if and when necessary.
Scotland has also retained quarantine measures for travellers from Serbia.
The quarantine rules came into place in early June in a bid to stop coronavirus entering Northern Ireland as the number of cases was falling.
First Minister Arlene Foster said the change to the rules was not risk-free, and they could be scaled back if some countries saw a resurgence of cases.
The advice was later amended and removed that wording, and Mrs Foster said the quarantine regulations were solely for international travel and would not apply GB-NI, nor with the Republic of Ireland.
In the Republic of Ireland, official government advice against all non-essential travel has been extended until 20 July.
Northern Ireland's Chief Medical Officer Dr Michael McBride said he was "absolutely comfortable" with the decisions taken by the executive to ease quarantine measures and the advice he had provided.
He told the Nolan Show, there was testing and tracing in place and the list of exempt countries would be kept under review.
"All of this is getting terribly complicated for individuals and I recognise that," he said.
"Obviously it was relatively easy to stay safe when we were all staying at home and now that we are out and about, there are new opportunities for the virus to spread."
However a virologist at Queen's University has described the changes to quarantine rules as a "major concern".
Speaking on the BBC's Good Morning Ulster programme, Prof Ultan Power said he would be concerned about the reintroduction of the virus back into NI because of travel abroad.
"On the one hand, I totally appreciate the need to open up and become relatively normal but on the other hand there are risks associated with this that are not found in normal times," he said.
Upsurges of cases in Australia, Croatia and Serbia as a result of foreign travel should be a reminder that "we can't lose sight of the virus", he added.
Meanwhile, a survey by the government statistics agency NISRA has found people are less happy, more anxious and expect to be poorer because of Covid-19.
The findings are based on 925 interviews carried out with members of the public from a sample of addresses, between 21 April and 22 June 2020.
The results of this first phase suggest 76% of people are very or somewhat concerned about the impact of Covid-19 on their lives.
About a third (31%) think it will be more than a year before life returns to normal. A further 6% believe that will never happen.
More than a third (34%) expect their household finances to get worse in the next 12 months.
The survey also reflects people's feelings about life during lockdown,
An overwhelming majority supported the "Stay at Home" measures, with 94% saying they strongly support or tend to support it.
But those measures also had an impact on people's emotional wellbeing - 42% reported feeling more lonely than before, while 84% said they had avoided contact with older and vulnerable people.