Bobby Storey: Belfast City Council votes for independent inquiry into cremation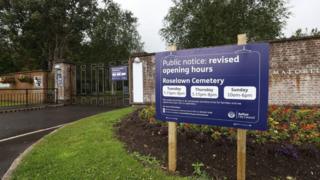 Belfast City Council has voted to hold an independent investigation into the handling of the cremation of senior republican Bobby Storey.
There had been claims more than 60 people were at Roselawn and republicans in effect took control of the cemetery.
But a leaked report said there were fewer than 30 mourners and no paramilitary trappings.
The internal report written by officers at Belfast City Council describes it as a "low-key, dignified send off".
The motion passed with 36 votes in favour while 21 Sinn Féin and People Before Profit Councillors abstained.
Meanwhile it has emerged a senior official at the council has been warned of a death threat against him.
Nigel Grimshaw, the director of city and neighbourhood services, was involved in the decision-making around arrangements at Roselawn cemetery.
Mr Storey, a senior republican, was cremated on 30 June and his funeral arrangements caused rows at Stormont and within Belfast City Council.
'Regret'
The council, which runs the crematorium, has already apologised to eight other families who were not allowed in to attend cremation services for their loved ones on the same day.
Details of the internal report on Mr Storey's cremation arrangements have been published by the Belfast Telegraph and the six-page document has been seen by the BBC.
"There is nothing in the CCTV footage that provides any evidence that Roselawn was under control of persons other than council officials," the report says.
In terms of numbers, the report states:
28 mourners were outside the crematorium
Seven people were appointed by the Storey family as stewards
12 vehicles followed the hearse
The internal report makes it clear no cremations were cancelled to accommodate Bobby Storey's family.
But the document accepts that not allowing eight other families the same access to Roselawn that day was wrong.
It states: "The director of city and neighbourhood services (Nigel Grimshaw) has acknowledged… that was a mistake for which he takes responsibility.
"He further stated his regret and that this was in no way deliberate or politically motivated."
The report adds: "There were no paramilitary trappings, guard of honour or flag. Council officers described the occasion as a 'low-key dignified send off."
The report also details the involvement of Sinn Féin.
"Political contact in the arrangements for Mr Storey's funeral came in the form of two phone calls from Sinn Féin to the chief executive on Thursday June 25 and Friday June 26."
In terms of police involvement at Roselawn, the report states: "A site visit was offered to the PSNI but was not taken up."
However, there was a police presence on the day in the form of a marked car at one stage.
The internal report makes it clear that council officers will "fully comply" with an independent investigation.
In relation to the threat to Mr Grimshaw, the council said: "An email was received by Belfast City Council and due to the serious nature of its content, it has been passed to the PSNI."
A spokesperson for Mr Grimshaw, who is a former senior police officer, said: "I have been made aware that Nigel Grimshaw was informed by the PSNI this morning that a death threat has been made against him."
Independent oversight
The police are investigating potential breaches of Covid-19 restrictions by mourners at Mr Storey's funeral.
On Thursday, the PSNI chief constable has asked for an external police officer to oversee an investigation into the funeral.
In a statement, Chief Constable Simon Byrne said he had requested a senior officer from the National Police Chiefs' Council.
"I have taken this decision to ensure independent oversight of the investigation," he added.
Mr Byrne also said the PSNI has forwarded a complaint from a member of the public regarding police actions leading up to the funeral on 30 June to the Police Ombudsman.
Hundreds of people lined the streets of west Belfast for Mr Storey's funeral and it was also attended by senior Sinn Féin representatives including the Deputy First Minister Michelle O'Neill and the Finance Minister Conor Murphy.
Their attendance sparked a row at Stormont with other parties accusing Sinn Féin of breaching the coronavirus restrictions and undermining the executive's message on Covid-19.
Both Ms O'Neill and Mr Murphy have denied breaching the social-distancing measures while at the funeral.
A number of pallbearers were pictured carrying Mr Storey's coffin, including former Sinn Féin President Gerry Adams and North Belfast MLA Gerry Kelly.
Stormont guidance on funerals makes it clear that coffin lifts are not recommended, unless all pallbearers are from the same household.
It says "it is unlikely that pallbearers would be able to maintain a 2m distance from each other, and such practices should not be permitted".
The Department of Health said the advice applied to all funerals, regardless of the cause of death.