Coronavirus: Boost 'not enough for economic recovery'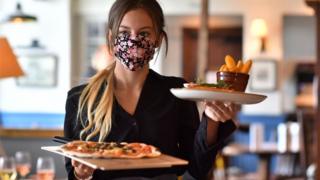 The chancellor's summer statement will mean an extra £39m in public spending for Northern Ireland, Finance Minister Conor Murphy has said.
He said other recent announcements, such as support for the arts, would add a further £116m to Stormont budgets.
He also welcomed moves such as a hospitality VAT cut but said the overall package did not go far enough.
"The measures are not ambitious enough to spur economic recovery," Mr Murphy said.
"Covid-19 will continue to have a dramatic impact on our economy for some time to come.
"What is needed is a comprehensive stimulus package."
Mr Murphy was responding to a range of measures announced by Chancellor Rishi Sunak to boost the hospitality and tourism industries.
The measures announced on Wednesday include a six-month cut in VAT from 20% to 5% for the hospitality and tourism sectors.
Hospitality Ulster said the announcement was "a welcome boost".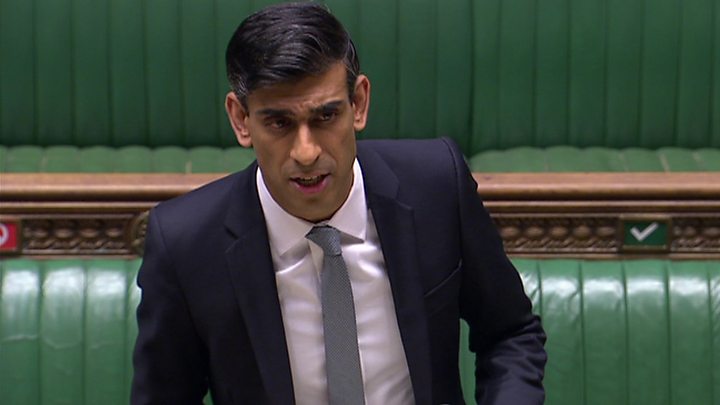 Earlier, Mr Murphy urged the government to ease "rigid fiscal rules" in NI.
The chancellor did not respond to that in his statement to the House of Commons, but outlined a number of other measures, including:
Paying firms a £1,000 bonus for every staff member kept on for three months when the furlough scheme ends in October
A scheme to give 50% off to people dining out in August
A £2bn "kickstart scheme" to create more jobs for young people
The package is designed to help prevent mass unemployment and help the economy, which has been hit hard by the coronavirus pandemic.
Hospitality and tourism have been particularly affected due to a huge decline in air travel and the introduction of social-distancing rules.
Hospitality Ulster said the move comes at a time many in the industry were "fearful for their future" but will help to "paint a brighter picture".
Bill Wolsey, whose portfolio includes Belfast's Merchant and Bullitt hotels and the Dirty Onion bar, welcomed the news.
"We have just had a 10% increase from breweries and food prices have gone up, so the cut in VAT will help us keep prices as they are," he said.
"The whole industry is doing their very best to make sure they don't make redundancies."
An end to NI's "antiquated licensing laws" would also boost "an industry on its knees", he added.
Hospitality faces huge battle
Analysis by John Campbell, BBC News NI Economics and Business Editor
The hospitality industry in Northern Ireland has pursued a long campaign for a VAT cut.
This was mainly about bringing the sector into line with competitors in the Republic of Ireland who have been paying VAT at a much lower rate.
Now the industry has its wish, but not in circumstances it could have ever imagined.
Restaurants, pubs and other businesses face a huge battle for sustainable trading in an era of social distancing.
The VAT cut will allow them to fund price promotions in an attempt to get people through the doors.
Or alternatively many will simply pocket in the VAT saving in an attempt to keep their businesses above water.
Colin Johnston, general manager of the Galgorm Resort, described the new measures as "pretty much a game changer".
Howard Hastings, managing director of Hastings Hotels, said they would "go a long way in helping the local economy recover".
Details of how the package will be paid for - through borrowing and possible tax rises - are likely to be unveiled in the chancellor's autumn budget.
Mr Sunak also announced a temporary stamp duty holiday in Northern Ireland and England to stimulate the property market.
This would exempt the first £500,000 of all property sales from the tax.
Winter troubles
The Westminster announcement comes as a Stormont committee heard the money generated by tourism in Northern Ireland is likely to drop from £1bn last year to £400m in 2020.
Janice Gault, of the Northern Ireland Hotels Federation, said in the medium term the sector hoped to "get the GB market back".
But she said international visitor numbers were likely to be low over the summer.
"For us, we see the really difficult time of trading is going to be from September through to next March."
Joanne Stuart, of the Northern Ireland Tourism Alliance, told the committee businesses believed it would take at least two to three years to recover from lockdown.
She said it was "critical to the survival of businesses over the winter period" that they can maximise the rest of this year's season.
"What we now need to see is communication from our political leaders to encourage people to stay local and support local businesses this year," she said.
Devolved ministers' plea
Earlier, Mr Murphy, along with his Scottish and Welsh counterparts Kate Forbes and Rebecca Evans, made a call for greater financial flexibility ahead of the chancellor's statement.
They said it would help them respond better to the coronavirus crisis.
They want assurances that will give them the freedom to switch capital funding to day-to-day revenue.
The ministers also called for an end to the arbitrary limits on borrowing and more clarity on details around the forthcoming spending review.
Mr Murphy said it was "crucial" that devolved administrations were "equipped to respond swiftly and effectively to the challenges arising from Covid-19".
"More financial flexibility can help us deal with these challenges and use our budgets to support public services, protect the vulnerable, and deliver an economic recovery," he said.