Bobby Storey funeral: Council apology over 'error of judgement'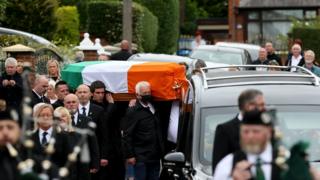 Belfast City Council has apologised after details emerged about how it dealt with Bobby Storey's family at Roselawn crematorium last week compared to other families.
The council admitted that the family was the only one allowed into Roselawn on Tuesday for a cremation.
Eight other families were not allowed in as their loved-ones were cremated.
The council said this was an "error of judgement" and has sent an apology to all of the families affected.
New regulations, which came into force last week, allowed up to 30 people to gather outdoors.
However, at the crematorium on Tuesday, only the Storey family was allowed to take advantage of the change.
In a new statement on Monday, following an investigation by Radio Ulster's The Nolan Show, the council gave more details about what happened.
A council spokesperson said: "An operational decision was made that for cremations the new procedures would apply from the cremation of Bobby Storey onwards.
"We accept in hindsight that this was an error of judgement.
"This meant that only one of the nine cremation services on Tuesday had 30 people in attendance, there were four burial services and these burial services had up to 30 in attendance; there were eight cremation services affected.
"We are contacting these families and are deeply sorry for how this error will have affected them," the statement added.
There were claims that republicans took control of Roselawn on Tuesday afternoon, with some staff sent home early and non-council stewards on duty.
However, the council issued a statement on Friday in which it insisted that 15 staff were on site at all times.
It admitted some staff had been allowed to go home early but made it clear the council was still in charge.
Deputy First Minister Michelle O'Neill's attendance at the funeral sparked calls for her to resign.
On Tuesday, the assembly will debate a motion calling on Ms O'Neill and Finance Minister Conor Murphy to apologise for attending.
It is signed by every party in the executive but Sinn Féin.
In the assembly on Monday, Ms O'Neill reiterated that she did not intend to "compound any family's grief" by attending the funeral.
'Happy' to cooperate with police
"I would never intentionally hurt anyone - I'm sorry for that," she said, in response to an urgent question from TUV leader Jim Allister.
She insisted she took her responsibilities as deputy first minister very seriously.
"I will continue to lead us through this recovery, I will certainly continue to play my role," she added.
She said she has not been approached yet by the police about her attendance at the funeral, but that she was "more than happy" to cooperate.
Green Party Leader Clare Bailey asked when a new standards commissioner for the assembly would be appointed and if that would seek to "restore credibility" to the institutions.
The last standards commissioner Douglas Bain stood down in September 2017 and has not yet been replaced.
Ms O'Neill said she hoped a new commissioner would be appointed at some stage in August.
Although places of worship could reopen their doors last Monday, faith leaders had been advised to wait for further information before conducting weddings and funerals.
That night, the coronavirus regulations were amended to raise the number of people who could attend outdoor gatherings from 10 to 30, which applied to funerals.
It now seems that was not made as clear to everyone as it should have been, given only Mr Storey's family was allowed to avail of the change at Roselawn Crematorium.
The timeline around changes to indoor services is still foggy too.
Churches said they were told the changes announced by the executive on Monday did not extend to indoor services, putting a question mark over Michelle O'Neill's attendance at the requiem mass for Mr Storey.
New guidance on funeral services was not officially changed on the Department of Health's website until Thursday night - two days after Mr Storey's funeral.
It says sizes of churches and funeral homes determine how many mourners can attend services, but it's not clear from when exactly this measure took effect.
Ms O'Neill maintains everything she did was in accordance with the regulations, but there is still public and political anger about Sinn Féin's response, which the deputy first minister will be confronted with more of in the assembly tomorrow.
First Minister Arlene Foster told Good Morning Ulster it is "important to recognise the anger people are feeling even if Sinn Féin isn't".
She said she was concerned that the actions of the deputy first minister had damaged the credibility of the executive's message.
Mrs Foster also said it would be "wrong" for her to continue joint press conferences with Ms O'Neill at the current time.
"We do have to keep building credibility but there has to be a recognition that it was damaged," she added.
The DUP leader said she hoped the executive could get back to a point where it was possible again to hold joint press briefings.
Sinn Féin's Martina Anderson said her party will oppose the assembly motion on Tuesday and repeated Ms O'Neill's claim that criticism of Sinn Féin's conduct at the funeral was "political point-scoring".
"I don't think we are hearing much about public health, but for republicans this seems to be about who's funeral it was," Ms Anderson told BBC Inside Politics Q&A.
"We shouldn't sleepwalk into collapsing the institutions as there are some real challenges which are only starting."
Last week, Ms O'Neill apologised "for grieving families experiencing more hurt".
But she has insisted that she did not break social distancing guidelines.
Orange Order grand secretary Mervyn Gibson said the funeral was a "bad example". Asked about the Twelfth of July, Mr Gibson said he "doesn't want people to break the regulations".
"Lockdown is still in place. The coronavirus is still out there and crowds spread the coronavirus. That's why the funeral was wrong," he told BBC Radio Ulster's, The Nolan Show.
In early April, the Orange Order cancelled all its traditional Twelfth parades due to the Covid-19 restrictions on public gatherings.
The Orange Order has confirmed that these parades will not take place, and instead advised its members to celebrate the occasion at home.
However, as of last week, the Parades Commission had received more than 80 applications for marches to celebrate the Twelfth.