Bobby Storey funeral: O'Neill 'sorry' for grieving families' hurt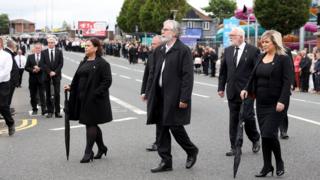 Michelle O'Neill has said she is "sorry for grieving families experiencing more hurt" after complaints about her attending an ex-IRA leader's funeral.
The deputy first minister was accused of breaching social distancing regulations at Bobby Storey's funeral.
However the First Minister Arlene Foster said the apology "fell short" in not acknowledging Ms O'Neill's "role in causing the hurt".
Four executive parties, including the DUP, had called for her to step aside.
Ms O'Neill has said she believes she stuck to the coronavirus lockdown guidelines.
'Unfortunate controversy'
At a press conference on Friday, she said: "I am confident that I worked within the guidelines in terms of attending a Requiem Mass, which was allowed, and also to walk in a funeral cortege of up to 30 people."
She said she was conscious that "in the middle all the politicking, there are a number of families grieving, who have lost love ones throughout this pandemic".
"At a point in time, families were denied the right to have that family support in terms of a funeral and how they would grieve. I hear those families."
'Messaging has been severely damaged'
Mrs Foster told a press conference on Friday that she would be speaking to the other party leaders about this issue and "trying to move forward".
"It is important that we try to build the trust that has been lost," she said.
"The executive has tried to deliver messaging as regards public health guidance to keep our people safe and the credibility of that messaging has been severely damaged over the past week," she added.
She said it had been important the "hurt was recognised" but that the apology did not go far enough.
She reiterated her position that the deputy first minister should consider stepping aside while investigations were ongoing.
"If she decides not to that is a matter for Sinn Féin," she said.
She added that, as it was her opinion that Ms O'Neill had broken guidelines, the two would not be doing a side-by-side daily briefing on Monday.
There have also been calls for an independent investigation into the circumstances surrounding Mr Storey's cremation at Roselawn Crematorium.
The body of the former prisoner, who was considered the head of intelligence of the IRA for a period from the mid-1990s, was brought to the facility after initially being taken to Milltown Cemetery.
In relation to this, Ms O'Neill said "everything was done by the guidelines" and people should stop "stirring the pot".
Belfast City Council said all cremations held on Tuesday complied with the guidance from the Northern Ireland Executive guidance which permits 30 people to gather outside.
Analysis by BBC News NI political correspondent Gareth Gordon
Hands up who remembers the 1987 novelty single Star Trekkin' featuring the line "It's life Jim but not as we know it".
For the past five months it could have applied to the Stormont executive
The Covid crisis seemed to bring harmony to a place marked by discord in the past. No more.
The row over the Deputy First Minister Michelle O'Neill's attendance at Bobby Storey's funeral has driven a spike between her and the other executive parties.
The others want her out but she's not going and they can't force her.
So for the moment, no more happy family press snaps at their desks and no more joint press briefings extolling the message 'Keep your distance wash your hands'.
Arlene Foster says it will be a challenge. It looks like the executive really will be exercising social distancing with relish.
But unlike previous crises Stormont won't collapse.
For one thing the situation still needs leadership even if the task is now infinitely more difficult. And secondly the parties must stumble on for this really could be devolution's last chance.
In other words ,It's Life Jim, a little more like we've known it.
Roselawn allegations
The UUP has called for an independent investigation into the circumstances surrounding Mr Storey's cremation at Roselawn Cemetery.
There have been claims that a number of council staff were sent home from the cemetery during the funeral and that no burials were permitted after 14:00 BST and no cremations after 15:00 to accommodate Mr Storey's cremation.
Ulster Unionist MLA Doug Beattie said Sinn Féin had turned the situation "into a circus".
The council said plans were put in place for people appointed by the Storey family to work with it in stewarding the event so that "those allowed on the site were only those permitted by the family".
It said some staff who had been due to go home at 16:00 BST were allowed to leave at 14:00 "to avoid a situation where staff would be photographed, as has happened... in the past" and that a decision had been taken not to hold any more cremations that day "in order to protect the privacy of other members of the public and their cremation services".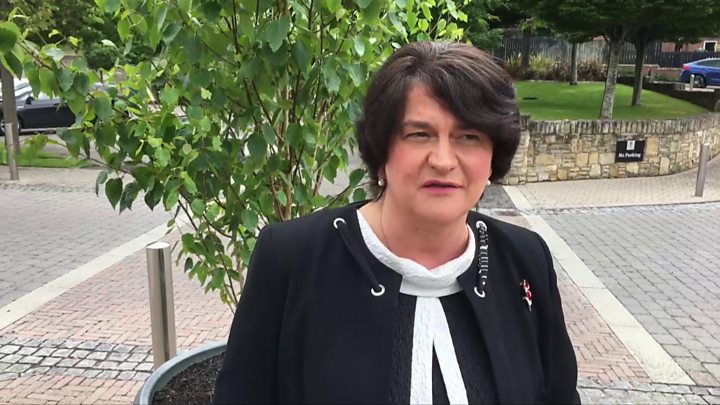 Guidelines
About 120 mourners were inside St Agnes's Church in Belfast for Mr Storey's funeral, BBC News NI understands.
Updated guidance, seen by BBC News NI on Wednesday and published on the Department of Health website on Thursday, said funeral services could now be conducted in a place of worship.
"The size and circumstances of the venue will determine the maximum number that can attend the service safely whilst observing social distancing of at least two metres, wherever possible," it stated.
It also recommended face coverings for indoor services.
The guidance for those gathering outdoors remains "a maximum of 30 to gather for the committal at the graveside or at the front of the City of Belfast Crematorium".
Sinn Féin leader Mary Lou McDonald told RTÉ she understood "the images of very busy pathways in west Belfast... has caused some hurt among some of those families"
"For that I am very sorry," she said.
Crisis talks
The issue has become Stormont's biggest political crisis since devolution was restored in January after a three-year hiatus.
On Thursday, Mrs Foster said she could not currently "stand beside" Ms O'Neill and "give out public health advice" after her attendance at the funeral.
SDLP leader Colum Eastwood said Ms O'Neill had offered a "half apology", and that she should stand aside if she was not able to show contrition.
DUP MP Sir Jeffrey Donaldson said the deputy first minister "failed to realise the public mood on this and the deep concern that people are taking this personally".