Transfer test: Bishop regrets Catholic grammars acting in 'self-interest'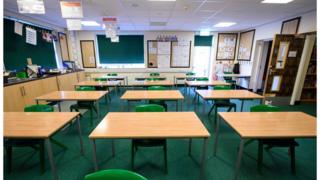 Catholic grammar schools who have announced they will proceed with academic selection have been accused of "self-interest" by the Bishop of Derry.
Eight schools in Belfast have confirmed they will use the GL Assessment to select pupils for 2021/22.
Lumen Christi in Londonderry has also confirmed it will use the test.
In a joint statement, the schools' boards of governors said academic selection "is, and remains, a key component of the admissions criteria".
'Not enough'
Bishop Donal McKeown expressed disappointment at the news, saying it will create "educational poverty and poverty of hope".
"A Catholic school can't just act out of self-interest. That may be enough for business, but it's not enough for faith-based institutions," he told BBC News NI.
"It has to take on board the reality that's facing our entire community and ensure that nothing that they do further damages those who risk being damaged severely by the out-workings of the pandemic."
The head of the Catholic Church in Ireland, Archbishop Eamon Martin, had previously urged Catholic grammars not to use the test to admit pupils for the 2021/22 academic year.
In response, a number of Catholic grammar schools across Northern Ireland announced they were scrapping the test.
Schools in Enniskillen, Newry, Kilkeel and Derry said they were doing away with selection for one year because of "the disruption to the education of pupils since March 2020".
However, Belfast grammar schools, including Aquinas, Rathmore, St Dominics, Our Lady and St Patrick's College in Knock, St Mary's Christian Brothers, Dominican College and St Malachy's College, have insisted selection will go ahead for the 2021 intake of pupils.
'Mitigating measures'
Their governors said they "are mindful of the unprecedented circumstances facing all of our young people" and that they "want to provide as much certainty and reassurance as possible for both pupils and parents".
They said they welcomed "the mitigating measures being taken by the Post Primary Transfer Consortium to make the GL Assessment papers as accessible as possible for pupils".
"We also welcome that additional time will be afforded this year to the pupils to complete each of the two papers," the statement said.
St Patrick's Academy in Dungannon, County Tyrone, has also previously said it will use the GL test to select pupils for September 2021.
'Distressing realities'
Bishop McKeown appealed to the schools to "look at the realities in your environment" and act with a "social justice perspective".
"If you can take responsibility for your decisions in the face of those distressing realities that will be affecting all of us - they'll be affecting people who are living a few hundred yards away from any given school - how do you ensure that you're acting with integrity rather than self-interest?"
Professor of Education at Queen's University, Tony Gallagher, commended those schools doing away with selection in 2021, saying they "put the needs and interests of children first".
"It is disappointing that others seem not to want to follow their lead," he added.
Prof Gallagher said educational inequality had been "exacerbated by the health crisis".
"We should be redoubling our efforts to deal with that challenge and avoid placing unnecessary additional pressure on children," he said.
None of the 30 grammars who use the alternative AQE test have indicated they will not use it to admit pupils.