Coronavirus lockdown easing: Groups of six can meet indoors in NI from Tuesday
By Jayne McCormack
BBC News NI Political Reporter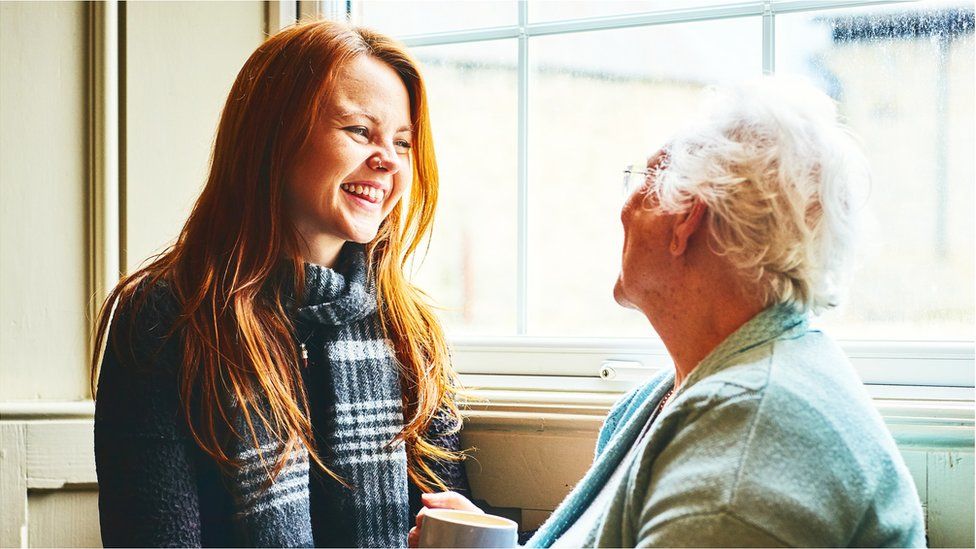 Groups of up to six people in Northern Ireland can meet indoors from Tuesday, the executive has agreed.
First Minister Arlene Foster said it would be a "new milestone" in NI's journey out of the Covid-19 lockdown.
It means Northern Ireland will become the first part of the UK to permit limited indoor gatherings.
People will still be required to maintain social distancing when meeting indoors with family and friends.
The executive said people were "strongly advised" to wear face coverings during indoor gatherings, and the regulations did not extend to overnight visits.
Until now, people in Northern Ireland have only been allowed to gather outside in groups of 10 or fewer.
In the Republic of Ireland people are already permitted to meet indoors, in groups of up to six.
Speaking at the executive's press conference, Deputy First Minister Michelle O'Neill said the new easement came with "very strong public health advice".
"I know the natural human reaction will be to hug each other, but for now distance is still needed to keep people safe," she added.
Mrs Foster acknowledged people in Northern Ireland had "weathered a particularly vicious storm".
"I know many of you have been desperate to visit family and friends in their homes," she added.
"As positive as this step is, we cannot stress enough that the battle against Covid-19 is very much still ongoing."
Both the first and deputy first ministers said they also hoped the move would allow "informal childcare arrangements" to begin for families again.
Other changes for shielders
Indoor visits will not apply to those vulnerable people in Northern Ireland who are shielding, Ms O'Neill said.
However from 6 July, shielders can meet outside in groups of up to six, maintaining social distancing.
People who are shielding alone will be able to form a support bubble with one other household from 6 July.
New letters will be issued to about 95,000 people who are shielding, ahead of a planned "pause" in the shielding period, which is due to start from 31 July.
Professor Ian Young, chief scientific advisor to the Department of Health, said he was confident people would want to wear face coverings when they understood they would help to protect loved ones when they meet indoors.
He said there may be settings where face coverings will become mandatory in the future but that would be a matter of a policy decision.
"If everyone would do it on a voluntary basis hopefully that will not be necessary," he told BBC Radio Ulster's Good Morning Ulster programme.
He added that he was not aware of plans to make face coverings mandatory on public transport, but said it was something that would be kept under review.
Belfast City Council has agreed to waive all fees for pavement cafe licences, with applications now open for cafes, bars and restaurants to use outdoor space for tables and chairs
The NI Sports Forum has written to the first and deputy first ministers asking them to take "urgent action" to reopen NI's indoor sports facilities
Cinema owners in NI are also calling for a reopening date, with multiplexes in the Republic of Ireland set to resume trading from 20 July
There will be a phased return of MoT and driver testing services - from 20 July, MoT testing for priority vehicle groups, including taxis and buses due a first time test, and vehicles not previously registered in NI will begin
The Republic of Ireland's health authority plans to press ahead with the launch of a coronavirus contact-tracing app.
Two further people with coronavirus have died in the Republic of Ireland, bringing the country's death toll to 1,717
On Monday, ministers also discussed the 2m (6ft) social distancing rule, funding for childcare and school dinners, as well as the use of face coverings.
No decision has yet been taken by ministers on whether face coverings on public transport should become mandatory, but Ms O'Neill said the issue was "under review".
"The advice remains that we strongly recommend it," added the deputy first minister.
Social distancing in England is expected to be reduced from 2m to 1m in England from Tuesday, with Prime Minister Boris Johnson due to make an announcement.
Mrs Foster said the executive would engage with Westminster officials about the issue, but no agreement had been reached by Stormont ministers.
Several of her DUP ministerial colleagues have urged the distance to be reduced, in order to make it more viable for some sectors of the economy to resume trading.
The executive's announcement on indoor gatherings came as no new coronavirus-related deaths have been reported in Northern Ireland in the past 24 hours.
One new confirmed case of the virus has been recorded, taking that total to 4,871.
Meanwhile, with just a week to go before parking and bus lane fines are reintroduced, motorists who break the rules are being issued with "warnings" from Monday.
On-street parking charges and bus lane enforcement were suspended on 24 March as part of the coronavirus lockdown.
But enforcement teams are back on the streets from 22 June to prepare for the return of charges and fines on 29 June.
Infrastructure Minister Nichola Mallon said it was part of the economic recovery plan to support businesses.
However she acknowledged the return of parking charges and bus lane fines "may not be popular for some" but added she had to consider the needs of all road users.