Coronavirus: First part of £60m PPE delivered to NI from China
By Louise Cullen
BBC News NI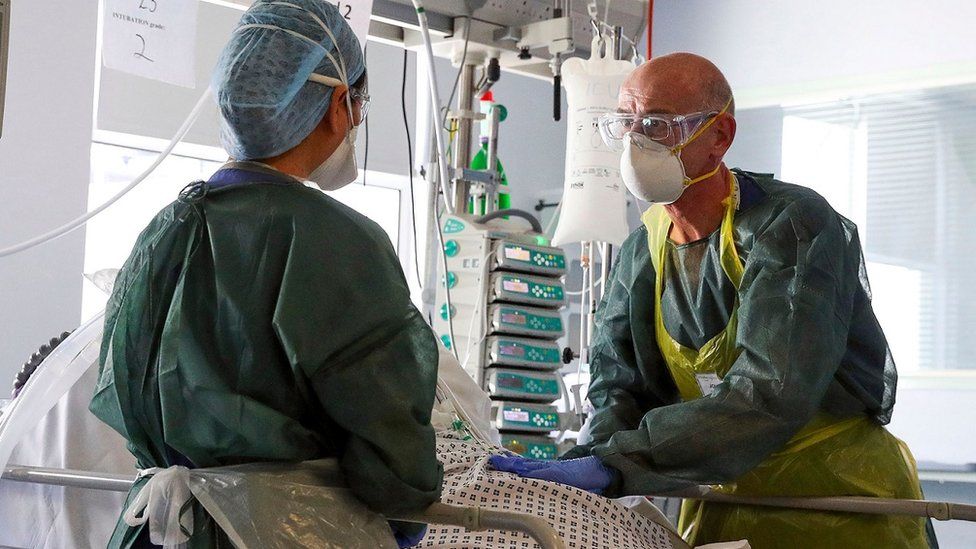 The first part of a £60m consignment of personal protective equipment (PPE) has been delivered to Northern Ireland from China.
The Department of Health said 1.5 million Type 11R masks reached Belfast in recent days. The remainder is to follow over the coming weeks.
The contract is separate from the four nations UK-wide agreement, where PPE is distributed centrally from London.
The Departments of Health and Finance worked together on securing the new contract, with the help of the Northern Ireland Bureau and Invest NI in China.
The Department of Health said a total of just over 63 million masks had been ordered alongside almost 55 million pairs of gloves, to be delivered in phases.
Finance Minister Conor Murphy said there would be a continued demand among staff and public sector workers until the virus is defeated or a vaccine is developed.
"There is an ongoing need, not just among acute medical staff, but among other staff, other public sector workers for PPE," he said.
"We had undertaken at the very start of this not to put frontline staff at risk, we were relying on them to carry the fight to this virus and we have to make sure that they're properly protected in doing that."
Health Minster Robin Swann said there is intense global demand for PPE products and the achievement in securing the order "should not be underestimated".
"However, demand for PPE will remain at very high levels for a considerable period, not just in health and social care but in other sectors too," he said.
Mr Swann said PPE products would only be issued to frontline staff after the equipment had been assessed. However, reports on the new PPE were positive so far, he said.
The finance minister said that establishing the supply line with China in the face of international competition was "a significant achievement".
"At the same time as opening up a supply line with China, it is important to ramp up local supply of PPE," Mr Murphy said.
"Many companies have already repurposed their operations and this should be expanded to provide security of supply and create employment as we move towards economic recovery."
At the end of March, Mr Murphy said that a joint consignment of PPE from China had been agreed between Stormont and the Irish government.
However, a week later, Finance Minister Conor Murphy said the plan had failed when "major economic powers entered the global race for PPE".
Last week, the Finance Department was accused of withholding emails about the failed order.
Speaking on BBC Radio Ulster's Good Morning Ulster programme on Wednesday, Mr Murphy said: "We have to make a judgement and get legal advice as to whether the release of certain emails would jeopardise the potential to get critical material for our front-line staff."
The finance minister said he was happy to "consider any request for appropriate information".