Coronavirus: People shielding allowed outdoors from 8 June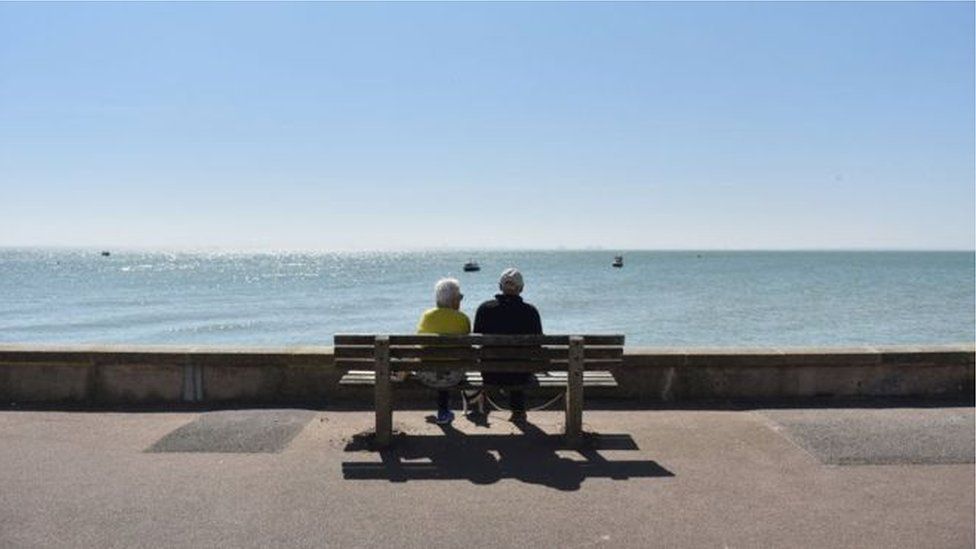 Vulnerable people in Northern Ireland advised to shield during the coronavirus lockdown could be able to go outdoors again from Monday, 8 June, the executive has agreed.
The move will be permitted if the R-number is below one when ministers meet on Thursday, said Arlene Foster.
It will allow those shielding to go out with members of their household.
Those living alone will be able to meet with one person from another household, while maintaining social distancing.
About 80,000 people in Northern Ireland received Department of Health letters advising them to remain indoors for 12 weeks at the start of the lockdown.
Speaking at the daily press conference at Stormont on Monday, the first minister said the executive felt it was a "reasonable and proportionate first step" to allow people who are shielding to go outside, while minimising risks.
"All of the announcements are consequential on R-number being in a good place on Thursday, but we are listening to people's concerns, we want to give them hope," Mrs Foster added.
"That doesn't mean we can't indicate a direction of travel, so if everything goes according to plan on Thursday, those shielding will be able to go outside."
Letters with updated guidance will be issued in the coming days, added Deputy First Minister Michelle O'Neill.
However, she urged vulnerable people to adhere to public health advice.
"You have come this far so make sure you protect yourself as best you can until we're out the other side of this," said Ms O'Neill.
"We have to always keep things under review and whenever any easements are made, it takes a number of weeks for that to come through."
Both ministers accepted that for those shielding in Northern Ireland, the lockdown has been incredibly challenging.
Dr Alan Stout, chair of the British Medical Association NI GP committee, said that announcement will be welcomed by many.
"Being able to go outside and enjoy the fresh air, and see another friend, will benefit their physical and importantly their mental health," he said.
The department's daily figures are mostly comprised of hospital deaths and where a patient had previously tested positive for the virus.
The latest figures on the department's dashboard show a further 12 confirmed positive cases of the virus, bringing that total to 4,728.
Six people are receiving intensive care treatment because they have the virus or are suspected to have it.
One further person has also died in the Republic of Ireland, bringing its total to 1,650.
Mrs Foster also criticised reports of complacency and a "flagrant disregard" for the lockdown restrictions.
"This is a global pandemic without a vaccine," she added.
"You prolong that journey if you break rules and create conditions where Covid-19 can thrive."
Why does the R-number matter?
As R refers to the average number of people that someone with Covid-19 is expected to infect, the goal is to keep R below one to prevent the spread of the virus.
Prof Ian Young, the Chief Scientific Adviser, said there are a number of other factors guiding officials.
For example, the number of daily new cases needs to be low in order for contact tracing, testing and isolating to work properly, he said.
The number of hospital admissions and critical care patients is being closely monitored as well, to ensure the R-number is kept low.