Coronavirus: NI aims to allow small outdoor weddings from June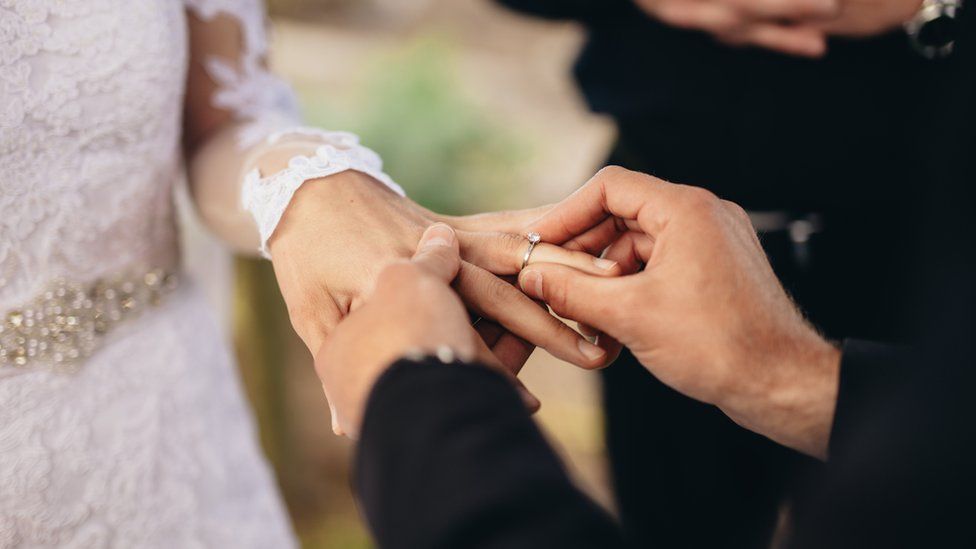 Outdoors weddings with 10 people present may be allowed in NI from 8 June, the executive has agreed.
Large retailers such as car showrooms and shops in retail parks will also be allowed to reopen, ministers said, having met to review lockdown rules.
First Minister Arlene Foster said the executive would confirm the changes after it meets on 4 June.
Ministers want to ensure the R-number remains below one before lifting restrictions further.
But Stormont's leaders stress they will only move slowly, in order to monitor the R-number - the average number of people that one coronavirus-infected person will pass the virus on to.
"It is still below one, but it is not far away from one," warned the first minister.
Although Mrs Foster said she understood how important it was for everyone to see as much "gradual process towards normality as possible", she said a decision on whether to allow people to visit relatives indoors had again been deferred.
Meanwhile, the health department announced there had been two more coronavirus-linked deaths in NI since Wednesday, bringing its total number of deaths to 518.
A further 377 deaths have been recorded across the UK, taking its total to 37,837.
In the Republic of Ireland, a further nine deaths were announced on Thursday, bringing the country's total to 1,639.
The latest announcement by the executive means Northern Ireland could move into some parts of step two of its Pathway to Recovery.
The decisions agreed by the executive on Thursday, which will provisionally start from 8 June, include:
Small weddings and civil partnership ceremonies permitted outdoors, with no more than 10 people present
Outdoor sports courts, horse trainers and dog groomers can reopen
Hotels will be able to take advance bookings, for when they can reopen again
Large non-food retailers can reopen, including car showrooms, electrical shops and phone shops
The announcement will hopefully provide clarity to the public and "ease the burden", said Deputy First Minister Michelle O'Neill.
Both ministers stressed that shops could only reopen in line with physical distancing measures, and that the Department for the Economy would set out further guidance next week.
In England, all non-essential retailers can open from 15 June.
The executive will consider the rest of the step two measures of its Pathway to Recovery, in its next review of lockdown regulations, which must happen by 18 June.
Good to be able to speak with the Prime Minister @BorisJohnson earlier regarding restrictions and the battle against COVID-19 across the United Kingdom.

We're moving in the right direction but it will be a slow journey.

— Arlene Foster #We'llMeetAgain (@DUPleader) May 28, 2020
The first and deputy first ministers spoke to Prime Minister Boris Johnson earlier, as part of ongoing talks between the devolved administrations on the UK's response to the coronavirus pandemic.
A Downing Street spokesperson said Mr Johnson made it clear that as the UK moves to the "next phase" of tackling the virus, he remains determined to work closely with the devolved administrations.
"This continues to be a UK-wide approach, even though we may travel at slightly different speeds based on the scientific evidence," added the spokesperson.
While shops will not be forced to reopen from 8 June, setting the date would be an indication to them that it was safe to do so, added Ms O'Neill.
However, the executive said it was not yet able to give a definitive date for the reopening of hotels.
Mrs Foster also addressed the issue of people attending funerals, where only 10 people are currently permitted.
"We recognise it is not easy when people are grieving, to abide by these rules," said the first minister.
But she said police were investigating reports of larger numbers of mourners attending funerals, adding that files would be sent to the Public Prosecution Service.
Ms O'Neill said she understood many people had made personal sacrifices, but stressed that the regulations would not remain in force for any longer than necessary.
Earlier, Assistant Chief Constable Alan Todd said policing at funerals was made difficult by a lack of specific instructions in the coronavirus regulations.
Mr Todd told Stormont's justice committee he had not issued guidelines to officers around funerals, "because there are no guidelines issued from the people who laid the regulations".
He was not sure anyone would think police taking a "hands-on" approach to enforcement at a funeral would be a good idea, he added.
Why does the R-number matter?
As R refers to the average number of people that someone with Covid-19 is expected to infect, the goal is to keep R below one to prevent the spread of the virus.
Prof Ian Young, the Chief Scientific Adviser, has said there are a number of other factors guiding officials.
For example, the number of daily new cases needs to be low in order for contact tracing, testing and isolating to work properly, he said.
The executive's most recent figures, from 19 to 25 May, state that 212 cases have been contact-traced in Northern Ireland - an average of 30 cases per day.
The tracing is currently being carried out exclusively by phone, with 99 staff deployed to work on the system.
The number of hospital admissions and critical care patients is being closely monitored as well, to ensure the R-number is kept low.