Coronavirus Q&A: What is NI's contact tracing plan?
By Jayne McCormack
BBC News NI Political Reporter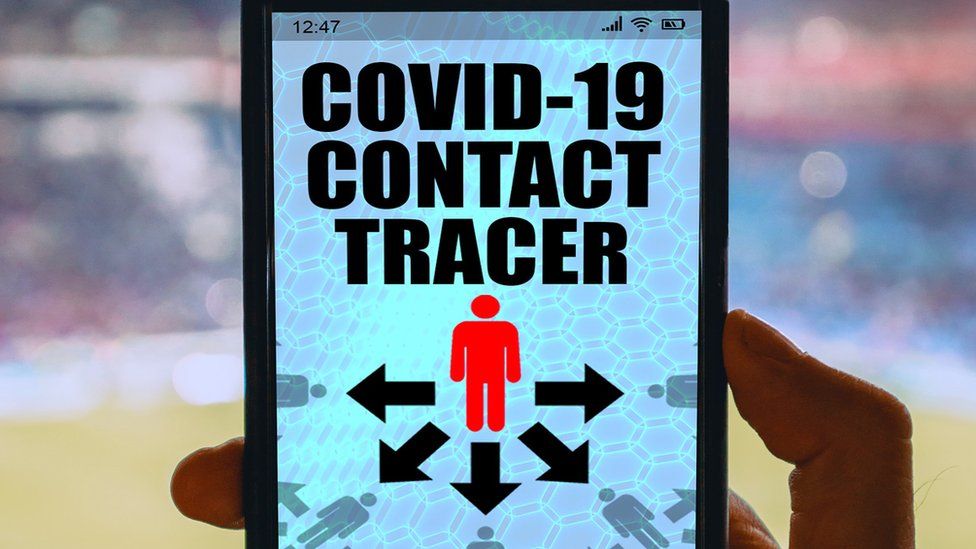 Northern Ireland was the first of the four UK administrations to roll out a contact tracing programme, as part of its plans to tackle coronavirus.
Here's a guide to what the process involves and how it is being carried out in Northern Ireland.
Contact tracing aims to identify and alert people who have come into contact with a person infected with coronavirus.
It is a crucial component of the "test, trace and isolate" strategy, credited with helping to lift restrictions in other countries.
Someone who has been infected is asked to list all the people they've been in prolonged contact with, in the period from 48 hours before their symptoms began.
Those people will then be tracked down by phone or email, before potentially being asked to self-isolate and, in some cases, offered a test for the virus.
Why did contact tracing stop in NI?
Contact tracing in the UK largely stopped on 12 March, as the government moved into a different stage of its response to the virus.
From 19 May it was was then rolled out more widely to include all confirmed positive Covid-19 cases and operates across seven days a week.
The PHA said 9,001 contacts had been identified as a result, but there were 1,913 cases where contact tracing had not been completed.
How is it working in Northern Ireland?
The system was initially carried out solely by telephone, with PHA staff talking to people with a positive test about their infection and asking them if there are people they have been close to who may be at risk of becoming ill (their contacts).
They will then phone their contacts and talk to them about their risk of infection. Everyone who has the infection and who is a close contact will have to self-isolate. People need to provide their phone number when they get a test.
There are currently 176 Contact Tracing Service (CTS) employees - 151 of these are fully trained and operational, and the remaining 25 are being trained this month.
The PHA said they come from a number of backgrounds including nursing, health improvement staff, RQIA bank inspectors, nurses from health trusts and environmental health officers. 
It added that it was "actively adding" more staff, with further interviews planned from its most recent round of recruitment.
The number of staff working at any one time is adjusted according to demand for the service, and this is planned on a daily basis based on the number of tests coming through the system.
Since 9 October, the tracing service has been working "digital first", meaning the majority of people who test positive are now contacted by text message and provided with a personal code which they can use at a website, to input details of people with whom they were in recent close proximity.
Most positive cases will go through the digital system by default, but manual contact will still be made with some people who test positive and some contacts where a digital approach is not appropriate, for example those who do not have access to a mobile phone or to the internet, or those who are involved in complex settings.
There will be safeguards and checks built into the model to help ensure that the method of engagement is appropriate for each individual who is a positive case or a contact.
Dr Gerry Waldron of the PHA said it would increase the speed of contacts being alerted, and will also "free up contact tracer capacity" to deal with more complex cases, given the significant number of positive cases coming through the system.
The contact call centre is based at the PHA in Ballymena.
What about contact tracing apps?
Northern Ireland launched its Stop Covid app at the end of July - the first part of the UK to have an app in place.
The advantage of the app is it can identify people the patient may not know - like fellow passengers on a bus.
Dan West, chief digital information officer at the Department of Health, said the NI app notifies close contacts automatically, using Bluetooth.
However, the new app does not work on iPhone 6 or older models.
Should it work on an all-island basis?
The Department of Health says the NI app, and a similar app rolled out in the Republic of Ireland earlier this year, work together.
A user does not have to have both apps installed on the phone - just install the app from whichever jurisdiction in which they live.
Ministers in Northern Ireland and the Republic of Ireland signed a memorandum of understanding in April, which co-ordinates their approach to tackling the virus.
They have already committed to "strong data sharing arrangements" north and south of the Irish border.
People who have downloaded the app are also able to continue using it if they travel to Scotland and Jersey.
Work is also under way to make the app inter-operable with other contact tracing apps, including the NHS app used in England and Wales, the Department of Health said.
How long is contact tracing likely to be used in NI?
It is anticipated that the system could be in place for two years.
The NI Executive has maintained that contact tracing is a crucial component for ending the lockdown, and that wider surveillance of the virus in the community is necessary.
She said key to ensuring society can live with the virus until a vaccine is found, is the test, trace and isolate scheme.
On average, 1,000 new cases of coronavirus in Northern Ireland are now being recorded every day.