Coronavirus response included in NI mental health action plan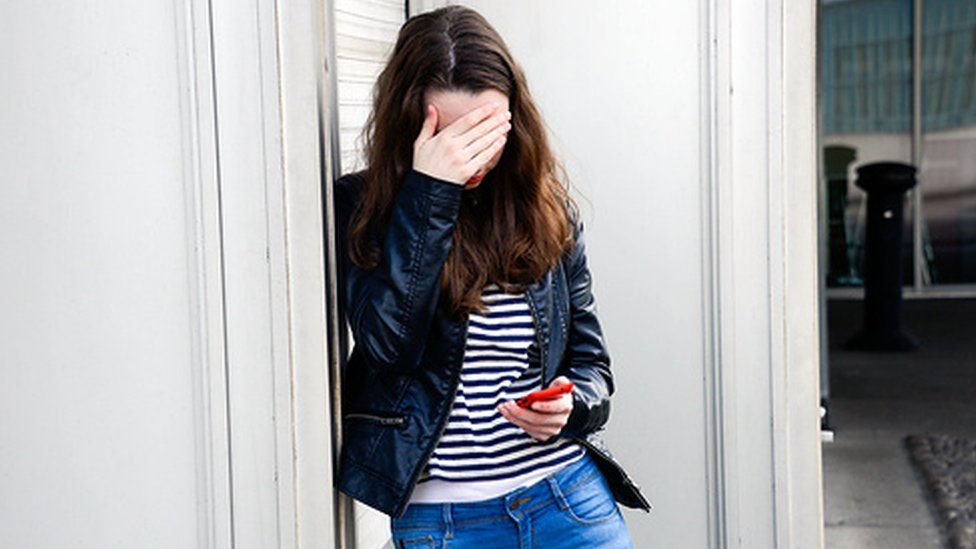 A new action plan to improve mental health services in Northern Ireland includes a "dedicated Covid-19 response" the health minister has said.
Mr Swann said he believes mental health problems "are going to be one of the biggest fall-outs" from the pandemic.
Also included in the list is specialist mental health services for pregnant women and new mothers.
The publication follows years of lobbying by charities, patients and mental health advocates who warned mental health services were in crisis because of underfunding, long waiting lists and lack of staff.
"Since taking up post, I have been very clear that mental health is a priority for me," Mr Swann said.
"The Mental Health Action Plan is the first in a series of steps I will take to ensure those suffering from mental ill health will be able to access the services they need, when they need them.
"The importance of this has been brought into sharp focus during these unprecedented times, when the mental health of the population is suffering as a result of the devastating impact of Covid-19.
"That is why the action plan includes a dedicated Covid-19 response plan which outlines the psychological wellbeing and mental health response to the current pandemic."
In addition to the coronavirus response and specialist perinatal services, the 38-point plan includes:
a review of mental health crisis services
a review of suicide and homicide
further support for mental health services in GP surgeries
the development of "managed care networks" for child and adolescent mental health services
Mr Swann has also made a commitment to publishing a new 10-year mental health strategy by the end of this year to set out the long-term future of services.
But in the interim, he said the current action plan would "provide a common focus and direction" while also "delivering key improvements to services needed right now".
The document was welcomed by the charity Action Mental Health, whose chief executive David Babington described it as "great news".
"If this is fully funded and we have accountability to make sure people work together to get this done, we really are in different place from the perspective of mental health in Northern Ireland," he told the BBC's Good Morning Ulster programme.
Asked if it was a really only a "plan to have a plan" in the absence of a full mental health strategy, Mr Babington acknowledged the document was a "short-term measure for the here and now".
But he said it would help deal with immediate challenges posed by Covid-19 as it is feared patients with existing mental health issues "are going to have worse problems as we emerge from the lockdown".
Mr Babington said there was also "anecdotal evidence" the pandemic was causing more anxiety and stress in the wider population because of self-isolation, rising unemployment and fear of a recession.
The Action Mental Health chief executive said the "icing on the cake" was the recent announcement to appoint a mental health champion who would "give a voice" to patients and service users.
Mr Babington said the champion must be "someone who can challenge decisions and also someone who, very importantly, is independent".
"Some people would say there should be a commissioner in post, that's someone who would be working to statute and be able to look at this over the longer term," he added.
But he said that the appointment of a champion instead of a commissioner would mean the post could be filled "very quickly".
Speaking on the same programme, the health minister said he believed mental health problems were "going to be one of the biggest fall-outs" from the pandemic.
"The number of organisations, the number of individuals that I'm talking to who are feeling the mental health strains of shielding; of being kept in; of lockdown itself - it's going to be something that we need to support," Mr Swann said.
The action plan was due to be published in March but was delayed for weeks due to the coronavirus public health emergency.
Mr Swann said the delay in publication had allowed time for a "special Covid-19 recovery part in our action plan because we do realise the stresses and additional steps it will take".
Before the coronavirus outbreak reached Northern Ireland, many patients, charities and stakeholders had warned of an existing crisis in mental health services.
In September 2018, Northern Ireland's Commissioner for Children and Young People produced the Still Waiting report, which mad several recommendations to improve children and young people's mental health services.
The Department of Health said on Tuesday that Mr Swann's 38-point plan "creates clear linkages" with the inter-departmental response to the Still Waiting report.