Coronavirus in NI: What am I allowed to do as Covid-19 lockdown eases?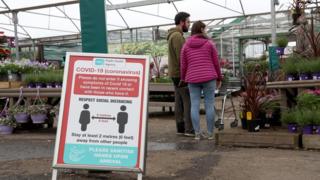 Northern Ireland has been taking the first steps in easing restrictions imposed when the coronavirus lockdown was enforced in March.
The moves are the first stage of the executive's five-step Pathway to Recovery.
Here, we answer some of the many readers' questions BBC News NI has received about the steps, and how they affect you.
Can I meet friends and relatives?
Step one of the pathway allows as many as six people from different households to meet, as long as they are outdoors - be this in a garden, park or another open space.
However, you must still adhere to social-distancing rules and remain 2m (6ft) apart.
You cannot visit friends or relatives inside their homes or other buildings, which First Minister Arlene Foster says is due to medical advice that the virus spreads more easily indoors.
Meeting people indoors is the only element of part one of the recovery plan that has not yet been unlocked. The issue has been under discussion by the executive..
One reader has asked if a family of five, together in one household, can have one visitor come over to celebrate their son's 21st birthday party.
This is allowed under the rules, however there are a couple of things to consider.
Social distancing with the friend has to be maintained, and the friend must remain in an outdoor space.
The guidance against indoor meetings also goes for travelling in cars.
If you are driving to meet someone from a different household outdoors, you must travel in separate cars and remain 2m (6ft) apart at all times.
When will car dealerships be open?
Car showrooms and larger retailers - such as shops in phone and furniture shops in retail parks - will be allowed to reopen from 8 June as long as the infection rate continues to drop, Stormont ministers announced on 28 May.
The executive will confirm details of proposed changes after it meets on 4 June.
During lockdown, car dealerships' sales and after-sales departments have been open for sales, regular services and repairs, via online or phone bookings.
For more details, call the dealership directly or visit its website.
Non-food retail outlets are included in step two of the Pathway to Recovery.
What does the easing of restrictions mean for the over-70s?
This depends on whether they have been self-isolating or not.
Some people over the age of 70 have been self-shielding, having received a letter advising them to do so from their GP.
People who are shielding could be able to go outdoors again from Monday, 8 June.
Those over-70 who are not in this group may go out and be in an outdoors space but, like everyone else, they must adhere to social-distancing and hand hygiene guidelines.
The NI direct website says that people over the age of 70 are considered vulnerable, even if they do not have an underlying health condition.
Can I access childcare?
Childcare is currently only available to vulnerable children and the children of frontline workers.
A spokesperson for the Department of Education said it was working on recovery planning with the Department of Health, and that its decisions are informed by "up-to-date medical and scientific advice".
Unfortunately, it is not possible to get to get a clear picture of when it might be possible to hire a childminder again.
The guidance given by the department says this will depend on when it is safe to do so for both children and workers.
Update on this situation will be provided on the Family Support NI website.
When will weddings be allowed?
Outdoors weddings with 10 people present may be allowed in NI from 8 June, the executive has agreed.
Previously, weddings had only been permitted for people who were terminally ill.
What about funerals?
While funeral services are still going ahead in Northern Ireland, government guidance limits the number of mourners to 10.
Police are investigating reports of larger numbers of mourners at funeral services, First Minister Arlene Foster said on 28 May, adding that files would be sent to the Public Prosecution Service.
But Assistant Chief Constable Alan Todd said policing at funerals was made difficult by a lack of specific instructions in the coronavirus regulations.
Mr Todd told Stormont's justice committee he had not issued guidelines to officers around funerals, "because there are no guidelines issued from the people who laid the regulations".
He was not sure anyone would think police taking a "hands-on" approach to enforcement at a funeral would be a good idea, he added.
Agriculture Minister Edwin Poots has said he supports relaxing these restrictions, telling BBC Radio Foyle that having more people at funerals was not unreasonable.
How far can I travel to take exercise or meet friends outdoors?
There are "no restrictions" on travel for those who are not self-isolating, Deputy First Minister Michelle O'Neill has said.
That means in all the instances where people are now permitted to leave home, there is no limit on the distance they can travel.
This is different from eased lockdown measures in the Republic of Ireland, where there is a 5km (3.1-mile) limit for those travelling to exercise.
While most people have followed government advice to only exercise once a day, that has never been included in regional coronavirus legislation.
When can I take part in non-contact football training?
This is covered in part two of the Pathway to Recovery.
The provisional easing of measures on 8 June includes the reopening of outdoor sports courts.
In the Republic of Ireland, teams are set to be allowed to train in small groups from 8 June.
What sports can I play?
Outdoor activities that do not involve shared contact with hard surfaces, including some water sports, are now permitted, and public sports venues and outdoors spaces can reopen.
While activities such as golf, tennis and fishing are now allowed, you should contact your club or event organiser for details about restrictions.
What about churches, cinemas and music events?
Churches can reopen for people to pray privately, with appropriate social distancing and the cleaning of shared-contact hard surfaces.
Drive-in or drive-through celebrations, such as some Ash Wednesday services in recent years, will be permitted.
Drive-in cinemas, music and theatrical events and theatres will also be allowed.
Garden centres and recycling centres have also been allowed to reopen.
What about driving across the border?
Northern Ireland and the Republic of Ireland share a 310-mile (500km) long border which many people cross regularly for work or leisure.
While Gardaí (Irish police) have been told they have no enforcement powers over people from Northern Ireland who breach Covid-19 regulations in the Republic of Ireland, the executive has urged people to use common sense when travelling.
In terms of travelling within the UK, one reader who lives in Londonderry and has family in England asked if that journey is possible.
UK-wide guidance, which would apply for someone travelling into England, advises only to take journeys which are necessary.
The type of trip described would also involve meeting up with a separate household - presumably indoors - which is also still not permitted.
On the issue of quarantine, there is no need to do so for someone making the journey from Northern Ireland to Great Britain, and then in the opposite direction.
Can I use a holiday home or caravan?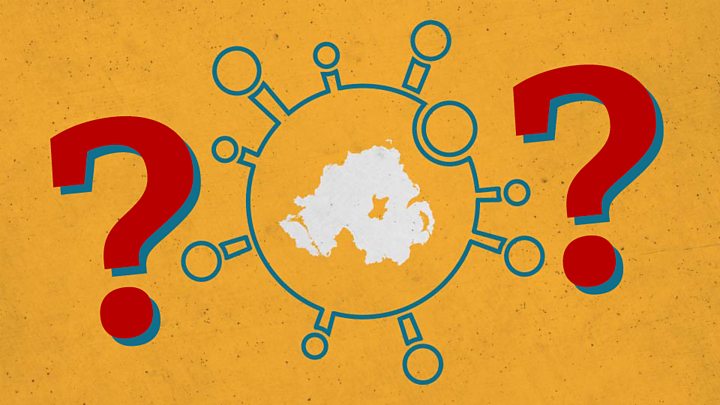 Having initially not been mentioned in the pathway to recovery, the issue of holiday accommodation was addressed the executive on 1 June.
Economy Minister Diane Dodds has now said hotels, holiday parks, caravan sites and self catering properties, guesthouses and accommodation, bed and breakfasts and hostels will be allowed to reopen on 20 July.
However Deputy First Minister Michelle O'Neill later added that caravans and self-catering accommodation might open sooner, "given that they are self contained units".
Why isn't there an all-island approach?
While Stormont has relied on Westminster for financial support during the Covid-19 crisis, it has also sought to co-ordinate with the Republic of Ireland.
A memorandum of understanding signed last month formalised this arrangement and there are regular meetings between the two governments, so they will relax restrictions on common principles, although timings may differ.
When do we move to step two?
Unlike the Republic of Ireland's recovery plan, Northern Ireland's approach has no defined timetable, so we cannot answer questions about specific dates - although the executive has said measures from step two of its Pathway to Recovery may be introduced from 8 June.
The Stormont executive says it will follow scientific advice on the timing of lockdown-easing steps.
As in other countries, the R number - the number of people an infected person is likely pass the virus on to - is an important factor here.
When introduced, step two of Northern Ireland's plan may allow:
Groups of 10 people to meet outdoors
The resumption of some non-contact team sports and indoor activities
Large non-food retailers can reopen, including car showrooms, electrical shops and phone shops
Small weddings and civil partnership ceremonies permitted outdoors, with no more than 10 people present
Outdoor sports courts, horse trainers and dog groomers can reopen
Hotels will be able to take advance bookings, for when they can reopen again
When can I move house?
In England, estate agents are reopening and carrying out viewings.
But in NI, Scotland and Wales the property market remains "in pause mode", according to PropertyPal's chief economist.
While the Pathway to Recovery does not specifically mention estate agents, they can make "tentative preparations" for a resumption of business, Jordan Buchanan told BBC News NI, saying resumption of business could be a matter of weeks or a month away.
When will schools reopen?
Northern Ireland's schools have been closed since March.
Schools are mentioned in step four of the Pathway to Recovery.
Some NI pupils will return to school in late August with a phased return for the remainder, the education minister Peter Weir has said.
He said the reopening of schools would begin with limited provision for pupils preparing for exams, such as GCSEs and A-Levels, as well as students moving from primary to post-primary schools in August.
This will be followed by a phased reopening for all pupils at the beginning of September, which will involve a mix of class-based and remote learning.
For more information on what we know about schools, read more here.
Can I get a dental appointment?
The short answer is that, unless you are in serious pain, you cannot.
Dental practices have been closed to all but emergency treatment since the lockdown began.
However, while there are no firm dates, the picture of when changes to this are likely to happen should become clearer in the coming weeks.
The Northern Ireland Dental Practice Committee, which represents about 90% of dentists in the region and is part of the British Dental Association, will be meeting on Tuesday 2 June to discuss a reopening schedule for general dental practices.
As part of this, it will be considering draft operational guidance.
The British Dental Association, the industry's representative body, has also called on the Department of Health to produce at roadmap to recovery, which lays out what dental services can return at general practice, depending on the level of public health risk
Most dental procedures are aerosol-generating, meaning they release airborne particles which can result in infection spreading, the Health and Social Care Board has said.
If you have a dental problem, call your dentist.
You may receive a call back from a dentist, be given advice, issued with a prescription or asked to come into the practice.
Why can I travel to meet friends outside but not to my holiday home?
While Deputy First Minister Michelle O'Neill says there are no restrictions on travel distance, this only applies to occasions when people are now permitted to leave their homes.
Going to a holiday home is not one of those occasions, the health minister has confirmed.
"People in NI should not be heading to caravan parks or holiday homes at this time," said Robin Swann. "Stick with us and the spirit of what this legislation is about."
In the Republic of Ireland, visiting hotels, hostels, caravan parks and holiday parks will be allowed in phase four of the roadmap to recovery, which is set to start on 20 July.
Can I go to public parks and forests?
Yes - but make sure to use the toilet beforehand.
Facilities at the parks, such as toilets or cafes, are not yet allowed to open.
Agriculture Minister Edwin Poots reopened Daera-owned estates last month, and car parks reopened on Wednesday 27 May.
A spokesperson for the National Trust said the reopening of its car parks would be "gradual" and "local judgement" would be used to avoid creating hotspots.
It urged the public to check its website before visiting its facilities.
As regards National Trust grounds, from 27 May, some coast and countryside car parks will be reopened.
Houses, gardens and parklands remain closed.
Could the restrictions be tightened again?
Yes. People's behaviour over the next few weeks will determine whether lockdown-easing steps continue, are halted or are reversed - depending on how the R value is affected.
If the R value continues to drop, Northern Ireland will carry on through the steps of the Pathway to Recovery.
But if that number starts to creep up again, the executive has said it will re-introduce restrictions.