Coronavirus: Care home testing to be completed by end of June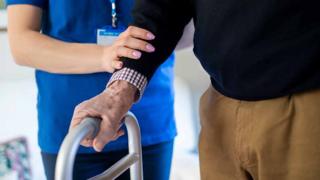 Testing on all care home residents will be completed by the end of June, the Department of Health (DoH) has said.
Staff testing will be done on a rolling basis.
"It is our intention that during June. testing will be available to all residents and all staff in care homes" said Dr Lourda Geoghegan a senior medical advisor for the DoH.
There are currently 71 confirmed coronavirus outbreaks in NI care homes and 33 suspected outbreaks.
On staff testing, Dr Geoghegan said: "The exact nature of what the programme will look like is still under discussion and I anticipate within a further two-week period we will have further detail."
Almost half of the 599 coronavirus-linked deaths in NI recorded by Nisra (the Northern Ireland Statistics and Research Agency) have happened in care homes.
On Monday, the Department of Health recorded another six deaths with Covid-19, taking its total to 482.
At the moment, care home staff and their relatives in Northern Ireland can be tested if they have Covid-19 symptoms.
Residents and staff in care homes where there is a suspected outbreak are also tested or if they are new entrants to the care home sector.
The department said that to date, based on provisional figures, it has tested around 25% of residents (3,762).
The expansion of testing is being facilitated with the use of "satellite operations" from the three national testing sites in Northern Ireland, and mobile testing units used as part of the national testing programme, the department added.
Existing healthcare workers currently carrying out the tests are to be supported from next week with the addition of testing capability from the Northern Ireland Ambulance Service and up to 40 nurses from the Health and Social Care system.
Dr Geoghegan said that care home testing was "a very significant programme logistically".
"The numbers of residents and staff are very large so it simply would not be possible in one fell swoop to offer testing across all residents and all staff because we also have to maintain testing capability across all of our healthcare system," she said.
"The science and evidence is being discussed nationally and it's very important that we are guided by the science and evidence.
"Once that emerges and we are advised, we will be speaking to our chief medical officer and the minister through our planning group."
'Step in right direction'
Eddy Kerr, of the Hutchinson Care Homes Group, said the announcement would be "welcomed by everyone".
"Across the care sector there is a real need for ongoing assurance and we can only be happy with this news today," he told BBC NI's Good Morning Ulster.
"We will work closely with all the stakeholders to make sure this is done in as timely and as effective a manner as possible."
Mr Kerr is operations manager for seven facilities in all.
Last week, BBC News NI was given exclusive access inside Massereene Manor nursing home in Antrim, which is part of the Hutchinson Care Homes Group.
Testing has already been ramped up in homes where there have been outbreaks.
Last week, it was reported that at Massereene Manor there had been six confirmed Covid-19 related deaths, but the home believed more deaths had yet to be attributed to the disease.
A further 19 residents had tested positive for coronavirus.
"We now seem to be getting this under control, there have been no new cases for quite a few days now," Mr Kerr added on Monday.
Trade union Unison said it was a "welcome development".
"From the early stages of this crisis, our message to the minister and the wider executive was clear and that was that we needed to test, test, test," said Unison's regional secretary Patricia McKeown.
'Human rights considerations'
Mr Swann said there were a number of "important sensitivities" to be considered in rolling out the testing, specifically around consent.
"There are human rights considerations where residents may not consent to be tested or may not be able to consent - for reasons such as dementia," he said.
"The swab test for Covid-19 can be an unpleasant and intrusive process, so there are also issues in relation to subjecting frail older persons to swabbing, particularly in homes where there are no outbreaks.
"I am confident a way forward will be found on these issues, in close consultation with care home staff, residents and their family members."
However, the Alliance Party's health spokesperson Paula Bradshaw said Mr Swann should put a more precise timeline on the testing plans.
"No one is suggesting the minister has an easy job at present, but he needs to recognise that serious mistakes have been made with regard to care homes, and to rectify them with greater urgency than 'next month'."
There are 484 residential care homes in Northern Ireland with a total of 16,000 beds, not all of which are occupied.