Coronavirus: NI Executive publishes plan for easing lockdown
By Jayne McCormack
BBC News NI Political Reporter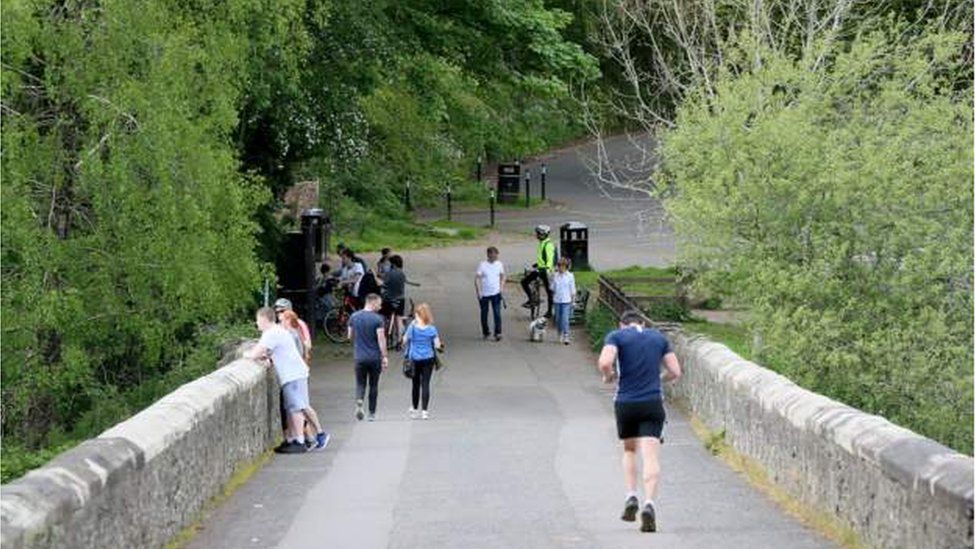 A five-stage plan for easing the Covid-19 lockdown in Northern Ireland has been published by the executive.
Unlike plans announced in England and the Republic of Ireland, NI's blueprint does not include a timetable - but the first minister said she hoped to reach the final stage by December.
Progression will depend on key health criteria being met, Arlene Foster said.
The first step includes changes to rules on exercise and churches being able to open for private prayer.
It comes as a further nine deaths were recorded by the Department of Health on Tuesday, although only one had occurred within the past 24 hours.
In the first stage, groups of four to six people who do not share a household would be allowed to meet outdoors while maintaining social distancing.
Large outdoor-based retailers such as garden centres will also be allowed to reopen in this first phase, as life slowly edges its way back towards normality.
However, the plan stresses that aspects of some steps may not take effect at the same time.
'Some businesses will not survive'
Movement between stages of the Pathway to Recovery would depend on progress in reducing the transmission of the virus, said Mrs Foster.
"We will not be driven by a timetable and we know some will be disappointed by that - but our roadmap doesn't answer every query, it provides people with an indication of how things might move in the weeks and months ahead."
Ms O'Neill appealed to the public to "be patient".
"When we're in position to slowly and carefully move out of the lockdown, we will keep you updated every step of the way," she added.
"It's not in the too-distant future, if people keep following the advice."
Some business leaders in Northern Ireland have expressed disappointment that indicative timings have not been included in the plan, with Chief Executive of the Belfast Chamber of Commerce, Simon Hamilton, saying a timetable was needed in order for firms to plan properly.
But Mrs Foster said the "sad truth" was that some businesses in Northern Ireland would not survive.
"It's right we're honest about that," she told the assembly.
"What we have to do is to try and make sure the maximum number of businesses survive and that has always been what has driven the executive in terms of their economic interventions, put alongside Westminster government interventions."
Northern Ireland has its own powers to set and lift restrictions at different rates to the rest of the UK.
The executive must review its coronavirus regulations every three weeks, with the next due by 28 May.
In some reviews, no changes may be recommended, but a flexible approach will mean each review stage does not have to be tied to the next step of relaxations.
The plan says the executive will only relax restrictions in line with the long-term interest of people's health and wellbeing.
Encouragement to those unable to work from home to return to work on a phased basis
Large outdoor-based retail can open including garden centres, though associated cafes and restaurants can only offer takeaway or collection
Groups of four to six people who do not share a household can meet outdoors maintaining social distancing. With the exception of people who are shielding, visits to immediate family allowed indoors where social distancing is possible
Drive-through church services and churches open for private prayer, with appropriate social distancing and cleaning of shared contact hard surfaces
Outdoor spaces and public sport amenities to open. For example, walking, running, cycling, some water activities, golf, tennis
Drive-through cinemas can open
Non-food retail can open where numbers are limited, with social distancing
Groups of up to 10 can meet outdoors
As demand increases on public transport within social distancing requirements, people encouraged to walk and cycle for short journeys where possible
Resumption of, for example, team sports training on a non-contact basis in small groups
Selected libraries reopen with restricted services
Open-air museums reopen
Phased return to office and onsite working subject to risk assessment. Work that can be done from home should still be done from home
Schools expand provision for priority groups on a part-time basis, using a combination of in-school and remote learning
Gatherings can accommodate up to 30 people while maintaining social distancing
Resumption of, for example, team sports training on a non-contact basis
Museums and galleries open
Libraries open
Concert and theatre rehearsals resume
Other "contact" retail (hairdressers, fitness studios, tattoo and piercing parlours) can open subject to mitigations following risk assessment
Schools expand provision to accommodate all pupils on part-time basis with combination of in-school and remote learning
Reducing and staggering demand for public transport at peak times through continued home working and staggered start times for businesses
Wider range of gatherings permitted including church services subject to social distancing and other suitable mitigations, such as cleaning of hard surfaces
Resumption of competitive sport "behind closed doors" or with limitations on the number of spectators
Leisure centres and other indoor leisure facilities open
Outdoor concerts on restricted basis
All able to return to work subject to mitigations. Remote working still strongly encouraged
Hospitality retail (restaurants, cafes, pubs) can open subject to risk assessment, initially on a limited basis
Expand early-year school provision to full-time basis
Public transport operating full service but subject to ongoing risk assessment
People can meet in extended groups subject to social distancing
Resumption of close physical contact sports
Return to competitive sport and full use of sporting facilities
Spectators can attend live events on restricted basis
Nightclubs, concerts open on a limited basis
However, that figure is likely to be higher when all fatalities in the community are recorded.
A further nine deaths were recorded by the department on Tuesday, only one had occurred within the past 24 hours.
There have been 4,193 positive cases of the virus in NI, with 44 new cases confirmed by Tuesday.
Across the UK, the death toll currently stands at 32,692 while in the Republic of Ireland, 1,488 people have died.
Why does the R-rate matter?
As the infection has spread at different rates in various parts of the UK, Stormont ministers have said Northern Ireland must follow its own criteria and scientific advice.
R refers to the average number of people that someone with Covid-19 is expected to infect after contracting the virus.
The goal is to keep R under one.
On Tuesday Arlene Foster told the executive's daily press conference that Northern Ireland's R-rate is sitting below one, at 0.79, but that it must fall as low as possible before restrictions can begin to be lifted.
If the number drops to a suitable level before the restrictions are next due to be reviewed, ministers hope to trigger the first step of the plan sooner, added Michelle O'Neill.
The executive will assess the figure on a "daily" basis, but a wider programme of testing and tracing will accompany any decisions around easing restrictions.
Contact tracing aims to identify and alert people who have come into contact with a person infected with coronavirus.
It largely stopped in the UK on 12 March, as the government moved into a different stage of its response to the virus, but a pilot programme recommenced in NI last month.
Mrs Foster said this was now set to be extended from 18 May.
Maximum flexibility, but maximum uncertainty?
The benefit of this approach is that the Executive will not tie itself down or have to engage in any difficult retreats in previously stated policies.
Stormont ministers point to other countries around the world which have appeared to make great progress in curbing the virus, but have more recently experienced flare ups and had to re-impose controls.
However, maximum flexibility for Stormont equals maximum uncertainty for wider society.
Maybe that's just the reality in these challenging times. In future weeks ,we shall all be trying to become increasingly well versed with the R-number, which measures the spread of the virus.
But ministers will know that their five-step approach will also be judged alongside the different five-point plans already laid out by Dublin and London, which will influence the context in which people comply with the coronavirus regulations in the months ahead.
Read more from Mark here.