Coronavirus: Rise in deaths in NI care homes
Forty percent of Covid-19 related deaths in NI have occurred in care homes, new figures show.
The weekly breakdown from the Northern Ireland Statistics and Research Agency (Nisra) details all deaths with Covid-19 recorded on a death certificate.
Out of the 393 deaths Nisra recorded by 24 April, 158 - 40.1% - occurred in care homes.
The Department of Health's daily total of coronavirus-related deaths in NI, meanwhile, has risen to 365.
Two sets of figures are published in Northern Ireland:
A daily set produced by the Department of Health, which counts mostly hospital deaths
The weekly statistics from Nisra, which cover all fatalities where coronavirus has been recorded on the death certificate
On Friday, the health department published a new Covid-19 interactive statistics dashboard, which showed 18 more deaths, bringing the total to 365. Four happened in the past 24 hours, while 14 occurred earlier but have only now been recorded.
The dashboard also shows the number of positive cases of Covid-19 in NI now stands at 3,623.
That figure is likely to be higher as there are people who currently have or have had the virus - but were not tested.
The dashboard shows the highest number of deaths has been in the 80+ age category, and the most-affected council area in terms of deaths and confirmed cases is Belfast.
Fermanagh and Omagh has recorded the lowest number of cases in Northern Ireland.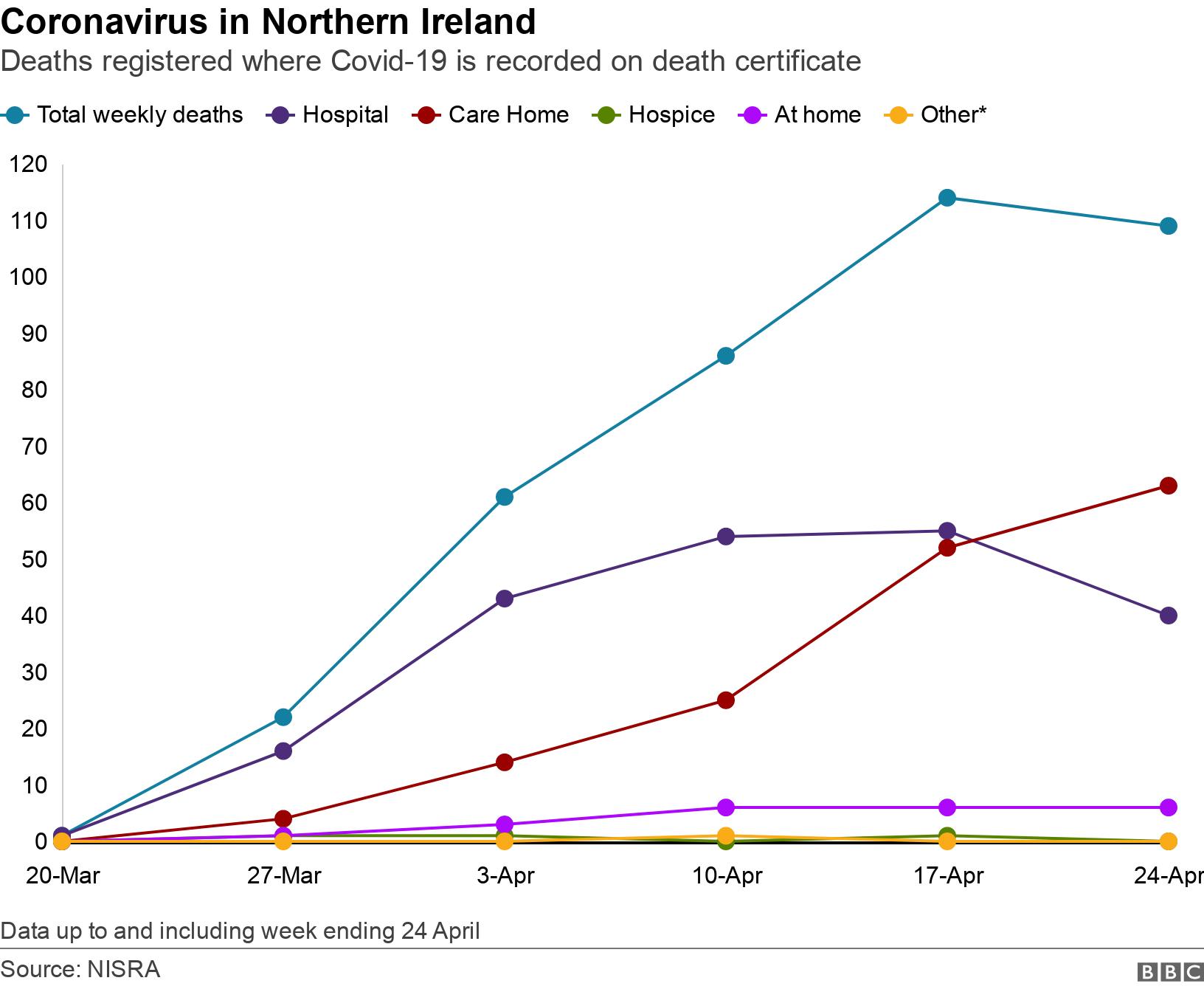 The Department of Health has said there is always a time lag for registering deaths in the community, with the process taking up to five days, and that the Nisra report could not feasibly be linked to the daily figures.
The total death toll is ultimately likely to be higher.
'Nothing inevitable'
In its bulletin covering the period to 24 April, Nisra said of the 393 deaths, 209 of them occurred in hospitals, 158 in care homes, three in hospices and 23 at residential addresses or other locations.
The deaths that occurred in care homes and hospices involved 57 separate establishments.
The Department of Health had registered 299 deaths in total by the same date.
Commissioner for Older People for Northern Ireland Eddie Lynch said the statistics showed care homes were the front line in this pandemic battle.
"There is nothing inevitable about care homes being infected by coronavirus and therefore a key focus must be on protecting all residents and staff through adequate PPE and a universal rolling system of testing," he said.
In other developments on Friday:
The latest weekly statistics on the number of coronavirus-related deaths in Northern Ireland also show more people died with the virus in care homes than in hospitals, during the week that ended on 24 April.
There were 63 coronavirus-related deaths in care homes compared to 40 deaths in hospitals, the figures show.
It is the first time since the beginning of the pandemic that the weekly care home death toll has overtaken the hospital figure.
'Covid battle is in care homes'
Speaking at the executive's daily press conference on Friday afternoon, First Minister Arlene Foster described the latest care home statistics as "alarming".
"It does concern us, but there is a relationship between the health trusts and the independent sector that wasn't there in the past," she said.
Some staff from trusts have been redeployed in recent days to help care homes that are operated by the independent sector.
Deputy First Minister Michelle O'Neill said she recognised that the developing Covid-19 "battle is now in our care homes".
"We must do everything necessary to protect residents and staff working there."
People older than 75 also accounted for about three quarters of coronavirus-related deaths; 50.3% were men.
Covid-19 dashboard
The Department of Health has faced some criticism for its handling of providing statistics on Covid-19 cases and deaths.
However, the new Covid-19 interactive dashboard contains comprehensive information about the latest daily statistics.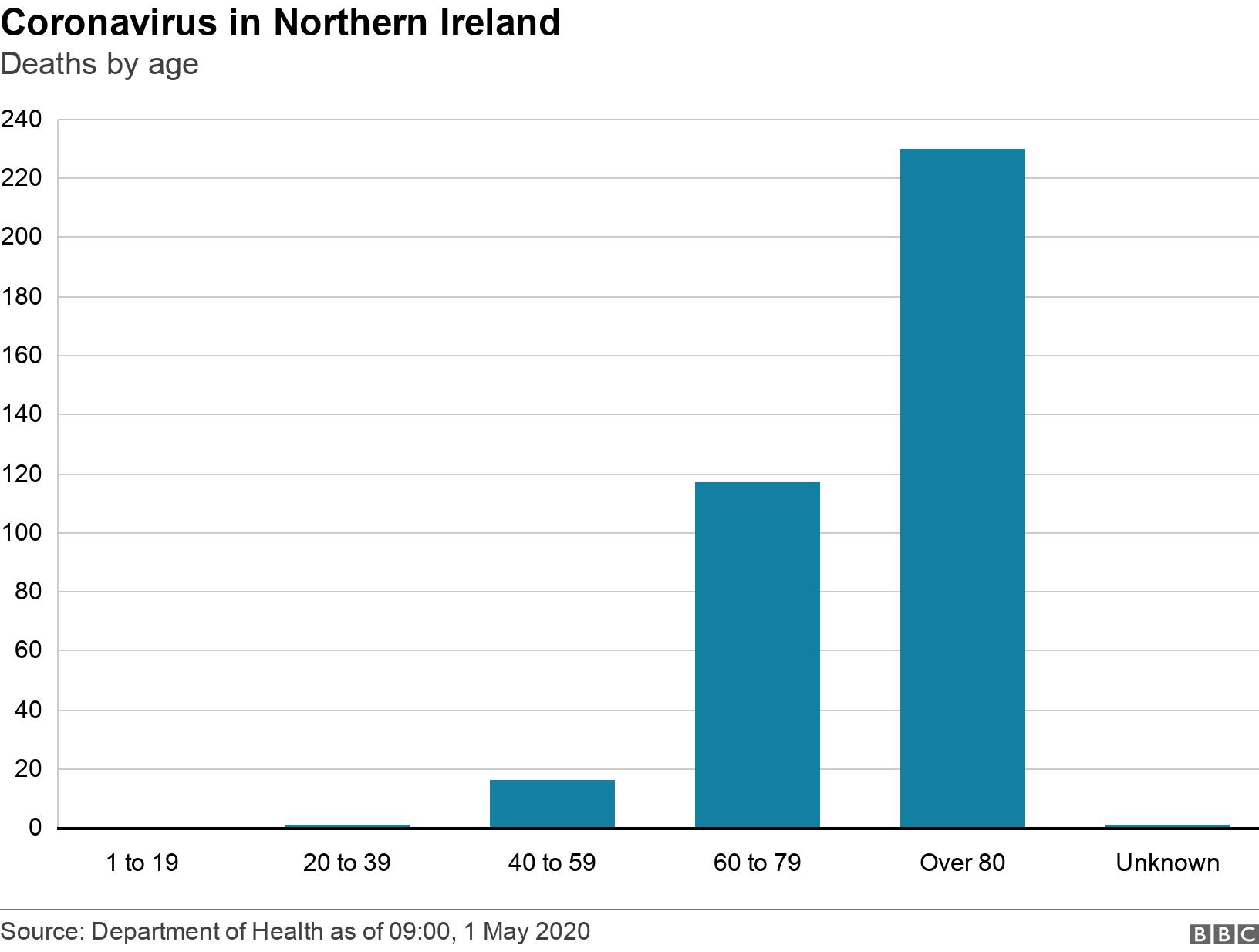 An original version of the dashboard was launched on 19 April, when responsibility for reporting moved from the Public Health Agency to the Department of Health.
It was taken down two days later when a figure it contained was incorrect.
The department then began producing daily social media updates with limited information - but was reprimanded by the UK Statistics Authority, which said a news release on a departmental website and Twitter were "not sufficient".
From now on, all daily information relating to Covid-19 related deaths, cases, and tests in Northern Ireland will be updated on the dashboard.