Coronavirus: Minister says 18 more NI deaths 'a wake-up call'
By Jayne McCormack
BBC News NI Political Reporter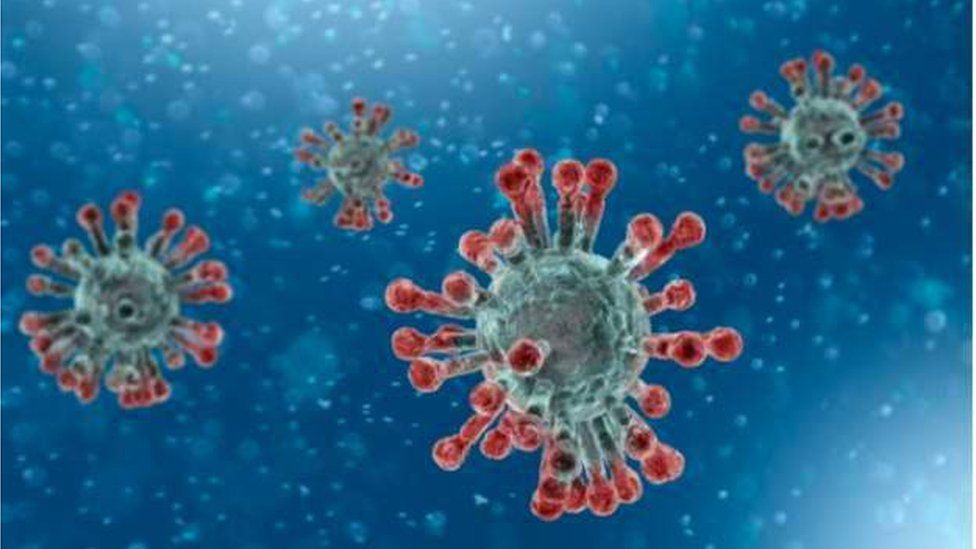 The deaths of 18 more people in hospital in Northern Ireland from Covid-19 should act as a "grim wake-up call", the health minister has said.
It is the highest rise in deaths in a 24-hour period since the outbreak began, bringing the total to 158.
Robin Swann said it was a "distressing day" and warned against people becoming complacent.
He said allowing families to visit dying relatives in NI presented "too significant a risk" at the moment.
Earlier First Minister Arlene Foster had said she hoped Mr Swann could make an announcement that mirrored new arrangements in England.
Meanwhile in the Republic of Ireland the Department of Health confirmed that 43 people died on Thursday after being diagnosed with Covid-19, the highest reported in a single day, bringing the total to 486.
Mr Swann said he had spoken to a number of senior clinicians who had advised it would present difficulties if large numbers of families were allowed to visit patients in intensive care.
"It presents too significant a risk around infection, and presents a real challenge to both visitors and staff, however I have asked the Northern Ireland critical care network to review the matter."
He also revealed there were 45 patients in intensive care and 105 hospital admissions due to coronavirus on Wednesday.
Catherine Coulter, who is an intensive care nurse at Antrim Area Hospital, told BBC News NI about the role she played when a family could not be at their loved one's bedside.
She said: "I held the patient's hand, I did not want them to be on their own.
"And in these challenging times this is especially poignant to make sure I'm at that bedside to make sure that that patient is comfortable and that they are pain free, when they do pass away that it is dignified, that they are not on their own."
The nurse passed on messages of comfort and support given to her by the patients' family.
"I was just trying to convey to her the support and love she had at home and how much they wished they could have been there."
The Chief Medical Officer, Dr Michael McBride, said Northern Ireland is moving through the peak of the first wave of the virus, but that it is not clear how long it will last.
"We have many difficult and challenging weeks ahead," he said.
'Even if I could've been present, there are still things I couldn't have done'
Ruth Burke's family were among those who did not get to say goodbye to her in person after the pensioner contracted Covid-19.
Mrs Burke died in hospital on 24 March but her loved ones were not allowed to be with her due to coronavirus restrictions.
Following Wednesday's government announcement that care home visiting guidelines have been changed, Ms Doherty said her family have reconciled themselves with not being able to visit and "with the fact that it was about keeping us safe".
"Mum wasn't alone - she had a nurse, Sharon, who we are indebted to, and that has brought us so much comfort," she said.
"Even if I could've been present, there are still things I couldn't have done with my mum. I'm not sure I would've been able to hold her hand, I wouldn't have been able to stroke her hair or kiss her on the head, that would've been so frustrating.
"My mummy's job her whole life was to keep us safe. My mum would not have wanted any of us to put ourselves in a situation that she felt like she was putting any of us, or our loved ones, in danger."
Last week, Stormont's Department of Health rejected a call for a change in hospital policy to allow relatives of Covid-19 victims to be with them in their final hours.
In a statement, it said: "This is not a safe environment for members of the public. There is a need to protect very vulnerable patients and ensure a safe working environment for staff."
Meanwhile, the number of coronavirus deaths in Northern Ireland will rise for another two or three weeks, a doctor has predicted.
Public Health Agency (PHA) director of public health Dr Hugo van Woerden said: "Northern Ireland is in the best position of the five countries.
"We are discharging more people than we are admitting.
"The numbers in ICU are falling; deaths will lag behind and continue to rise for the next two or three weeks."
In other developments on Thursday:
The Northern Ireland Executive will take a "step-by-step" approach to lifting lockdown measures, Arlene Foster has said
206 fines have been issued for breaking the rules on social distancing, but only four relate to travel for exercise, according to the PSNI
More than 8,300 patients in NI have had surgery or treatment cancelled since the Covid-19 lockdown was implemented
Health care staff will get free travel on public transport for the duration of the Covid 19 crisis, said Infrastructure Minister Nichola Mallon
Northern Ireland Water is to delay implementing tariff increases until October. The organisation will also defer issuing bills until July, at the earliest