Coronavirus: Teachers to predict GCSE and A-Level grades
By Robbie Meredith
BBC News NI Education Correspondent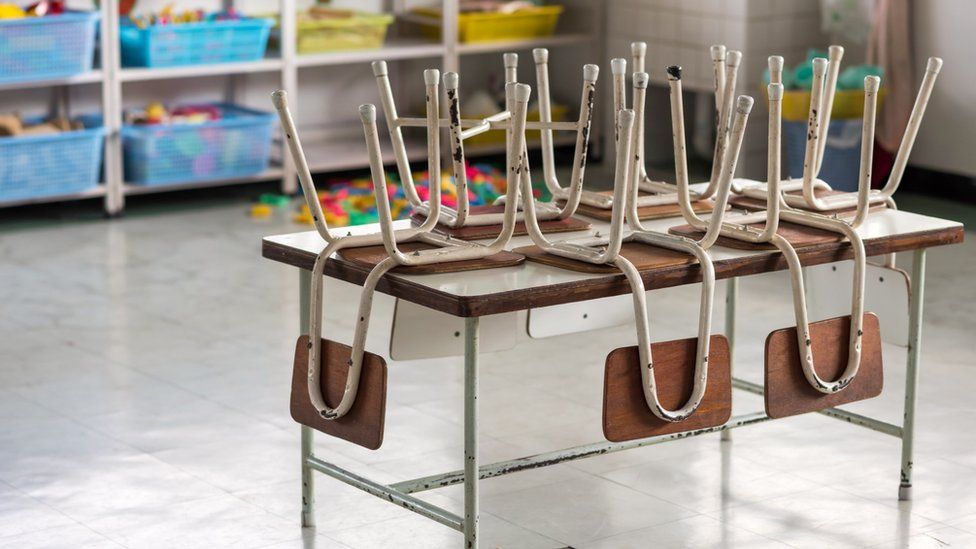 Teachers in Northern Ireland will predict the grades they think pupils would have achieved in cancelled GCSE, AS and A-level exams.
Schools will also be asked to rank pupils in each subject from top to bottom.
In a major change, AS grades will be awarded this summer but will not count towards final A-Level results.
An AS score normally makes up 40% of the final A-Level mark in Northern Ireland.
Results at GCSE and A-Level will be compared by the Northern Ireland exams board CCEA to take account of the fact some schools grades may be too generous or harsh.
An appeals process for pupils unhappy with their results will also be developed by CCEA.
If year 14 pupils want to sit an actual A-Level exam they will have to wait until the summer of 2021 to do that.
A-Level results will be given to pupils as normal on 13 August while GCSE results will be issued on 20 August.
The Education Minister Peter Weir has now announced how results will be provided instead.
Teachers will take into account things such as classwork, homework, coursework, existing exam results and mock-exams when calculating a pupil's grade.
Schools will also rank their pupils in each subject but have been advised that they cannot to tell pupils or their parents their predicted grades or how they are ranked.
"Parents and pupils should not ask for nor expect to receive this information," Mr Weir said.
"Teachers have a complex task ahead and they must be afforded the opportunity to assess pupil performance objectively and holistically."
Around 85% of A-Levels in Northern Ireland are taken through CCEA and almost all GCSEs.
The AS arrangements were among the most difficult decisions Mr Weir had to make.
That is because AS level scores in Northern Ireland normally count towards 40% of the final A-Level mark.
At one stage there was a proposal that AS exams would be held in the autumn of 2020.
However, Mr Weir decided against that.
Although AS grades will be awarded this summer based on teacher judgement, final exams taken in May and June 2021 will determine a pupil's entire A-Level result.
Pupils currently in year 13 can, though, choose to also sit actual AS exams in the summer of 2021 alongside their A-Level exams if they wish.
For pupils in Year 11 currently taking GCSE modules, no grades will be awarded.
However, they may be able sit exams in those modules later in 2020.
CCEA will be writing to all schools with further guidance on the arrangements.
It also remains uncertain how grades will be decided for pupils who are home-taught and do not have links with schools that could send in predicted grades.
"Extraordinary circumstances have necessitated the introduction of new arrangements to replace the examinations which we have been used to over many years," Mr Weir said.
"I am confident that the measures I have announced today will enable our young people to continue on their journey through life despite the disruption created by the Covid 19 outbreak."