Coronavirus: NI health minister calls on Army for assistance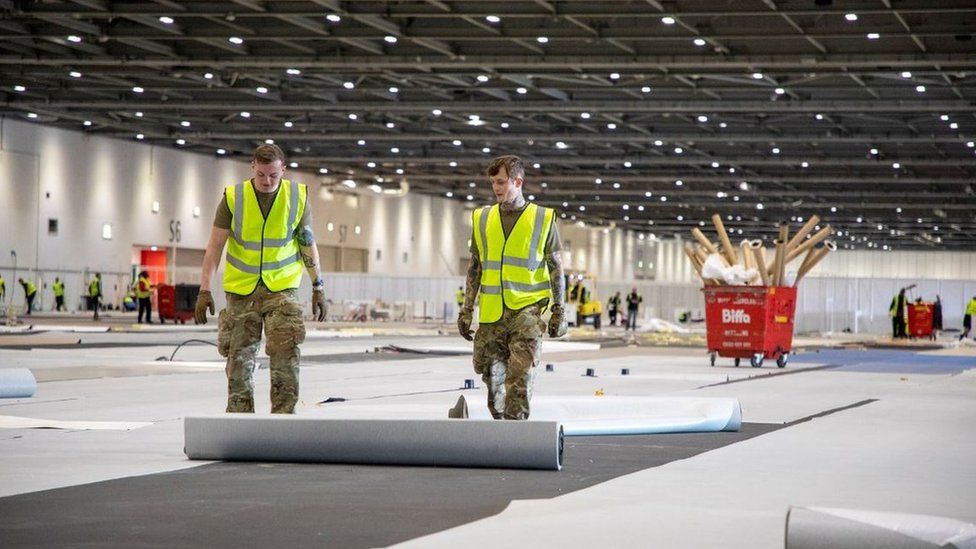 The health minister has made two formal requests to the Army for assistance to deal with the Covid-19 crisis in NI.
Robin Swann confirmed he had asked for military assistance in distributing life-saving equipment and planning for another Nightingale hospital.
Sinn Féin's Michelle O'Neill said the decision had been taken by Mr Swann "unilaterally".
The Public Health Agency has confirmed another 15 people who tested positive for Covid-19 have died in NI.
It is the highest daily death toll so far and brings the total number of deaths here since the outbreak began to 107.
The UK-wide latest death toll stands at 9,875 people. These figures are only for deaths which have taken place in hospital.
In the Republic of Ireland, the death toll now stands at 320, after 33 deaths were reported on Saturday.
Mr Swann said his number one priority was to save lives and protect those of the staff on the front line, and the time had now come for the Ministry of Defence to help with that.
"I believe the Army's skills and logistical expertise could assist with the redistribution of essential life-saving equipment across Northern Ireland to ensure that all hospitals have the materials and resources required to fully enact their surge plans," he said.
The proposed Nightingale hospital at the former Maze Prison site will be able to hold as many as 4,000 patients.
A similar hospital was recently set up with military assistance in London's ExCel centre.
Mr Swann said he hopes the decision to ask the Army for help is not "considered divisive".
"I have said a number of times over recent weeks that at the end of this pandemic there will be only one thing that divides us – and that is those of us that are still alive and those that have sadly passed away," he added.
Ms O'Neill said Mr Swann had not consulted the executive over the decision.
The deputy first minister said her party was seeking urgent meetings with the British and Irish governments, as well as the health minister and the PSNI.
Ms O'Neill also said her party would not rule out any measure necessary to save lives.
SDLP policing spokesperson Dolores Kelly said she was confident the Army would not be used in a security capacity and welcomed any help they could provide.
Meanwhile, a leading Northern Ireland doctor has rejected any suggestion that medical staff are over-using Personal Protection Equipment (PPE).
"There's enough PPE to go around, but only if it's used in line with our guidance. We need everyone to treat PPE like the precious resource that it is," Mr Hancock said.
Dr Black, who helped to set up NI's Covid centre, told BBC News NI: "I think we are using our PPE appropriately, we have to use different PPE for different clinical scenarios.
"We have to make sure that we use our PPE in the proper way, because we know that we're the healthcare workers that will be left without it if we use it inappropriately."
He added: "The last thing we want to see is doctors or nurses and healthcare workers coming to harm because there isn't the right type of PPE or sufficient stock of PPE."