Coronavirus: Appeal to stay at home at Easter
People across Northern Ireland have been reminded to stay at home this Easter bank holiday weekend.
Assistant Chief Constable Alan Todd urged people to use their common sense and only leave the house if absolutely necessary.
NI's Chief Scientific Adviser Prof Ian Young said now was the wrong time to relax, with hints social distancing was "beginning to have an effect".
The total number of NI deaths in the coronavirus outbreak has reached 78.
On Wednesday it was confirmed another five people had died in the past 24 hours, while there were anther 84 cases - a total of 1,339.
There have been 7,097 coronavirus hospital deaths across the UK and 235 deaths in the Republic of Ireland.
'Hang on'
Prof Ian Young told the BBC's Good Morning Ulster programme people needed to stick to the restrictions.
"We're just beginning to see that perhaps this is having benefit, we have the Easter weekend coming up, maybe with some good weather, people may be tempted to go out and about a bit more," he said.
"But this is just the wrong time to do it. We need to hang on and continue to adhere as strictly as we can to the current measures."
PSNI ACC Alan Todd said it was important to remember travel was not allowed for the purpose of exercise and reminded the public of the restrictions in place:
People are allowed to leave home in order to exercise
To travel for work or to provide voluntary or charitable services but only when that is not possible from home
To travel for essential matters, which include medical assistance, obtaining basic necessities such as food and medical supplies, provide care or assistance to a vulnerable person, donate blood or to attend a funeral of a member of your household or close family member.
The PSNI, Translink and Causeway Coast and Glens Council have issued a joint statement, warning people not to be tempted to flock to the north coast this weekend.
Police in the Republic of Ireland have been given new powers to restrict people's movements and gatherings for the next five days under emergency legislation.
There will be 50 checkpoints on main roads across the country from Wednesday to discourage people from travelling over Easter.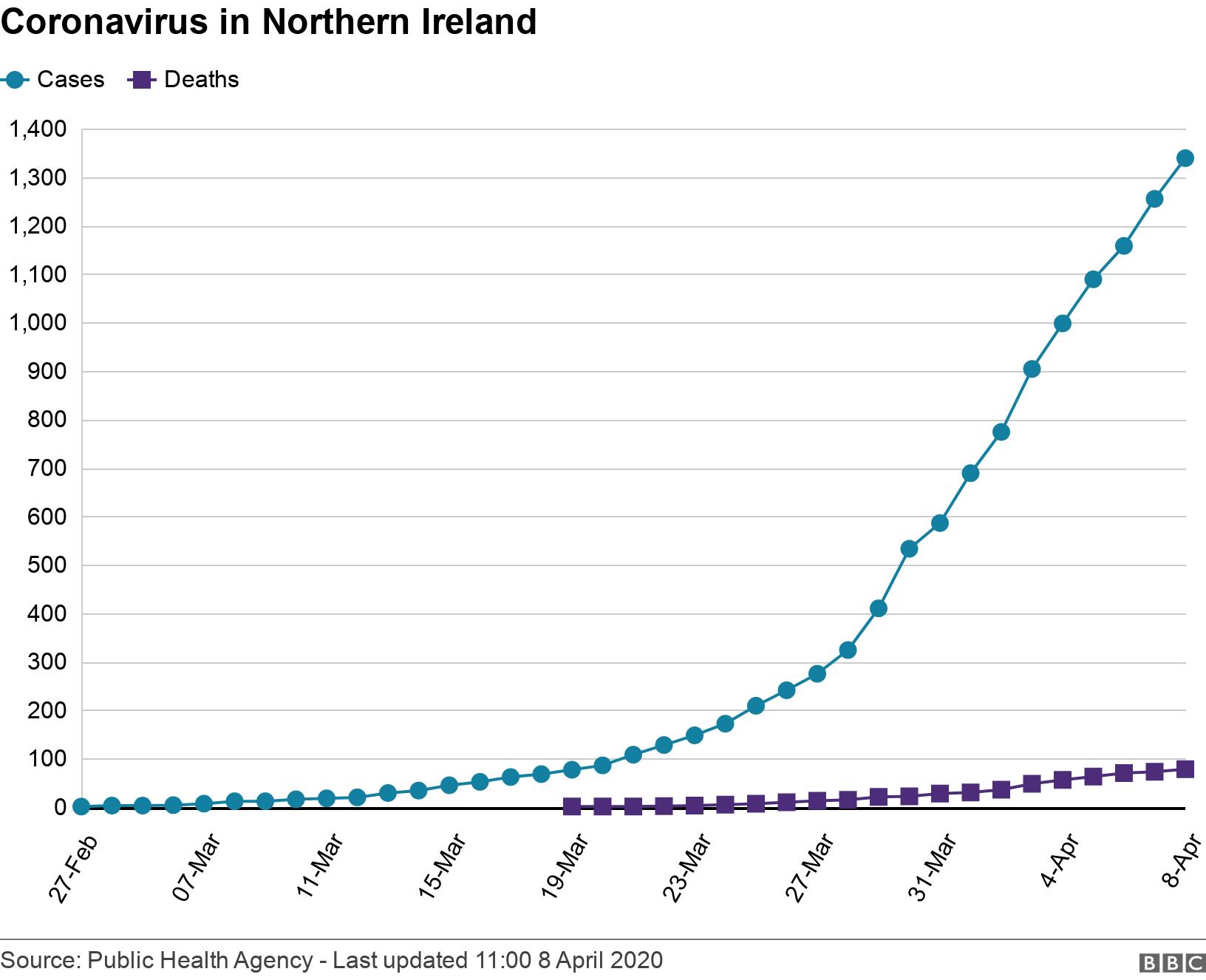 Garda Commissioner Drew Harris said if people were currently staying in their holiday homes that was now considered their place of residence and they should not leave during the current restrictions.
The penalties for those not complying with the rules include fines of up to €2,500 (£2,200) and up to six months in prison.
A Garda (Irish police) spokesperson added "We will liaise with our colleagues in the PSNI to deal with any issues that arise around cross border traffic, and would appeal to the public in Northern Ireland to fully comply with the regulations announced today.
In the UK, Health Secretary Matt Hancock has said it was an instruction and "not a request" to stay home this weekend.
Meanwhile, Northern Ireland is to receive more ventilators and respiratory equipment as part of a UK government scheme.
The machines will arrive in phased deliveries, but the Department of Health says it is unable to give precise times because of competing global demands.
It says there is currently sufficient capacity, equipment and oxygen to provide critical care in Northern Ireland.
There are 197 mechanical ventilators available here and the department estimates it may need up to 400 to meet both coronavirus and non-coronavirus critical care in the coming weeks.
Another 500 respiratory devices to support patients before or after critical care are also on order.
Patients with appointments at routine cancer screening clinics are being contacted by the health trusts to let them know services have been suspended
Up to 16,000 nursing home residents are at risk unless immediate coronavirus testing begins, health union Unison says. Cases of coronavirus have been recorded in 20 care homes across NI
Unison's Patricia McKeown says those in the social care sector - both in residential homes and in the community - have the least personal protective equipment and the most exposure.
Almost 80% of businesses surveyed by the Northern Ireland Chamber of Commerce plan to furlough some employees over the next week
Ferry operator Stena is reducing its Belfast services
Calls to a domestic and sexual abuse helpline run by Nexus NI have risen almost 30% in the past week. MAP NI, which is the Men's Advisory Project here, says it has seen a similar rise.
Chief Scientific Adviser Prof Ian Young says hospitals here will take part in clinical trials of drugs, targeting the most-seriously ill
More than 600 final-year nursing and midwifery students from Ulster University, Queen's University Belfast and the Open University enter the health and social care workforce early this week
Five more container-loads of personal protection equipment (PPE) will arrive in NI on Wednesday - it is part of the UK supply, most of which arrived on Monday
Most schools open for the children of key workers have no pupils attending, the Department of Education tells a Stormont committee
Economy Minister Diane Dodds says she's concerned about false rumours linking 5G technology to Covid-19. It comes after the vandalism of a 5G mast in Belfast.