Coronavirus: Don't relax guard, warn Foster and O'Neill
By Jayne McCormack
BBC News NI Political Reporter
People in Northern Ireland cannot relax their guard over the next fortnight when a surge of coronavirus cases is anticipated, the first and deputy first ministers have warned.
They told a remote press conference there had been seven more Covid-19 related deaths in NI.
It brings the total number of NI deaths in the global pandemic to 70.
On behalf of the Northern Ireland Executive, I send our best wishes to the Prime Minister @BorisJohnson
Praying for a full and speedy recovery.

— Arlene Foster #WeWillMeetAgain (@DUPleader) April 6, 2020
The 55-year-old, who was admitted to hospital in London with "persistent (coronavirus) symptoms" on Sunday evening, was transferred when these symptoms "worsened", Downing Street said.
Easter warning
The surge of the virus is expected to arrive in NI between 6 and 20 April.
The Public Health Agency said a further 69 cases of coronavirus had also been confirmed in Northern Ireland, bringing the number of confirmed cases to 1,158.
There have been 174 coronavirus-linked deaths in the Republic of Ireland, where there are 5,364 confirmed cases.
Arlene Foster and Michelle O'Neill led Monday's daily press conference remotely for the first time, appearing from their homes.
Mrs Foster described the next two weeks as "critical", thanking those who had adhered to guidelines on social distancing.
But she added: "It is essential in this period that we do not relax our guard, especially in the lead-up to and during the Easter period."
This is a critical fortnight in the attempts to control the spread of #COVID19.

We must not relax our guard and ensure that we all continue to follow the guidelines. pic.twitter.com/tiFNr0c9FG

— Arlene Foster #WeWillMeetAgain (@DUPleader) April 6, 2020
Deputy First Minister Michelle O'Neill said the executive would continue to reinforce the message that people must stay at home.
"This is not an Easter week holiday, or a time for people to be relaxing," she added.
"It is a time for people to follow the letter of the law, the advice they have been given to stay at home and try to stop the spread."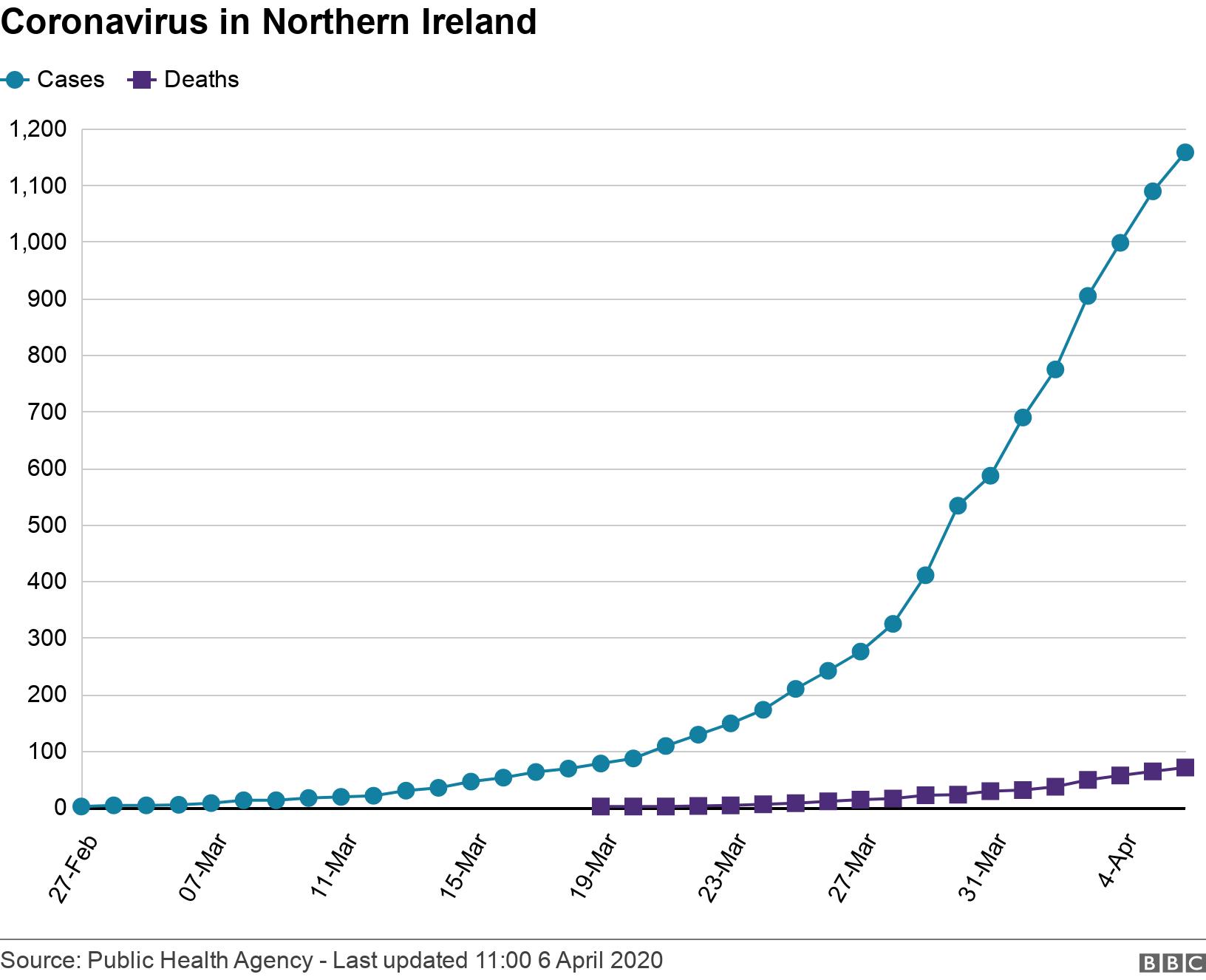 The first and deputy first ministers also welcomed the delivery of additional Personal Protective Equipment (PPE) for frontline workers in Northern Ireland.
Ms O'Neill said the other priority had to be increasing testing for the virus.
"There are plans to bring forward a rapid scale-up of testing, to increase testing of our health and social care workers, to increase testing for people in residential care settings so I think that is a move in the right direction," she added.
Twelfth of July parades have been cancelled across Northern Ireland due to the coronavirus outbreak
Sales of new cars in Northern Ireland fell by 56% in March compared to the same month last year
A rise in Housing Executive rents for the first time in five years in Northern Ireland has been put on hold
Northern Ireland's three airports have been in discussions with the Department for Transport about their continued operations
A Belfast hotel is to be used as a facility for patients recovering from Covid-19
The Health and Social Care Board has partnered with independent sector hospitals to treat urgent (non-Covid-19) patients; Kingsbridge Private Hospital, the Ulster Independent Clinic and the North West Independent Hospital will provide up to 112 beds