Coronavirus: Twelfth of July parades cancelled due to outbreak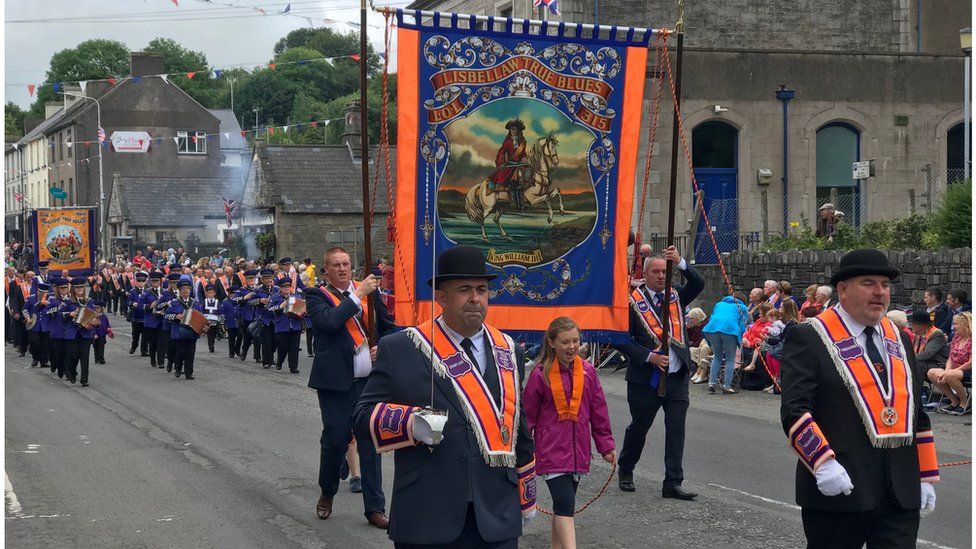 Twelfth of July parades have been cancelled across Northern Ireland due to the coronavirus outbreak.
The Orange Lodge of Ireland has confirmed the traditional parades will not go ahead this summer.
Orange Lodge of Ireland Grand Master Edward Stevenson said the decision was taken in light of the ongoing pandemic.
He said the decision was in keeping with current government health advice on restricting gatherings.
He said all Twelfth demonstrations will be cancelled following consultation with the Order's grand masters in England and Scotland.
First Minister Arlene Foster welcomed the decision to cancel the parades as a "responsible step".
"The priority for us all must be public health and protecting lives," said the DUP leader.
"By taking such steps now and if everyone adheres to the advice then we can reduce the pressures on our NHS, save lives and ultimately ensure we emerge as strongly as possible from this pandemic."
Tens of thousands of people attend parades on the Twelfth, which is held on 12 July every year to mark the anniversary of the Battle of the Boyne.
King William III - the Dutch-born Protestant better known as William of Orange or King Billy - defeated the Catholic King James II in County Meath in July 1690.
On 12 July, marching bands from Orange lodges all over Northern Ireland parade through villages, towns and cities.
They then listen to speeches and prayers by senior Orangemen.
Parades were scheduled to take place at 17 venues across Northern Ireland and also in Rossnowlagh, County Donegal in the Republic of Ireland.
It is not the first time the Twelfth has been cancelled.
Parades were not held for a time during the First and Second World Wars or during the Spanish Flu epidemic of 1918.
All parades, including the Twelfth, were cancelled in the 1860s due to the Party Processions Act.
At these times, alternative ways to mark the occasion were found, such as flying flags and displays of Orange Lilies.
'Time to celebrate after'
Mr Stevenson said that "in the current circumstances" large gatherings for the Twelfth would "not be responsible".
He said that the order would look at "alternative ways the Twelfth of July can be appropriately marked in 2020".
Mr Stevenson added that the organisation "must prioritise the safety of not only our members, but of the entire community" and that the "Orange family has already lost members to this terrible virus whilst others are in hospital".
The order's Grand Secretary Mervyn Gibson told BBC Talkback that "there will be plenty of time after this to celebrate our traditional anniversaries".
"Indeed those who fought at the Boyne gave up their day and fought a cause, we are asking people to fight a cause today," he said.
"That's coronavirus. After that, we will celebrate how it was beaten and also commemorate those who sadly will not get through this time."