Coronavirus: Eight more Covid-19 linked deaths in NI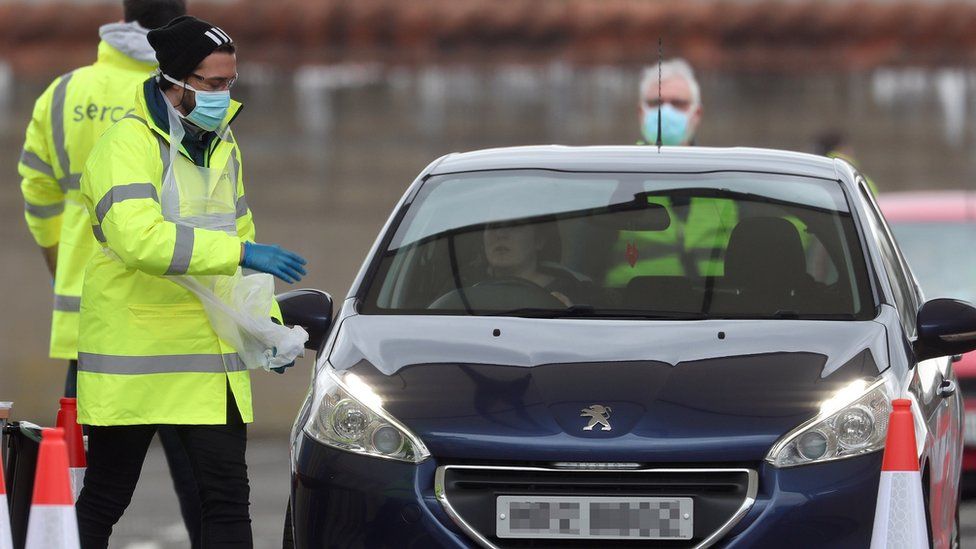 Eight more people who had tested positive for Covid-19 have died in Northern Ireland, bringing the total to 56.
There are currently 998 positive cases, a rise of 94 since Friday.
The Department of Health said 8,034 tests have now been carried out in Northern Ireland but a surge in cases is expected between 6 April and 20 April.
Testing of healthcare staff began at the SSE Arena in Belfast on Saturday.
The drive-through facility has been set up in the arena's car park, five days after similar testing centres opened in England.
Healthcare workers in Northern Ireland must arrange an appointment before they arrive at the testing centre as those who do not have an appointment will be turned away.
Kits from the Northern Ireland-based diagnostic company Randox will be used for testing.
The initiative was set up by the Public Health Agency with input from staff from Northern Ireland's health and social care trusts.
The Department of Health said the new centre "complements work undertaken by trusts to scale up their own testing capabilities".
To date, a total of 8,034 tests have now been carried in Northern Ireland but, until now, testing has mostly been restricted to hospital patients who have shown symptoms of the virus.
Many NHS workers across the UK had expressed frustration over a lack of access to testing, complaining that they had to take time off work to self-isolate without knowing if they had contracted Covid-19 or not.
From Dan Stanton, Reporter
There was a steady stream of NHS workers in their cars going into the first Covid-19 test centre for NHS staff in Northern Ireland.
Only employees with appointments were allowed to enter.
Others, without the correct documentation, were told to leave.
The testing tents - six of them - are located in the grounds of the SSE Arena car park which has now been cordoned off.
The opening of the Belfast testing centre was welcomed by Dr Tom Black, a GP who chairs the British Medical Association's Northern Ireland Council.
"The opening of this centre will hopefully see a much-needed increase in testing of healthcare staff, enabling them to return to work quickly and, most importantly, prevent patients from potentially becoming unwell with COVID-19 themselves.
"We are about to enter the 'peak' two-week surge of the coronavirus here, during which our health service system will be stretched to levels we have never experienced before.
"This is why it is vital to test as many healthcare workers as possible as we need as many hands on deck in the coming weeks to care for patients," Dr Black added.
Also on Saturday, the Northern Ireland Ambulance Service (NIAS) introduced a new protocol to categorise 999 calls during the pandemic.
It means NIAS call handlers will be able to ask more questions in order to assess the likelihood that a patient has Covid-19 symptoms, so that paramedics can be warned of the need to use appropriate personal protection equipment (PPE).
The NIAS said this extra information would enable it to priortise its response to patients with immediately life-threatening and serious conditions, whether or not the cases were related to Covid-19.
The service added that it may need to deal with some "less serious" calls through triage rather than deploying an ambulance.
Across the UK, a total of 4,313 people with the virus have died and there are now 41,903 confirmed cases.
The 708 latest deaths reported on Saturday included a five-year-old child with underlying health issues who is believed to be the youngest patient to die with the virus.
In the Republic of Ireland, 17 further deaths were reported on Saturday bringing the total death toll of people who tested positive for coronavirus to 137.
The Irish Department of Health said 331 more cases of the coronavirus had also been diagnosed, bringing the number of confirmed cases to 4,604.
The figures come after Irish Health Simon Harris announced a range of new measures to support nursing home residents.
Nursing home staff are to have their temperatures checked twice a day, as part of the new measures to tackle the coronavirus.