Belfast: Ram raiders target city centre clothing shop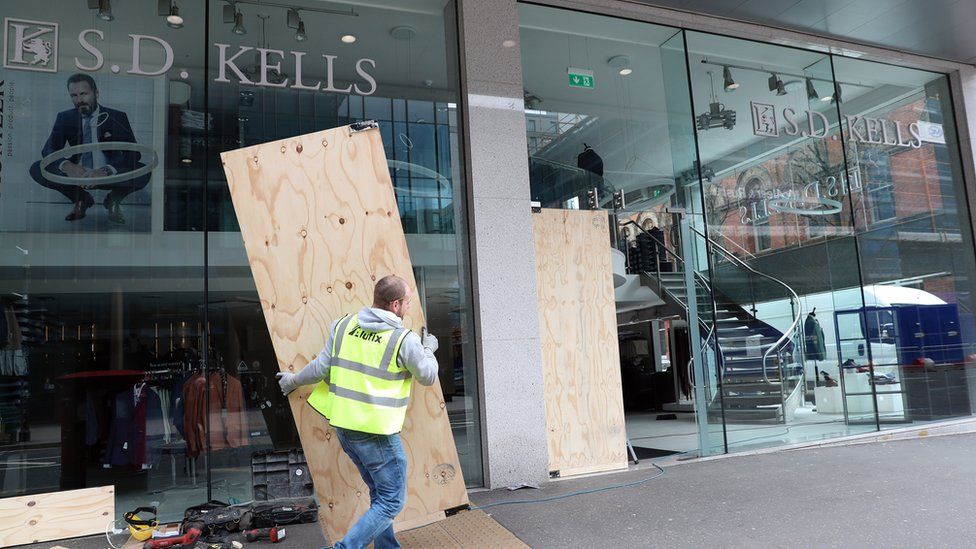 Burglars driving a stolen car rammed the front door of a clothing shop in Belfast city centre overnight.
They reversed the car, smashing their way in, then grabbed armfuls of clothes from S D Kells shop in Bedford Street early on Saturday morning, 4 April.
The burglars threw the clothing in the boot of the car before escaping.
The car had been stolen from Newtownabbey on Friday. It was recovered in St Peter's Court.
The owner of the S D Kells chain of stores, Stanley McIlwaine, said he was very annoyed.
"We are closed because of the virus, and now we have these guys robbing our shops," he said.
'Vulnerable time for businesses'
"We have 20-odd stores closed at the moment which is enough hassle, and now these guys are trying to rob us, so it is annoying.
"Especially when we live in Fermanagh and we have to drive up and try and sort the situation out."
Belfast Chamber's chief executive said he had contacted the PSNI and asked for an increased police presence during this "vulnerable" time for businesses.
Simon Hamilton said local businesses "are experiencing enough problems as a result of the Covid-19 pandemic without the added difficulty of criminals gangs targeting premises".