Coronavirus: County Down Army base to be used as a mortuary
By Julian O'Neill
BBC News NI Home Affairs Correspondent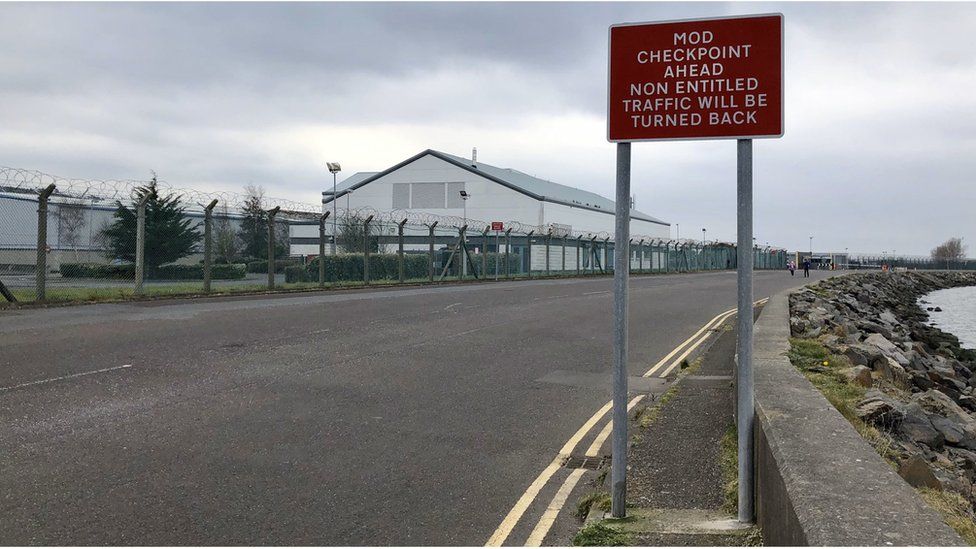 A section of a County Down Army base is to be prepared for use as a large-scale mortuary as part of Northern Ireland's Covid-19 planning.
At least one climate-controlled building on Holywood's Kinnegar site will be converted for the purpose.
Health Minister Robin Swann had previously warned deaths in coming weeks could surpass the 3,500 during the Northern Ireland troubles.
The 54-acre site is used for training, but has little or no operational role.
It has been earmarked for sale in 2022.
But in response to the coronavirus emergency, part of the facility is being leased by the Department of Justice (DoJ) for temporary use.
Speaking on BBC NI's The View, Justice Minister Naomi Long said it was "possibly one of the most difficult decisions and conversations I've ever had in my political career and that is to talk about the eventuality that we may have to deal with excess deaths".
"We have underpinned everything we have done by looking at how we can ensure, if the number of deaths exceeds the capacity of our system, that we are able to treat people with respect and dignity," she said.
"That we are, as far as is humanly possible, able to respect their final wishes, and in the interim if we need to have this resting facility, that it will be a place that is secure and dignified."
Mrs Long said that the Department of Justice had worked with funeral directors, humanists and people in faith communities.
"I have had to make plans for an eventuality that I hope will never materialise, but it would be wrong for us not to plan for that," she added.
It is believed the move was agreed by the Ministry of Defence (MoD) after a DoJ request under regulations known as Military Aid to the Civil Authorities (MACA).
One of the last times MACA was used in Northern Ireland was in 2013 when a Royal Air Force (RAF) Chinook helicopter was used to drop emergency supplies onto farms cut-off by snow.