Coronavirus: 'Wave of deaths' if social distancing not followed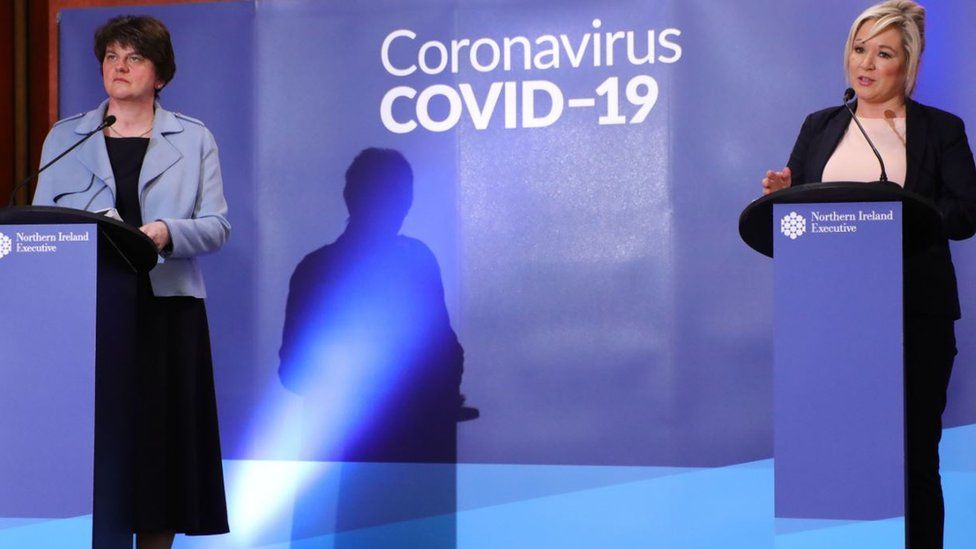 First Minister Arlene Foster has said there will be a "wave of deaths" in Northern Ireland if people do not obey social distancing rules as the coronavirus will spread.
Mrs Foster was speaking during a press conference at Stormont on Monday with Deputy First Minister Michelle O'Neill.
On Monday evening the health minister confirmed a third person had died from coronavirus in Northern Ireland.
The patient was in their late 60s and had underlying health conditions.
On Monday evening Prime Minister Boris Johnson announced strict new curbs on life in the UK to tackle the spread of coronavirus.
People must stay at home except for shopping for basic necessities, daily exercise, any medical need and travelling to and from essential work.
Shops selling non-essential goods will also be shut and gatherings in public of more than two people who do not live together prohibited.
Speaking at a press conference alongside Arlene Foster at Stormont on Monday Deputy First Minister Michelle O'Neill said: "This is not a holiday, this is an emergency".
Arlene Foster confirmed that the Stormont executive will soon have the legislative power to enforce social distancing.
It comes after many people in Northern Ireland ignored official guidance to avoid large gatherings over the weekend.
In other developments on Monday:
The first and deputy first ministers said food and medicine supplies have been secured so there is no need to panic buy.
Northern Ireland's health service is to access all hospital beds across the private sector
The Mater was designated as Belfast's coronavirus hospital
Letters are being sent this week to 40,000 people in Northern Ireland most at risk telling them to stay at home
Most schools opened on a limited basis for children of key workers
Emergency legislation that would grant powers aimed at tackling the pandemic is being debated by MPs.
All learning disability day centres are to close from Tuesday
The chief pharmaceutical officer is targeting more than 200 recently-retired pharmacists with a view to them returning to work
Also speaking at at Stormont, the deputy First Minister Michelle O'Neill said: "We can come through this. We can come out the other end. The message couldn't be clearer - just please stay at home."
On Monday 20 new cases of coronavirus were confirmed in Northern Ireland, bringing the total to 148. Three people have died.
In the Republic of Ireland there were 219 new cases of Covid-19 diagnosed on Monday, bringing the total number of confirmed cases to 1,125.. Two more people were also confirmed to have died from the illness, bringing the death toll in the Republic of Ireland to six.
Over the weekend photos circulated on social media showing crowds of people in popular north coast tourist destinations Portrush and Portstewart in Country Antrim, as well as beaches in County Donegal, near Newcastle in County Down and at Nutts Corner market.
Justice Minister Naomi Long said people would face fines up to £100,000 if they did not comply with the government's new measures.
It has also been confirmed that the Mater will take on the role of Belfast's coronavirus hospital from midday on Tuesday, with all respiratory admissions within the trust area diverted to it.
Its emergency department will close to walk-in admissions from 8:00 GMT.
Patients who are seeking medical treatment for urgent and non-respiratory problems are advised to attend the ED at Belfast's Royal Victoria Hospital.
Mater emergency department consultant Eoghan Ferry said in order to protect staff and patients "We are focusing on having those patients who are suspected of having covId come to this site and the others who need to access emergency services directed towards the RVH."
It is understood that maternity patients will not be postponed but women may have to be sent elsewhere.
There have been calls for more coronavirus testing and Deputy First Minister Michelle O'Neill tells the daily Stormont briefing that "we need to ramp it up significantly".
She said they would work with the health minister to make sure this is the case "as quickly as possible."
Earlier, assembly members at Stormont were told officials were actively trying to increase the capacity to store bodies in Northern Ireland to cope with any upsurge in coronavirus deaths.
The justice committee also heard how some prisoners in Northern Ireland could be released early under new emergency legislation.
But officials told members only those prisoners who would have previously qualified for early release will be eligible to be freed.
Meanwhile assembly members were told there were no plans to call in military support for the police.
On Monday Helath Minister Robin Swann published details of a new childcare scheme for key workers who are "on the frontline" in Northern Ireland's battle against coronavirus. It also includes health workers who are looking after patients who have contracted Covid-19.
Under the scheme, children of people who carry out certain essential roles will be looked after in their own homes "as much as possible", by a daycare worker who will be assigned to their family. Parents of babies and toddlers will be prioritised.