Coronavirus: Call for widespread testing of all key health workers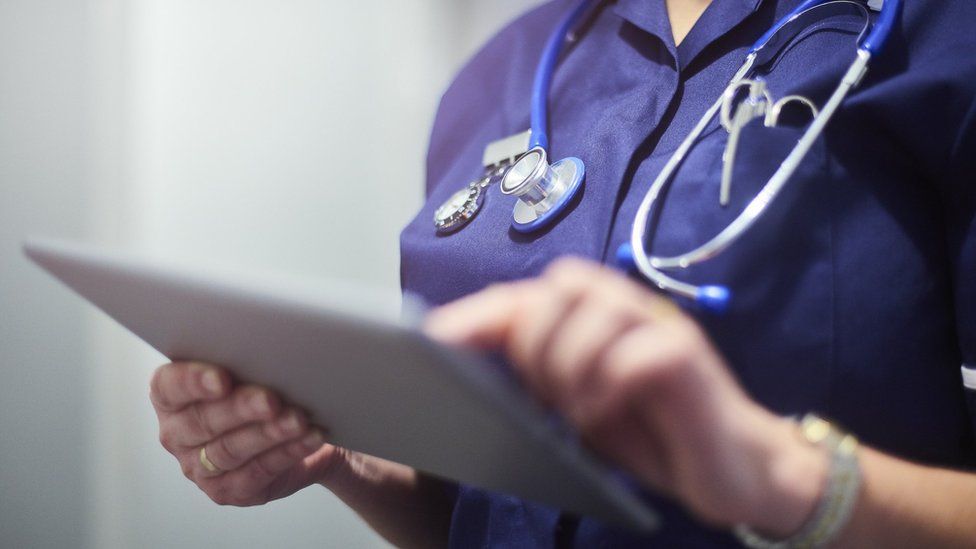 Unless there is widespread coronavirus testing of all key health workers, there will not be a functioning health service, a senior nurse has warned.
Pat Cullen, head of the Royal College of Nursing in NI, wants testing extended so nurses can be confident they are free of Covid-19.
Testing is currently limited to those admitted to hospital with symptoms.
In a video address, First and Deputy First Ministers Arlene Foster and Michelle O'Neill said this year's celebrations would have to be very different.
"Everyone loves their mummy. I know that I do," said Ms O'Neill. "And on Mother's Day, we normally make a big effort to spoil them and spend time with them.
"This year we are asking you not to put your mummy or anyone else's mummy at risk. Please maintain the social distancing the Public Health Agency have asked you to do."
Ms Cullen was speaking after a two-hour meeting with Ms O'Neill at the Royal College of Nursing's NI HQ in south Belfast.
The nurse also said proper safety equipment and masks for staff were needed urgently.
Ms O'Neill echoed the remarks on testing and equipment.
She said she had spoken to a nurse who has to self-isolate for 14 days because a member of her family has symptoms.
She said if she had been tested and found negative, that nurse could be back at work.
Health officials have confirmed 22 new cases of Covid-19 in Northern Ireland, bringing the total to 108. One person has died.
It is the highest one-day jump in cases since the outbreak began in Northern Ireland.
According to the latest figures, there are more than 5,000 confirmed cases of coronavirus in the UK.
The number of people with coronavirus who have died is now 220 in England, seven in Scotland, five in Wales and one in Northern Ireland.
On Saturday night, Prime Minister Boris Johnson warned the health service could be "overwhelmed" if people did not act to slow the "accelerating" spread of coronavirus.
There were 102 new confirmed cases in the Republic of Ireland on Saturday, bringing the total to 785. Three people have died.
It comes after officers had to deal with several large outdoor gatherings of teenagers across Northern Ireland on Friday in the wake of schools closing.
On Friday night, PSNI officers reported having to disperse about 300 teenagers in areas across Carrickfergus and Larne.
Police said 95% of the young people they spoke to "were polite, respectful and headed home when we explained the dangers of social gatherings".
"This is not a movie. This is not a what-if exercise," the local PSNI branch wrote on Facebook.
In north Belfast, officers reported more than 60 young people drinking and setting fire to residents' bins.
On Saturday night, police in that area said there was still some anti-social behaviour but not as much as the previous night.
A PSNI spokesperson encouraged the public to "review the advice of the Health Minister Robin Swann, consider the health of others and adhere to the social distance practices outlined by the health department".
Koulla Yiasouma, Northern Ireland's children commissioner, said while it was "hard and confusing" for young people, many of whom had been "robbed of so many things", it was vital they followed public health advice.
"From now and until this crisis passes, there is no longer adults and children, young and old, us and you, there is just us - we are in this together and we must work together with this one chance we have to stay as safe and healthy as possible," she said.
Meanwhile a respiratory consultant at the Ulster Hospital has gone viral on social media after making a "personal plea" for people to heed advice on social distancing.
Dr Julia Courtney said it was "hard to actually convey just the enormity of the crisis that is looming for the NHS, and so for everyone, in the next few weeks".
"Huge numbers of people will die and the only thing that will have any impact on this impending catastrophe is slowing the spread of this virus.
"This is the week that the most people who are infected without knowing it will cause the virus to spread."
She added: "What you do today will affect the intensive care unit (ICU) beds in the hospitals in the next two to three weeks.
"So please, please, please, stay at home if you can."
Childcare for key workers
Health Minister Robin Swann has confirmed childcare would continue for parents who are key workers and have childcare needs.
Mr Swann said officials in his department were working on guidance for daycare facilities, childminders and parents.
In other developments on Saturday:
Hastings Hotel Group has said it has rescinded redundancies given to staff earlier in the week. Trade union Unite had criticised the firm for the lay-offs which, it said, came after the chancellor's announcement of salary relief for employees. The group's managing director, Howard Hastings, said staff should be assured that they "remain on the books"
One of the world's biggest makers of life-saving ventilators, Medtronic, is to more than double the 250-strong workforce at its Galway plant to meet the huge rise in demand.