Coronavirus: First death recorded in Republic of Ireland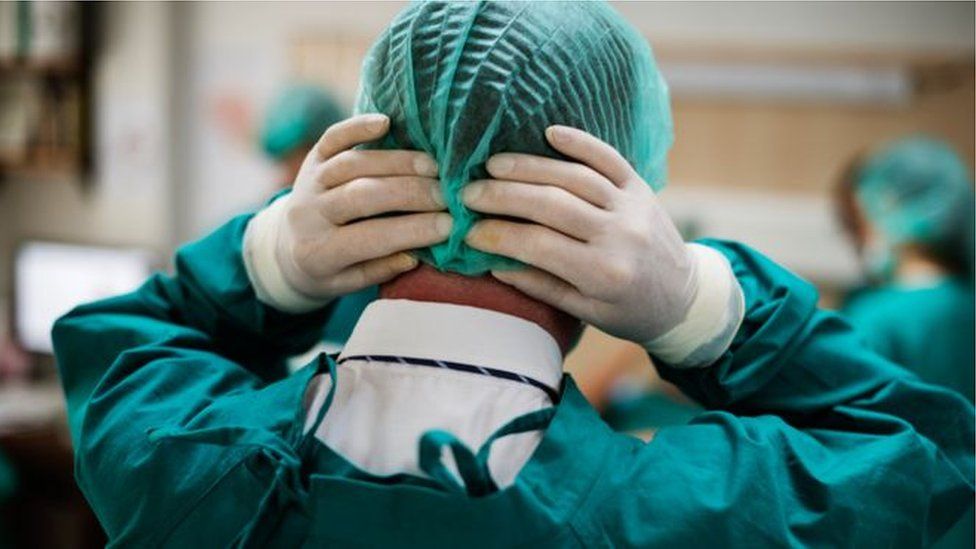 The first death linked to coronavirus has been recorded in the Republic of Ireland.
The elderly woman died in a Dublin hospital, where she was being treated for Covid-19, on Wednesday.
It is understood that the patient had an underlying respiratory condition and she had been admitted to hospital several days ago.
It comes as two new cases of the disease were confirmed in Northern Ireland, bringing the total to 18.
Both cases are adults and their transmissions can be traced to a previously reported case who had travelled from northern Italy.
Nine new cases have also been identified in the Republic of Ireland, bringing the total to 43.
The nine new cases include eight males and one female.
At a press conference on Wednesday evening, Ireland's Chief Medical Officer Dr Tony Holohan said none of the cases was community related.
"For each of the nine today, we have been able to identify the source of the infection," he said.
Earlier, he urged the media to respect the privacy of the family of the woman who died.
"We continue our efforts to interrupt the transmission of this virus. It will take all of us, collectively, to succeed. Please continue to follow public health advice," he said.
There have been 246 tests for coronavirus in Northern Ireland, 228 have been negative.
Staff at the Public Health Agency are undertaking contact tracing for both of the new cases.
Northern Ireland's Health Minister Robin Swann said the fact coronavirus had been declared a pandemic by the World Health Organisation did not change the government's approach.
"That doesn't change how we approach things here in Northern Ireland at this moment in time," he told BBC Radio Ulster's Evening Extra programme.
"The UK still remains at a moderate level, we remain in a containment phase."
He added that plans are in place as to how the government moved to the next phase in the future.
'Go into the delay phase'
Northern Ireland's Chief Medical Officer Michael McBride said Northern Ireland remains in the containment stage but the advice given to people is likely to change in the coming weeks as more cases emerge.
On Wednesday night, he told Stephen Nolan on BBC One's Top Table programme that Northern Ireland is in the "in-between period".
"We still remain in containment and as we go into the delay phase - that pulling down that peak - the messaging will change," he said.
"Very soon there will be key messages to older people - your mum or grandparents and advice for you in terms of supporting them.
"That isn't advice for this week and probably not the next week," he added.
Earlier, Northern Ireland's First Minister Arlene Foster told the BBC's Talkback programme that Stormont needed to "plan for the reasonable worst case scenario".
"We will move upwards towards the peak. Just how long we can delay that peak into the summer, that's what we are really trying to do," she said.
"I don't want to alarm anybody, but what I do want to say to people is that we are taking all the steps in a proportionate way, led by the science."
"Whatever extra resources our NHS needs to cope with Covid-19 - it will get," he said.
"Whether it's research for a vaccine, recruiting thousands of returning staff, or supporting our brilliant doctors and nurses… whether it's millions of pounds or billions of pounds… whatever it needs, whatever it costs, we stand behind our NHS."
He also detailed support for businesses with fewer than 250 employees, saying that government will fund Statutory Sick Pay for two weeks.
The Department for Communities has sought to reassure people who claim benefits that these will not be affected should they have to self-isolate due to the virus.
A spokesperson for the department said: "If people cannot attend an appointment at their Jobs and Benefits office and/or medical assessment centre because of self-isolation, they should let us know immediately.
"Nobody will be penalised for doing the right thing."