MOTs: About 5,000 tests cancelled over cracked lifts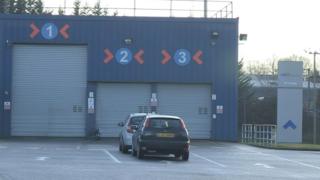 About 5,000 MoT tests have been cancelled so far across NI after cracks were detected in vehicle lifts.
Infrastructure Minister Nichola Mallon told BBC Radio Ulster she was taking steps to minimise disruption and ensure the situation "cannot happen again".
She said drivers affected by MoT test cancellations would be automatically issued with a temporary exemption certificates, valid for four months.
The only exceptions are taxi drivers and people with four-year-old vehicles.
Ms Mallon explained she could not issue exemptions for four-year-old vehicles "because they have never had an MoT certificate, so there is no certificate to extend".
The minister added that taxis "do not fall within the legislation to be issued with temporary exemption certificates, because they are subject to a PSV [Public service vehicle] test".
However, drivers of vehicles in both these categories will have their rescheduled tests "prioritised".
The minister said the 5,000 cancellations were a reflection of the "volume that goes through our 15 MoT centres on a daily basis".
'Maximum compensation'
At the weekend, Ms Mallon announced all motorists whose MoT tests had been cancelled by the Driver and Vehicle Agency (DVA) would receive a refund of half of their MoT test fee.
They will also be offered a free rescheduled test.
She said she was working to minimise disruption to customers and make sure they received the "maximum amount of compensation possible within the legislation".
Ms Mallon continued to advise drivers to turn up for scheduled MoT tests, unless they are contacted by the DVA in advance and warned of a cancellation.
She also confirmed part of the MoT test, in which vehicles are placed on a lift and shaken, had been suspended at present.
She said the safety of DVA staff and their customers remained her priority.
Additional hours
According to an internal letter from DVA management to staff, seen by the BBC last week, the problem with vehicle lifts first emerged in November.
The letter stated cracks were discovered in two lifts at Larne MoT centre during routine testing.
An in-depth inspection of vehicle lifts across all MoT centres in Northern Ireland was ordered and by 15 January, this had identified "signs of cracking" in 48 of 55 vehicle lifts.
Ms Mallon said the DVA had been working to address issues with vehicle lifts but it was clear the inspections and repairs were "taking longer than initially expected and causing disruption to customers".
"What we're trying to do is - where cracks have appeared or have been noticed in these lifts, we're working to repair them," she said.
"So we're inspecting; we're repairing; then we're re-inspecting and then the lifts will be subject to a fortnightly inspection after that."
She will provide a written statement to the Northern Ireland Assembly on the issue on Monday.
Mrs Mallon said temporary MoT exemptions, which will be backdated to 20 January, would "allow motorists to continue to go about their daily lives without further disruption".
The minister said she had instructed officials to prepare a full review "into how this situation arose".
"My priority is to put in place steps to prevent this ever happening again," she said.
The Department for Infrastructure said drivers should continue to book MoT appointments once they received their annual reminder letter.
On Saturday, an Armagh councillor said drivers with test bookings were still being turned away from Armagh MOT centre.
Ms Mallon said she had instructed the DVA to "ensure that every effort is made to reach customers" both directly and through the media.