Civil service strike: Nipsa members protest over pay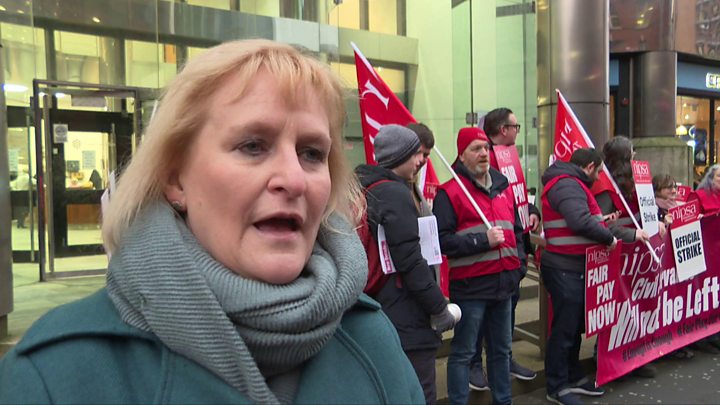 Thousands of civil servants in Northern Ireland have taken part in a strike about pay and working conditions on Friday.
The Department of Finance said its initial estimate was that 4,500 workers took part.
The Northern Ireland Public Service Alliance (Nipsa) said its members have had a below-inflation pay rise for nine years.
It said they wanted to be treated with the "same urgency as health workers".
Fifteen thousand Nipsa members were balloted for the action, which follows a similar strike in July 2019.
Friday's strike affected: Jobs and Benefits Offices, Universal Credit Processing Centres, rates offices, some veterinary offices, meat inspectors, DAERA direct offices, the Public Prosecution Service and tribunals and some staff at vehicle testing centres.
The Department of Finance said the Civil Service had put measures in place to ensure services would continue to be delivered "as far as practicable."
On the picket line in central Belfast on Friday, Alison Millar, Nipsa general secretary, said there needs to be "overdue recognition" for civil servants' "hard work", particularly during Stormont's absence.
"This is the executive's chance to reward civil servants, and they have acknowledged they have kept things running in the absence of a government for the last three years," she told BBC News NI.
"So we want to hold ministers to account and the assembly to account, to deliver fair pay increases for civil servants."
Earlier, Ms Millar said "civil servants were further angered when there was no mention in the "New Decade, New Deal" document of seeking to settle the civil service dispute, yet specific reference was made to the health workers and teachers' disputes".
The union met Finance Minister Conor Murphy on Wednesday and said Mr Murphy told them he would press the Treasury for more money for Northern Ireland.
"He reiterated his desire to seek to resolve the dispute and would not drag his heels in seeking a resolution," said Ms Millar.
Following the meeting Mr Murphy said: "It was a constructive discussion.
'Meaningful engagement'
"I appreciate the work that civil servants do in supporting and delivering a wide range of public services and am committed to continued engagement with trade union colleagues.
"Through joint working and meaningful engagement we will be better placed to meet the challenges ahead."
A Department of Finance spokesperson said: "The Northern Ireland Civil Service has put in place measures to ensure services continue to be delivered as far as practicable."
In a statement issued on Thursday afternoon, Mr Murphy said he received a "warm reception" from the Chief Secretary to the Treasury, Rishi Sunak, as they discussed the government's financial offer to the executive.
Nipsa said it will engage with management at the Department of Finance on Friday "as a first step to resolve the dispute", but added it would continue action until a resolution was secured "which would be acceptable to members".
During the previous action in July 2019, Stormont's Department of Finance said the pay rise received by staff was "fair in the context of the challenging financial environment".
The Northern Ireland Civil Service (NICS) is one of Northern Ireland's largest employers, with more than 23,000 permanent staff.