George Best Hotel, Belfast: Revised plans get go-ahead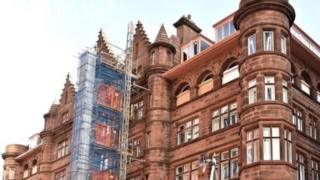 Planning approval has been given to revised plans for the 'George Best Hotel' in Belfast city centre.
The delayed project came before the planning committee of Belfast City Council on Thursday night.
The owners have been told they must retain and repair original features of the listed building, where possible.
The property group, Signature Living, bought the Scottish Mutual Building in 2017 with plans to invest £15m in the project.
The hotel was due to open in 2018, but has been affected by delays, with some staff being offered redundancy packages.
In a statement on Thursday night, Signature Living said a date of June 2020 had now been set for completion of work at the hotel.
'Home straight'
Chairman Lawrence Kenwright said that funding is in place to complete construction and that it "will continue apace".
"We're delighted to have achieved planning permission and finally be on the home straight in the construction of this beautiful hotel," he said.
"Restoring listed buildings is not always a smooth ride and it hasn't been so with this hotel, but I'm excited that we are now close to the George Best joining our stable of successful trading hotels."
The Liverpool-based developer wrote to the council after it began an investigation into work being carried out at the site.
On Thursday night, a number of concerns were raised about the revised proposals.
The Historical Environmental Division (HED) from the Department for Communities cited issues such as the impact on the architectural and historic qualities of the Grade B1 listed building.
The HED has concerns about the use of dry lining and have called for developers to retain and repair original features including skirtings and doors where possible.
The Department for Infrastructure is set to examine the revised plans before they can be fully approved.