MOTs: Faults found on 48 out of 55 lifts in NI test centres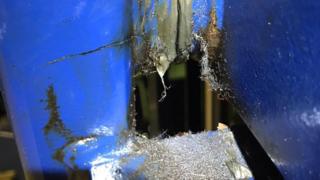 An inspection of all vehicle lifts in Northern Ireland's MOT centres has detected "signs of cracking" in 48 of the 55 lifts, BBC News NI has learned.
The inspection results were revealed in an internal letter from the Driver and Vehicle Agency (DVA) to its staff.
It said signs of cracking on lifts were first discovered during an inspection of Larne MOT centre in November 2019.
The letter adds the safety of staff and customers "is of the utmost importance" and lift repairs have already begun.
Some MOT tests due to take place this week were cancelled due to the issue, but the Department for Infrastructure has advised drivers to attend their scheduled test, unless they are contacted by the DVA.
However, several motorists who travelled to MOT centres on Thursday, only to be told that their test was cancelled, have questioned why they were not informed in advance.
'Limited tests'
The Department for Infrastructure said the DVA "sincerely apologises for the inconvenience caused" and was working to resolve the lifts issue as quickly as possible.
The department added that "limited" MOT tests are still being carried out "at most MOT centres" in Northern Ireland, while the programme of lift inspections continues.
Currently, Mallusk MOT centre in County Antrim is the "the only test centre not carrying out car and light vehicle tests," according to the department.
It said all other test centres remain open and heavy goods vehicles and bus tests remain unaffected.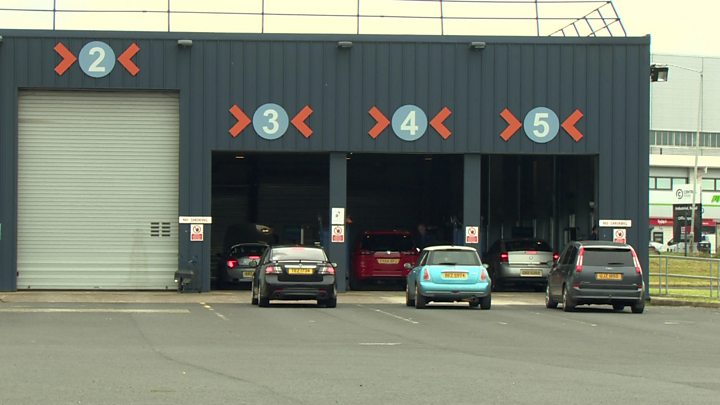 The discovery of cracking signs on two scissor lifts in Larne late last year led to an in-depth inspection of all of Northern Ireland's MOT centres.
According to the DVA's internal letter, the inspections were carried out by the company which supplied the lifts, which is also responsible for the maintenance and regular examination of the equipment.
The firm reported the inspection results to the DVA on 15 January, which revealed signs of cracking in 48 vehicle lifts, or 87% of all the lifts in operation.
The letter states that the supplier has designed a "remedial repair" for the affected lifts and this work is already under way.
It added that an insurance inspector will be conducting further checks on the lifts when the repairs have been carried out.
"We are preparing a schedule for the repair, inspection and post-repair inspection of all the affected lifts, which will be completed by Wednesday 28 January," the letter said.
'Very frustrating'
The letter comes after a report on Tuesday that the MOT centre in Armagh was being closed for repairs.
On Wednesday, the department announced that the use of vehicle lifts at 12 MOT centres in Northern Ireland had been suspended after faults were identified.
Some motorists have criticised how the authorities have handled the issue.
Pamela Telford arrived at the Coleraine centre on Thursday morning, but was told only retests were being carried out, not full tests.
She said she had not been informed beforehand that her test would be cancelled.
Mrs Telford said her certificate expires at midnight and her insurance company has told her she will not be insured to drive her car - which her daughter also uses to travel to work - after that.
"They don't seem to know themselves, nobody knows how long this is going to take," she said.
"That's what's very frustrating when you're on the other end of a phone trying to get things sorted out."
Sunday appointments
In a new statement on Thursday evening, the department said the DVA "is continuing to carry out checks on vehicle lifts in its MOT test centres, following the identification of faults".
"This is precautionary and to ensure the safety of staff and customers.
"Some checks and repairs have been completed and it is anticipated that remaining inspections will be completed tomorrow [Friday] and any necessary repairs will be carried out as soon as possible."
The statement added: "As and when test centres have been inspected and any necessary repairs completed, they will immediately become operational.
"Boucher Road, Cookstown and Newbuildings test centres are now fully operational and all MOT tests are being carried out."
The department said customers who require immediate tests will be prioritised for rescheduled appointments.
It also said a number of test centres will open on Sunday to provide additional tests.