Blaze at restaurant in Belfast treated as arson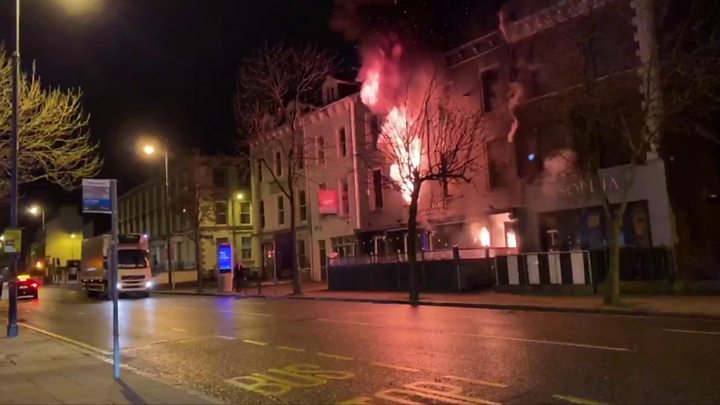 A fire at a restaurant on University Road in south Belfast is being treated as arson by police.
More than 50 firefighters tackled the blaze on Tuesday morning. The NI Fire and Rescue Service (NIFRS) said it received calls at about 01:12 GMT.
At the height of the operation, there were nine appliances at the scene including a specialist command unit and an aerial appliance.
Police officers also attended the incident.
Serena Hamilton, a student who lives nearby, said she and her housemates were awoken by the disturbance caused by the fire at about 01:30 GMT.
"The smell of smoke was incredibly pungent and the air was filled with a black fog," she said.
"Red hot embers were falling like rain and landing all around us.
"We were alarmed to see how large the flames were."
New business damaged
Speaking to BBC News NI, Zoe Hickman said the fire had damaged her business, which is located next door to the fire.
She has been developing her restaurant since last year.
"I already had a plan to open for a long time," she said.
"We had been doing the decoration since last year, since July. I had a plan to open next month, but you see now there is probably no chance."
She estimated the fire had caused between £40,000 and £50,000 worth of damage to her business.
Police said the fire was being treated as a "deliberate ignition" and enquiries were continuing.
They said officers had "evacuated nearby properties and closed a number of roads".
NIFRS said after remaining at the scene throughout Tuesday morning, it had "scaled back operations".
University Road reopened on Tuesday afternoon.