Casement Park: GAA hopes for planning permission in spring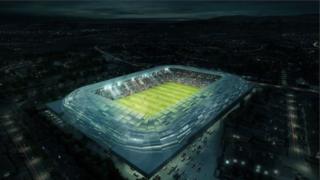 The long-delayed Casement Park redevelopment could receive planning permission by spring, the GAA has said.
The chairman of Ulster GAA said planning authorities had indicated they were "hopeful" the process could come to an end, possibly by early April.
Tom Daly said it was "up to us in the GAA" to do what was needed to ensure a "successful planning outcome".
However a residents group, which has opposed the current plans, called for "a suitably-sized redevelopment".
His comments came after Communities Minister Deirdre Hargey said she was confident a new stadium would be built.
However, she indicated a further delay in the project would mean an increase in costs.
Ms Hargey made her comments on a visit to the site of the existing stadium in west Belfast along with Mr Daly and Finance Minister Conor Murphy.
'Increased costs'
The project, now waiting on planning permission, has been the subject of legal challenge from residents in the past.
The Mooreland and Owenvarragh Residents Association (MORA) said they have "consistently stated" their objections to "the large scale development of Casement Park".
"There are obvious questions over the suitability of Casement and this is why the planning application is taking so long," they said.
The group say they want "a suitably-sized redevelopment of Casement Park which is GAA-orientated" and "part of the natural fabric of the community".
The initial cost of the project was estimated at £77m, however, that estimate has now risen to £110m.
Minister Hargey said officials had "to ensure public safety was not compromised".
"For those reasons, obviously the delay in the project meant that there would be an increase in costs around ensuring public safety as number one, then obviously an increase in costs around construction."
Ms Hargey said she wanted to see diggers on the site in the next few years.
Mr Daly added that the return of ministers at Stormont meant that a lot of the "uncertainty" around progressing the project was now gone.
The project is part of the New Decade, New Approach agreement, which was presented by the UK and Irish governments last week.
The initial proposals for the redevelopment of the stadium collapsed in 2014 under a legal challenge brought by a group of residents.
A fresh planning application was submitted in February 2017 and is now awaiting a decision from the Department for Infrastructure.