Agriculture inspectors visit pig farm after protest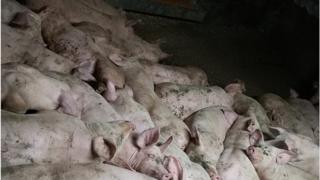 Agriculture inspectors have visited a pig farm in County Antrim after animal rights activists went on to the premises early on Tuesday morning.
The group Meat the Victims shared video on social media of the conditions.
The owners of the farm near Cloughmills suggested to BBC News NI that the pigs were "healthy, well-fed and warm".
The Department of Agriculture, Environment and Rural Affairs (DAERA) said it was investigating potential welfare breaches.
The DAERA statement added the department was "considering the next steps".
The Police Service of Northern Ireland said officers attended but there were no reports of any criminal offence.
Both local activists and those that had flown in from abroad attended the protest, which began at at 04:30 GMT on Tuesday.
Police said protestors left the property shortly before 07:00.
A spokesman for the farm said there had been no fighting and the animals had been distressed by the entrance of the protesters.
He also suggested that auditors from the Red Tractor assurance scheme, of which the farm is a member, and from DAERA had visited and found "no animal welfare concerns".
But Red Tractor said it had been shocked by the images it had seen and had started an investigation into any breach of its standards.
The owners of the farm also raised concerns about the ability of the protesters to care for the pig they had taken and warned that their entrance had created a biosecurity risk for all of the animals there.
They said had Meat the Victim Group contacted them they would have gladly facilitated a farm visit.