Antrim security alert ends as suspected firearm found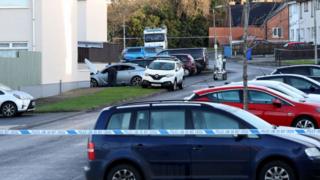 Residents have returned to their homes in Antrim after a security alert ended with the discovery of a suspected firearm.
Police said the weapon was found in a car that had been set on fire
Supt Sue Steen said officers received reports the fire shortly after 02:45 GMT on Friday morning.
Tarragon Park in the town was closed at the junction of Fennel Road and Cunningham Way.
All roads have now re-opened. Residents, who had been using a community centre, have returned to their homes.
The police thanked the local community for their patience and appealed for information.