Health workers strike: Nurses at Altnagelvin Hospital join protests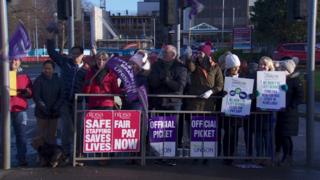 Unison nurses at Londonderry's Altnagelvin Hospital joined industrial action by Northern Ireland health workers.
The move on Monday came after unions rejected a new pay offer by the Department of Health because it did not reach parity with staff in England.
The department said it could not deliver that without a health minister.
Hundreds of outpatient appointments were cancelled on Monday due to the action.
The latest information on disruptions and cancellations is available on the Health and Social Care website.
'Stark choice over pay'
Health workers are unhappy about pay and claim staffing levels are "unsafe".
Unison's Joe McCusker said many nurses were on the picket line between 08:00 GMT until 14:00 but those working in cancer services and "red flag" surgeries would continue to work during the action.
Mr McCusker called for patients to "bear with us" during the workers' action in order for the pay and staffing issues to be resolved.
"We know you support us and we welcome any intervention to resolve this dispute by the secretary of state and the Department of Health," he added.
Pay parity between Northern Ireland and the rest of the UK ended in 2014 when the Democratic Unionist Party's (DUP) Jim Wells was health minister.
Speaking on Monday, he said the decision had been "very difficult because the choice was very stark", explaining that another increase in pay at the time could have led to redundancies or services being closed.
"The budget for 2015-16 was very tight - it had overrun the previous year," he said.
He added he had taken the decision "only after consulting all of those involved" - including fellow ministers in the Northern Ireland Executive - because it was "such an important decision".
But Sinn Féin's John O'Dowd - who was also a Stormont minister at the time - denied the executive was informed Mr Wells was not intending to grant a further pay increase.
"There was no recommendation, no paper that came before the executive which stated... Jim Wells wanted to break parity with Britain in relation to pay," he said.
"There was no vote in the executive, there was no vote in the assembly in relation to ending pay parity for nurses because it was Jim's decision."
Cancelled appointments
All Unison health workers are continuing their industrial action and the Belfast Health Trust cancelled 900 routine outpatient appointments on Monday.
All hospital surgical procedures, inpatient and day cases were due to take place as normal in its hospitals.
Outpatient appointments were also ancelled at the Royal Victoria Hospital, Belfast City Hospital and the School of Dentistry.
All other outpatient appointments at Musgrave Park, the Mater Hospital, the Royal Belfast Hospital for Sick Children, the Royal Jubilee Maternity Hospital and the Northern Ireland Cancer Centre were due to go ahead as normal.
The Belfast Health Trust said all hospital surgeries, inpatient and outpatient appointments on Tuesday and Wednesday would take place as planned apart from outpatient appointments at the School of Dentistry.
It said six day centres would be closed on Tuesday, and clients and their families had been informed.
Some day care centres in the Western Health Trust area were closed and a small number of appointments in children and adolescents' mental health services were postponed.
But in spite of action by nurses at Altnagelvin Hospital the trust said it all outpatient and "red flag" day case appointments would go ahead as planned.
The Southern Health Trust, South Eastern Health Trust and the Northern Health Trust had not anticipated having to cancel any services on Monday but added individual patients would be contacted if necessary.
'Give officials political cover'
Richard Pengelly, the permanent secretary at the Department of Health, said he was disappointed the pay offer, which involved an extra £28m, was turned down last week.
Unison said the offer fell short of what it and other unions had asked for.
The union has written to the Northern Ireland Secretary Julian Smith and the leaders of the five main political parties at Stormont about the issues.
The union's regional secretary Patricia McKeown said she did not accept the department's position that it needed ministerial authority to increase its pay offer to workers.
She said her union had written to political leaders to ask them to instruct the health department to implement pay parity and resolve this dispute".
"If the department thinks it needs political cover then we don't see why this won't give that to them," added Ms McKeown.
The Health and Social Care Board said further action was planned by Unison, with the Royal College of Nursing also planning industrial action short of a strike from 10 to 11 December.
It added all health organisations would try to "mitigate the effects of any disruption from industrial action with a strong focus on public safety".
The workers taking action include nurses, ambulance service staff, support services staff, administrators, clerical and managerial staff, social services and social care staff, professional and technical staff.