North Belfast: 'Sectarian hate attacks' on Ballysillan homes investigated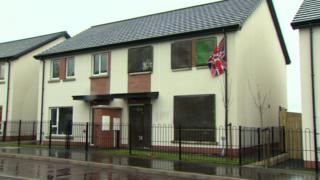 Three Catholic families have been prevented from moving into properties in north Belfast because of sectarian attacks.
Police are treating the incidents in Tyndale Gardens in the Ballysillan area as hate crimes.
On Monday of last week, graffiti was sprayed on a house in the area.
Windows were smashed and sectarian graffiti was sprayed on another property in the area on the night of Wednesday, 27 November.
On Tuesday this week, police received a report that a flag had been placed at a property at Tyndale Gardens overnight.
The attacks were first reported by the Irish News.
It is understood one of the families is a single mother with four young children, two of whom have been diagnosed with autism.
Speaking on the BBC's Talkback programme, Ch Insp Kelly Moore of the Police Service of Northern Ireland (PSNI) said paramilitary involvement was one line of inquiry, but that the investigation was "at an early stage".
"We have stepped up our patrolling around the area and we're working with community and elected representatives to try and resolve the issues," she added.
Choice Housing, which manages the properties, said the safety and security of all tenants was its "top priority" and that it "allocates all properties in accordance with the rules of the Housing Selection Scheme".
It added that it had contacted authorities, including the PSNI, about the incidents.
Last year, a number of families abandoned their homes in the nearby Ballysillan Avenue after similar attacks.