Michael Kerr: Bangor man was 'viciously beaten to death'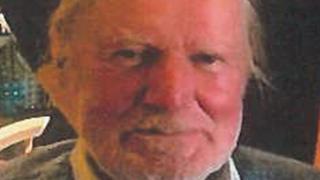 A 68-year-old man who was found dead in his County Down home was "viciously beaten to death in a sustained and violent attack," police have said.
Police started a murder investigation after the body of Michael Kerr, who was known as Mike, was discovered at Birch Drive in Bangor on Tuesday evening.
He suffered skull and facial fractures as a result.
Mr Kerr was a radio and television announcer on BBC NI in the 1970s and 1980s.
Neighbours discovered his body at the bottom of the stairs in his house.
'Utterly defenceless'
The Police Service of Northern Ireland (PSNI) said its murder inquiry began after it received the results of the post-mortem examination.
Det Supt Jason Murphy said Mr Kerr's body showed "no signs of defensive injuries" and he was likely to have been "utterly defenceless".
He said it was believed whoever was involved in the killing of Mr Kerr would have left his home in blood-stained clothes.
He called on the public to think if they saw anyone wearing blood-stained clothes on the day he was killed, or were wearing different clothes from earlier.
He said, at this stage, police believe that the incident happened inside Mr Kerr's home.
"I do not know at this stage how many people attacked Mike and whether he knew them or not," Det Supt Murphy said.
"There was no sign of forced entry which leads me to believe either he knew his attackers and allowed them into his house or his house was insecure," he added.
Police said they were considering whether he was attacked because he disturbed intruders in his home or was the victim of some form of vendetta.
The last sighting of him was on Sunday.
Det Supt Murphy said police were alerted to the attack on Mr Kerr after his neighbours noticed he had not taken his bins in on Tuesday, with them having been emptied the day before.
He said it was not believed the attack had a paramilitary element, and that police would be speaking to people in the local area in the coming days.
Det Supt Murphy added that Mr Kerr was a "very private person" and police were keen to establish as much as possibly can about his lifestyle.
A difficult time
Det Ch Insp Michelle Shaw said she wanted help from the public.
"My thoughts are with [Mr Kerr's] family at this difficult time," she added.
"I would particularly like to hear from anyone who knew Mr Kerr or who saw him in the days leading up to Tuesday, when his body was discovered.
"If you saw anything suspicious in the area, please let me know."
A BBC spokesman said: "Our thoughts are with his family and friends at this difficult time."