NI paper review: Kevin Lunney and Remembrance Sunday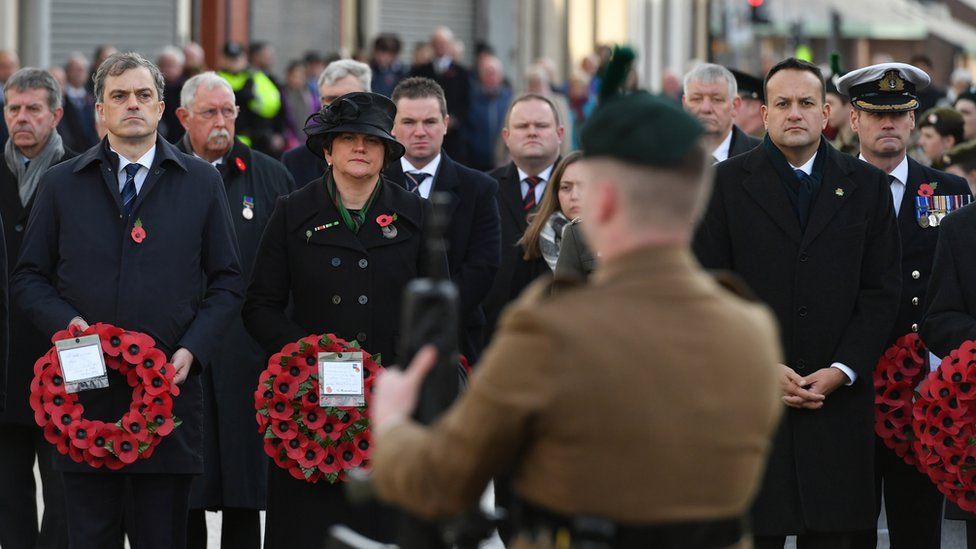 Remembrance Sunday, Kevin Lunney and Brexit all make Monday's front pages.
A photograph of Secretary of State Julian Smith, Arlene Foster and Taoiseach (Irish prime minister) Leo Varadkar in Enniskillen makes the News Letter's front page.
Mr Varadkar laid a green laurel wreath on behalf of his government.
The 50-year-old was driving from work to his home in Kinawley when he was attacked on 17 September.
He was found in County Cavan, about 22 miles (35km) away.
Mr Lunney was beaten and tortured by three men in an attack that lasted for about two and a half hours.
Mr Varadkar met the five company directors on Sunday to assure them of his support.
The Belfast Telegraph leads with the news that cancer and dementia patients in Northern Ireland are enduring longer waiting times for services as a row over doctors' pensions threatens patients' safety.
The newspaper reports that senior doctors have been scaling back their hours after reforms to their pension now penalise them for running extra clinics.
The Health and Social Care Board told the Telegraph that, as a consequence, waiting time targets are being missed.
The Daily Mirror splashes with poll results that say more than half of those surveyed by YouGov said that they would "lose Northern Ireland to get the Brexit they want".
A total of 1,641 adults were asked about the issue.
News that Belfast-born Conservative peer Brian Mawhinney died makes the Daily Mirror's inside pages.
In 2003 he was appointed as chairman of the Football League, a role he carried out for seven years.
In a statement, his family said the "much-loved husband, father and grandfather and a friend to many" died on Saturday after a long illness.
The Irish News leads with an interview with Dr Aisling Diamond, a top A&E consultant.
She describes a bleak outlook for issues tackling addiction, saying that "we're not going to win the battle against heroin".
Dr Diamond also says that the profile of people using the drug has radically altered, from retired pensioners to students.
Writer Ian McConnell took a video of the humming sound and said he could only hear the hum from outside the house.