Threats made against UUP staff over election pact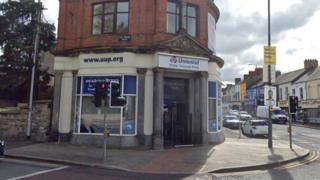 Police have been called in to investigate threats to Ulster Unionist staff, the BBC understands.
People have called the UUP headquarters about its refusal to form an election pact with the DUP in North Belfast.
UUP leader-elect Steve Aiken had ruled out an election pact, but on Thursday refused to say if his party would contest all 18 constituencies.
On Friday, a councillor said they would decide soon if the party would run in North Belfast.
At a meeting of unionists in Belfast, Antrim and Newtownabbey councillor Mark Cosgrove said the party was "consulting widely with the broader unionist community".
"First of all, I think I am positive that there won't be a pact as I would understand the word pact," he said.
"Certainly, I think there will be clarity over the coming days following the conclusion of the consultations that we are having."
Sitting MP Nigel Dodds was also at the meeting which was organised to talk about Brexit.
On the subject of pacts he said the parties had worked together before.
"Just as we have stood aside in Fermanagh and South Tyrone in the past and they have stood aside in North Belfast in the past," he said.
"To change all that and jeopardise that and seats that would otherwise be won by unionists - the union trumps everything."
Threats
It is understood police have also been informed about threats made online.
Speaking on BBC NI's The View, Mr Aiken said threats had been made on Thursday evening and undermined "the entire principle of democracy".
"That's not the kind of thing we should be accepting," he said.
In a statement on Friday, Mr Dodds said such incidents are "deplorable and must be totally condemned".