NIO cut veterans' amnesty from Queen's Speech, claims ex-Army chief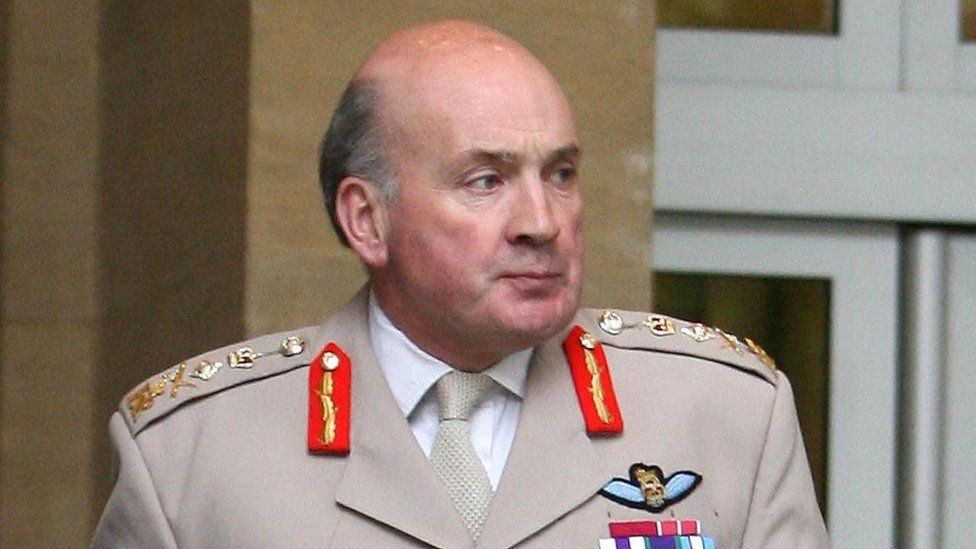 A ex-Army chief has said he believes legislation to protect military veterans from prosecution was excluded from the Queen's Speech after pressure from the Northern Ireland Office (NIO).
Lord Dannatt added he believed officials were nervous as they feared it would prejudice other discussions.
Those related to operations during the Troubles and in Iraq and Afghanistan.
In response to Lord Dannatt's claims, the government said: "We are determined to make progress and legislate on the issue of legacy prosecutions."
Six former soldiers who served in Northern Ireland during the Troubles are facing prosecution.
Not all of the charges are for murder.
The first Queen's Speech of Mr Johnson's premiership, delivered during the State Opening of Parliament on Monday, will see the government highlight its priorities.
He told BBC News NI on Sunday he believed it was cut from the speech because of the "complex issues running with regard to Northern Ireland, particularly in the Brexit context".
"This was a golden opportunity to bring legislation to Parliament so members of Parliament and peers could debate the issue," he told BBC News NI.
He added that "no-one is above the law" and where there was evidence of wrongdoing it should be investigated thoroughly.
"When soldiers had done wrong that's what should happen," he said.
"The vast majority of soldiers have carried out their duty faithfully according to their training and rules of engagement, which they carried in their pockets.
"They should not fear that they're going to be investigated in an aggressive fashion subsequently.
"That's what legislation is needed to protect soldiers from, not protect people who have done illegal things."
The Public Prosecution Service in Northern Ireland has said that of 26 so-called Troubles legacy cases it has taken decisions on since 2011, 13 related to republicans, eight to loyalists, and five are connected to the Army.
Lord Dannatt said it would be "perfectly proper" that former policemen or soldiers should be questioned to establish the facts of what happened in relation to deaths during the Troubles.
He added: "Unless there is compelling evidence that those people being questioned have done something wrong, the questioning should be done on the basis of a presumption not to prosecute.
"It should establish the facts so that families know what happened but former soldiers have the protection that they will not be further investigated."
The government said its objective was to "provide a better way to address the past for all those affected" by the Troubles.
It said it was consulting politicians and "wider society" in Northern Ireland about legacy prosecutions so it could "set out detailed, balanced and fair proposals on the best way forward".