Caterpillar: Fears for about 100 jobs at financial services centre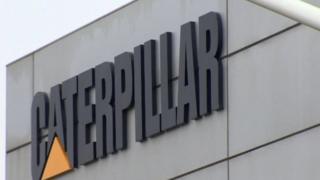 There are fears for about 100 jobs at the Caterpillar financial services centre in west Belfast.
The company has said it is a result of outsourcing its global finance operations.
Staff in Belfast were told about the plans on Thursday.
A Caterpillar spokesman told the BBC that work performed at Caterpillar finance operations is to be transferred to Accenture.
Accenture is a global services and outsourcing firm which has a long relationship with the firm.
The spokesman said: "The company informed employees of its decision to move to a global process model and partner with Accenture for the delivery of select finance and accounting activities.
"This partnership will lead to a transition of work currently performed at multiple Caterpillar finance operation locations to multiple Accenture finance operation locations."
Accenture does not have a finance operations presence in Northern Ireland.
The BBC understands that the Belfast staff were briefed by US and UK managers and told that redundancy packages would be on offer.
Caterpillar is a significant manufacturing employer in Northern Ireland and has had a finance centre in the region since 2005.
'Devastating blow'
Sinn Féin MP Paul Maskey said the news "will have come as a devastating blow" for workers.
"Given the ongoing uncertainty over Brexit, this will only add to the pressure on the local economy and community," he said.
People Before Profit MLA Gerry Carroll told BBC News NI that it will "take everyone standing together" to save the jobs.
"I'm going to stand with workers and put pressure on wherever I can on," he said.
"Government departments must step in, provide assistance and hopefully save these jobs."
SDLP councillor Brian Heading said he understood that redundancy packages are being offered to employees.
"We have requested an urgent meeting with Caterpillar and will be speaking with trade union representatives to support the staff in any way we can," he said.