Natasha Carruthers death: Jury returns a guilty verdict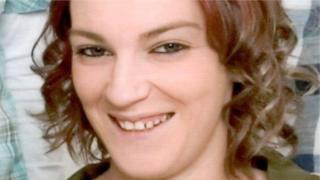 A man has been convicted of causing the death of a young woman during a high-speed car chase.
Nathan Charles Phair, 23, of Castlebalfour Park in Lisnaskea, County Fermanagh, denied charges linked to the crash in which Natasha Carruthers died.
She was killed when the car he was driving hit a tree on 7 October 2017.
On Monday, Phair showed no emotion or reaction as the guilty verdicts were read at Dungannon Crown Court.
He was convicted of dangerous driving causing death, causing grievous bodily injury to a second passenger, driving while unfit and possessing and supplying drugs.
Ms Carruthers' mother, Jill McKeown, said that the jury's decision was "the right outcome, but it will never bring Natasha back".
The 23-year-old was driving Ms Carruthers' Vauxhall Corsa, in which she was the front passenger, pursued by co-defendant Padraig Toher in a BMW.
The court heard that on the Newbridge Road, Derrylin, the driver of the car lost control and the vehicle struck a tree on the passenger side.
Natasha was flung out of the vehicle and on to the road due to the impact, before the car hit her.
Natasha died due to multiple injuries sustained in the collision.
'Catastrophic'
The court heard that a paramedic crawled underneath the car to reach Natasha's body, but her injuries were "catastrophic and incompatible with life".
A police officer also described seeing a name tattooed on Natasha's shoulder, which later emerged to have been her baby daughter's, who turned one two weeks earlier.
Previous convictions
The jury were allowed to hear of Phair's previous acts of dangerous driving, car theft and drug possession.
The court heard that Phair had previously stolen a jeep from a driveway and was chased by his owner for about ten miles, before he collided with another vehicle.
A number of drugs including MDMA, cannabis, as well as medications such as Tramadol and Oxazepam were found in his system.
The defence maintained that Phair was a victim of drug abuse and of individuals who had woven "a tapestry of lies" in the case against him.
They argued that Phair drove 12 miles at high speed with Natasha in the car to save them from the hands of man who was angered by Phair's failure to deliver cocaine.
Phair had previously told the court that he was not a drug dealer but the jury disputed this.
The court heard that Phair had a vast amount of Xanax in his system at the time of the crash, which was said to have impaired his driving skills.