Sion Mills residents return home following 'worst flooding' in years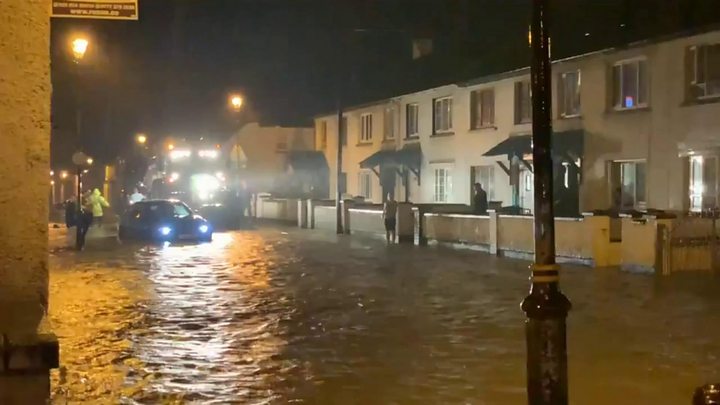 A clean-up operation is under way in Sion Mills after what was described as the "worst flooding" in the County Tyrone village for years.
A number of residents were evacuated and several homes damaged due to the heavy rain on Sunday night.
Sixty firefighters responded to 30 flood-related calls which were made at around 18:00 BST.
More than 100 calls were made to the Department for Infrastructure (DfI) flooding helpline.
There was also flooding at Nutfield Road, Lisnaskea, in County Fermanagh.
Sion Mills resident Justin Walker said he was alerted to the flood waters in his garden while watching TV at home on Sunday night.
"A lot of it was streaming down from the mountain lanes and coming right through the back of our property. It was about an inch away from our back door and just seemed to be getting higher and higher."
He added: "At that point we phoned the agencies for sandbags. All the neighbours were out helping. We managed to sandbag where we could and divert the flow of water away."
The Northern Ireland Fire & Rescue Service (NIFRS) confirmed two specialist water teams and six appliances were involved in the rescue effort.
Speaking on Radio Ulster's Good Morning Ulster programme, NIFRS group commander Keith Black said they called to 80 properties in Sion Mills.
He said there were eight to 10 inches of water places with some deeper localised patches.
Mr Black added that there would be a multi-agency effort to assist residents affected by the flooding although there was not yet any indication of the damage caused.
Areas affected in Sion Mills included Garden Terrace, Parkside Gardens and Melmount Road.
John Conway who lives in Parkside Gardens said he had "never seen anything like it" in 30 years of living in the village.
"There was a lot of water coming down, it was running just like a river. It ran down fairly heavy. It just happened so fast, it was unbelievable.
"It came into the hall, but we were able to clear up with towels, and mop it. We had a lucky escape."
Peter McFarland of the Department for Infrastructure (DfI) said more than 100 calls were made to the DfI flooding helpline and over 1000 sandbags distributed in the County Tyrone village.
He described the flooding as "quite severe" and said dept. staff worked into the night to combat the intensity of the rainwater.
Officials were assessing the damage to homes on Monday morning.
Sinn Féin MP Órfhlaith Begley said more than 30 homes had been flooded.
"This flooding has been extremely distressing for local residents and every effort must be made to support them and to ensure it does not happen again," she added.
SDLP councillor Cara Hunter, who said it was the worst flooding for years, added: "This is an ongoing problem."
Sion Mills community worker Andy Patton told the BBC there was an onus now on authorities to get tighter to "ensure something like this never happens again."
The main A5 road and a number of other roadways were closed for a time but have since reopened.
Melvin Hall Community Centre was opened for anyone who had to leave their home and an incident centre was set up at McGillion's garage in the village.
Emergency numbers
Flooding Incident Line 0300 2000 100
NI Water 03457 440088
Housing Executive 03448 920901.