Castlewellan: Mortar component found during alert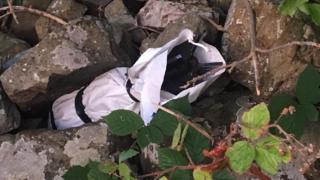 A suspected component part of a mortar has been recovered during a security alert in County Down, police have said.
It was found on the Priests Road in Castlewellan on Wednesday evening by a member of the public.
A number of roads had been closed during the resulting security alert. They have now reopened.
Police have said that while what was found was a component and not a viable device "it could have been part of something more sinister".
"We know that the vast majority of people support our police officers and simply want to live in a peaceful society," said Det Insp Graham Orr.
"We will continue to work with communities to disrupt the activities of the small group of people who are intent on using violence."
Ulster Unionist councillor Alan Lewis said a nearby resident found the component and contacted the police.
"Those responsible are reckless mindless idiots with no regard for public safety," he added.
"People expect to live in peace without fear of harm."