Simon Byrne: Children 'not weapons against terrorism'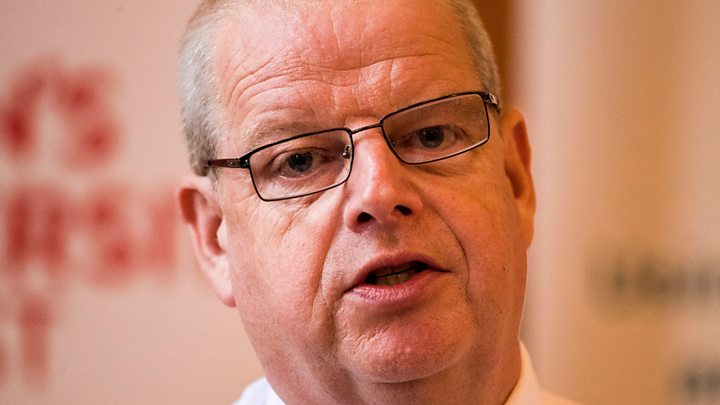 Suggesting the children of paramilitaries could be taken into care "caused a distraction", the chief constable has said.
Police Service of Northern Ireland chief Simon Byrne made the suggestion at a conference on Wednesday.
Following criticism, he said on Thursday that he was "not suggesting children can be used as weapons in the fight against paramilitary crime".
Sinn Féin's Gerry Kelly called the original remarks "unacceptable".
"The safety and welfare of children must always be paramount, they can't be used as pawns in a wider strategy to 'deter' paramilitaries in their anti-community activity," said Mr Kelly.
'Children not pawns'
Speaking at a meeting of the Policing Board on Thursday, the Sinn Féin MLA said the comment had caused "deep worry" and called on the chief constable to withdraw it.
Mr Byrne said he was happy to withdraw "the interpretation that children are pawns, if that's what's been heard", adding it was not his intention.
"There will be occasions in investigations, for example in a search warrant, where officers will see things that cause concern about the safety and wellbeing of a child, and I was trying to remind officers that there are powers they can use thereby."
Mr Byrne said he recognised that his "enthusiasm to talk in sound bites has caused a distraction" and insisted that he was "not trying to describe a blanket policy and I was certainly not trying to see children as a weapon in the fight against paramilitary crime".
He added he had been trying to convey his commitment to "increasing the tempo and pace" of the pursuit of paramilitaries.
The chief constable first made the comments at a conference on the use of stop and search powers.
He said his message to paramilitaries was: "You carry on doing this and we will have your house, if you keep going we will have your car, we will have your kids, we will have your benefits and we will put you in jail", the Daily Mirror reported.
Mr Byrne added: "Why would I think you are safe in the presence of young children? So what safeguarding powers have we got to take your kids into care if that is a deterrent?
"I think we need to be more assertive, work with other agencies within the law to make people think twice before stepping into this space."
He also criticised parents whose children become involved in street disorder.
"The children I watched, I am guessing were early teenagers," Mr Byrne said.
"I just found it strange that an adult would sit and watch as if it was evening entertainment, rather than actually intervene to stop anything."
Speaking at his first Policing Board meeting on Thursday, Mr Byrne also announced his intention to increase by 400 the number of officers dedicated to neighbourhood policing across Northern Ireland.
He said he hoped this could be achieved by 31 March 2020.
"I want local communities to have a designated point of contact to help with local concerns at a local level," he said.
New investigation
Earlier on Thursday, Mr Byrne announced that Jon Boutcher, a former chief constable of Bedfordshire, would lead a new inquiry into the IRA murders of three policemen during the Troubles.
The land mine blast claimed the lives of Royal Ulster Constabulary Sergeant Sean Quinn and constables Allan McCloy and Paul Hamilton at Kinnego Embankment in County Armagh on October 27 1982.
The investigation is separate from Mr Boutcher's ongoing inquiry into Operation Kenova, the activities of the Army's most senior spy with the IRA, known as Stakeknife.