Newry court: Man charged with rape and threats to kill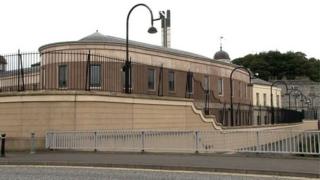 A man was arrested after a woman ran, naked and distressed on to a street to raise the alarm, a court in Newry has heard.
A police officer was speaking as Silinskas Andrius, 38, Castleblaney Street, Newtownhamilton, appeared on charges of rape and threatening to kill the woman.
He is also charged with choking, assault and breach of a UK deportation order on 15 August.
He denies all the charges against him.
Mr Andrius was refused bail.
Outlining the prosecution's case, a detective told the court on Saturday that the woman had caught a flight to Northern Ireland after replying to an advertisement for work.
She met Mr Andrius at the airport. He was drunk. He took her to his home where he continued drinking.
The detective said the man wanted to have sex, but she refused and threatened to kill her, assaulted her, slapped her on the face and raped her.
She ran out of the back door of his home, naked, and raised the alarm.
When arrested, Mr Andrius denied having any sexual contact with the woman.
The court was told that he had broken a UK deportation order made by Norfolk police in 2017.
Prosecution objected to his bail application on grounds that he might leave the country.
A defence lawyer said his client had mistakenly broken the UK deportation order as he had travelled into Dublin before moving to Northern Ireland.
The case was adjourned.